Sailing in Mallorca: Discover 7 Must-Visit Spots
Embark on a breathtaking journey through Mallorca's crystal-clear waters and explore its picturesque coastline filled with caves, stunning anchorages, and vibrant marinas. Our comprehensive Mallorca sailing guide will walk you through the best destinations, ideal sailing times, and top boating options, ensuring you make the most of your adventure on Spain's pearl of an island.
Mallorca's stable weather makes it a good destination for novice sailors and rewards them with beautiful clear waters and plenty of anchorages along its coastline.
Its natural beauty makes it often referred to as Spain's pearl. The island is primarily made up of slightly weathered limestone. Therefore, the island harbours many caves. However, most of them are flooded with fresh or seawater.
Keep reading our Mallorca sailing guide to learn the following:
Where to go sailing in Mallorca 
When should you go sailing
The best boating options in Mallorca
Where to Go Sailing in Mallorca?
If you want to cruise around Mallorca, you must be familiar with the area to create an adventurous route offering incredible experiences. Here are our suggested destinations:
1. Palma de Mallorca 
Palma, the capital of Mallorca, is home to the island's international airport, making it a convenient starting point for most journeys as the majority of charter boats embark from here.
Palma's La Lonja Marina is one great place to start your adventure. Let Jasmin take you on a short tour:
You can visit the city's landmark, the Cathedral of Santa Maria of Palma, or the second-largest European aquarium, just 10 km from the centre. Palma's underwater world boasts 8,000 aquatic animals and offers an exciting display of marine fauna and flora. 
The complex consists of 55 aquariums, where children from the age of eight can enjoy swimming with stingrays and watch the different animals feeding several times during the day. You can take a 25 nm southerly course from Palma de Mallorca to Colonia de Sant Jordi.
2. Colonia de Sant Jordi 
An original fishing village has become a resort with more than 20 hotels. Es Trenc is reputed to be one of the best beaches on the island, located north of the resort. 
If you have a boat, you can anchor in the marina or front of the harbour at 39°18'50 "N / 3°00'03 "E. You will find salt pools in the settlement's immediate vicinity. 
If you prefer to anchor in a quieter place, you can sail 3 nm further in calm seas and anchor at the beaches of El Caragol 39°16'38 "N / 3°02'18 "E. You can continue around the coast of Mallorca to the east or head to the island of Cabrera, 12 nm away.
 
3. Cabrera 
The island of Cabrera in the Balearic Islands is part of a national nature park. You must have a permit to sail in this area, which can be arranged online at this link. You can't anchor anywhere on your own. Mooring buoys are only available at two places during the day, which allows you to swim directly from your boat. One of them is at 39°08'40 "N / 2°57'28 "E. Overnight mooring is only permitted in the central bay of the island on a pre-reserved buoy at 39°08'43 "N / 2°55'58 "E.
The island is covered with bushes, trees and shrubs. Pirates used it to plan attacks on Mallorca because of its strategic location. Interestingly, the islet was home to French prisoners of war during the Napoleonic Wars. It must be added that it was cruel - most died of starvation or disease.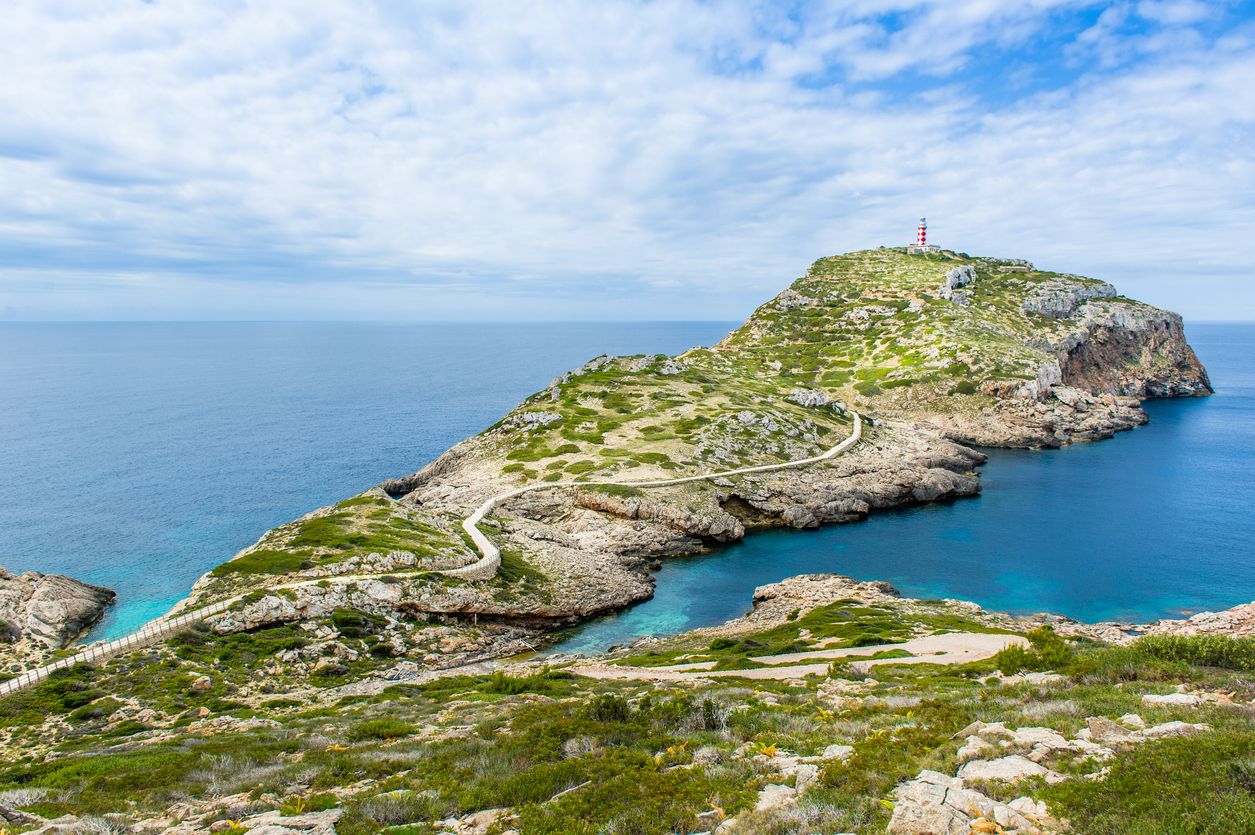 The island is infamous for its ubiquitous black lizards. We observed many of them around the lighthouse. They are brisk, so don't be surprised if you spot them on your legs. The area is mainly filled with sailors and cruise ships. Despite this, the island has maintained its untouched nature. Since the hike to the lighthouse is quite long, you'll find it very peaceful without many people. 
From Cabrera, you can sail 30 nm along the southeast coast of Mallorca to the bay of Cala Pilota. 
4. Cala Pilota Bay 
One of the most romantic bays away from the civilisation's hustle and bustle is at 39°29'03 "N / 3°17'23 "E. Other anchored boats will be around you, but you will be away from crowds. The next stage leads 20 nm to Cala Rajada or 4 nm to Cala Molto Bay].
5. Cala Ratjada Harbour 
You'll find a spacious marina with moorings and facilities at 39°42'33 "N / 3°27'47 "E. You can leave your safely moored boat here and head to the small town for dinner. There's also a chance to buy supplies.
6. Cala Molto Bay 
It's a large bay with a sandy bottom and shallow depth, located north of Cala Agulla in front of the sandy beach at 39°43'43 "N / 3°27'16 "E. It's easy to anchor here. 
At this point, you will need to start considering the way back. Sail 32 nm into Calo des Moro Bay along the SE coast.
7. Calo des Moro Bay 
Another romantic destination is at coordinates 39°18'52 "N / 3°07'29 "E. It has a deeper anchorage of about 12 metres. You must search the bottom for a sandy anchorage away from the vegetation.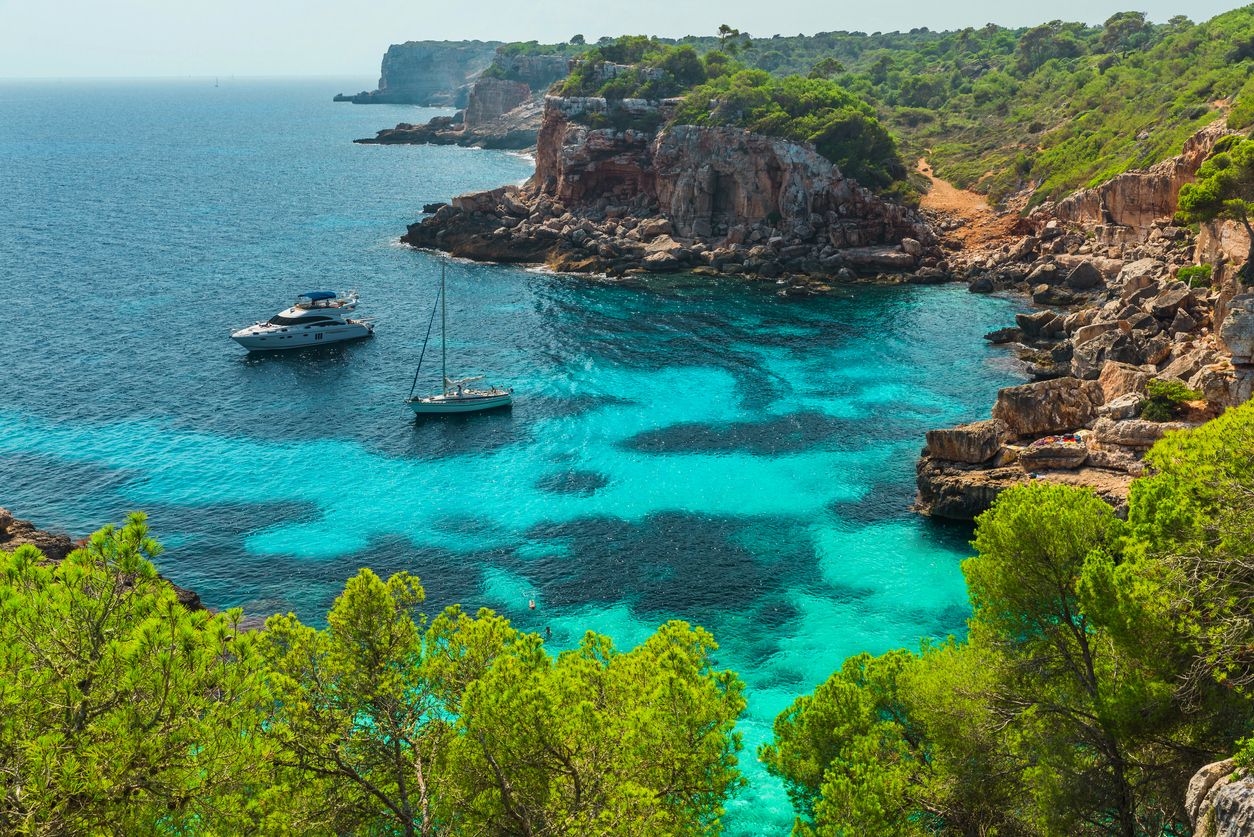 However, you will be surrounded by steep reefs. The waters are deep here, so don't be afraid of cliff jumping. In addition, make a short trip over to Cala S'Almunia, with its shallow and warm water, ideal for swimming with children.
The last part of the return route can lead 15 nm to the anchorage in front of El Caragol beach or Colonia de Sant Jordi, as mentioned in the first stage. From there, sail 25 nm to Palma. Alternatively, skip this step and sail 40 nm to Palma.
 
The Best Boating Options in Mallorca 
Selecting the ideal boat for your Mallorca sailing adventure depends on your preferences and priorities. To help you make the right choice, we've outlined three popular options, each offering its unique advantages:
1. Sailing yacht 
For budget-conscious travellers, Sailing yacht rentals offer an affordable option, with rental prices starting at just €106 per day. These vessels provide a traditional and authentic sailing experience that captures the essence of Mallorca's nautical charm. With a wide range of sizes and layouts available, sailing yachts cater to various group sizes and preferences, ensuring a memorable and cost-effective adventure.
2. Catamaran 
If comfort is your top priority, look no further than a catamaran. With rental prices starting at €165 per day, these spacious vessels are designed for luxurious relaxation. Catamarans feature generous living spaces, making them perfect for families or groups seeking ample room for socializing, sunbathing, and enjoying the stunning Mallorcan views. Their stability and shallow draft make them an excellent choice for exploring the island's hidden coves and pristine beaches.
3. Motor Yacht
For those who crave speed and luxury, motor yachts are the ultimate choice. With rental prices starting at €495 per day, these high-performance vessels let you explore Mallorca's coastline in style. Motor yachts offer a powerful and exhilarating experience, allowing you to swiftly cover vast distances and visit multiple destinations during your trip.
At Boataround, we provide top-notch boat rentals to ensure a memorable and exceptional cruising experience. Get in touch with us today!
FAQs
When Should You Go Sailing in Mallorca?
Of course, that depends on what you want to experience on your cruise. If you're expecting warm weather with the possibility of swimming in the sea, we recommend visiting Mallorca between May and the end of September. For romantically inclined individuals who prefer fewer boats in the bays at anchor, we recommend choosing dates outside of July and August.
Is Mallorca Suitable For Sailing?
Yes, Mallorca is an excellent destination for sailing. As the largest of Spain's Balearic Islands, it boasts stunning coastlines, crystal-clear waters, and a variety of beautiful anchorages and marinas. The island's Mediterranean climate, with warm summers and mild winters, provides favourable sailing conditions for much of the year.
 
You can also read: