Le ultime informazioni relative a COVID-19 (coronavirus)
La salute e sicurezza vengono prima di tutto. Saremo sempre pronti ad aiutare a trovare le migliori offerte di noleggio yacht disponibili
The Big Blue Yacht Charter attualmente gestisce 1 yacht nella sua flotta e ha basi a Marina de Denia.
L'orario di prelievo delle imbarcazioni è compreso tra le 17:00 e le 21:00 e l'orario di consegna è tra le 07:00 e le 09:00.
I clienti Boataround che navigando con The Big Blue Yacht Charter hanno il vantaggio del fuoribordo incluso.
Il servizio di capitano professionale è disponibile a un costo aggiuntivo.
The Big Blue Yacht Charter non ammette gli animali domestici a bordo.
The Big Blue Yacht Charter offre la sua flotta su Boataround dal 30 giugno 2017.
The Big Blue Yacht Charter - Gli yacht charter più popolari
Altre compagnie di charter popolari
Contatta Boataround
Hai bisogno di aiuto? Parliamo italiano e siamo qui per te 7 giorni alla settimana.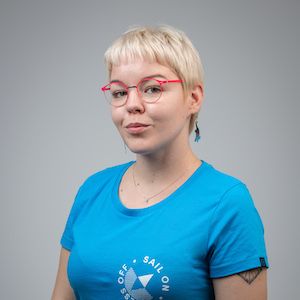 Cristina
Il tuo consulente di viaggio
May 28, 2020

Amazing company with great supportive…

Amazing company with great supportive staff. Best prices, best boats, stop wasti

...

Daniel Ferencik

May 23, 2020

Perfect service from Regina

Perfect service from Regina Thanks a lot :)

Thomas Claussen

May 22, 2020

Returning customer

Returning customer. As usual, incredibly quick, unbeatable service. Thank you!

Peter Gonzales

May 20, 2020

Exceptional customer service.

Exceptional customer service. Proactive and very helpful

customer

May 14, 2020

Good information on boats and quick respones

Good information on boats and availability and prompt response upon reservation.

customer

May 14, 2020

Wonderful Holiday

Excellent services :)

Herr Fillmann

May 8, 2020

a very friendly solution-oriented team

a very friendly solution-oriented team

customer

May 4, 2020

A great website and a great

I have been a return customer for several years now. Jana and her team are alway

...

Joe Andrews

Apr 20, 2020

Fantastic price!!!

Fantastic price!!!

Mark

Apr 20, 2020

Reservation process was very smooth and…

Reservation process was very smooth and everything by now was ok.

Frano

Apr 15, 2020

The best booking I have experienced

I was looking for a sailing boat in Athens on short notice (3 weeks ahead), back

...

Peter

Apr 15, 2020

Very good communication

Very good communication, also in crazy situations, and very nice persons. Thank

...

customer

Mar 13, 2020

This is a great service

This is a great service! I have booked the boat from here for ages. Everything

...

Földvári

Mar 6, 2020

All great

All great! Thumb up!

customer

Mar 2, 2020

Great service in sourcing a suitable boat

I was very precise with my boat specification for a Croatia bareboat charter thi

...

Antony

Feb 27, 2020

Very good and kind contact.

Very good and kind contact. Had to cancel a reservation, was absolutly no proble

...

Stephan

Feb 27, 2020

quick action

quick action, free cancellation

customer

Feb 25, 2020

Perfect call center

Perfect call center! They resolved my request in a second!

Fabio

Feb 25, 2020

Super good customer service and by far…

Super good customer service and by far the best price . They also included alot

...

krissie dempsey

Feb 18, 2020

Quick and efficient at order step

Quick and efficient at order step. Looking forward to the same experience furthe

...

Yves

Feb 16, 2020

One of best online/offline boat finder in Europe....

Well, I used boataroud.com many times, for me it's the best boat finder for Euro

...

Staffo

Feb 10, 2020

Thanks for your work!

Thanks for your work!

customer

Feb 4, 2020

Buon servizio

Buon servizio. Veloci e precisi. Parlano italiano discretamente. Lo consiglio an

...

Francesca

Jan 27, 2020

Recommended for chartering

Clear overview, a rapid response to questions and good offers for available boat

...

Jan

Jan 18, 2020

Excellent customer service from both…

Excellent customer service from both Xavier & Jana.

Doug

Jan 17, 2020

easy booking

easy booking

customer

Jan 15, 2020

Great service and support

10x. For the kindly and fare offer. The services was efficient and fast.

Dahan Nitsan

Jan 5, 2020

Good job so far!

Good job so far!

customer