⛵ A guide to charter a yacht in Rhodes
The island of the perfect Greek cuisine, stunning beaches, rich in history and culture—Rhodes. We can say that Rhodes has the whole package, ideal for every type of sailor, for younger and wilder one there is crazy nightlife in Faliraki, medieval centre with a historical heritage from ancient Greece or period of crusades for a historian, long and sandy beaches ideal for sunbathing or the beautiful underwater world for snorkelers. When you count all these things together, it is easy to understand why this is one of the most popular destinations in the eastern Mediterranean.
For Rhodes, we offer more than 40 charter yachts for rent, including some of the best catamarans and sailing yacht available in the market. Our yachts are located in the capital city Rodos, in very well-equipped Marina Rhodes and Mandraki Harbor. As the capital and most famous city of the island, Rodos is often the starting point for a holiday around the island. From city's marinas, you can easily head to south or south-west and visit other popular points of interest such as Anthony Quinn Bay named after a famous movie star, Lindos with its ancient Acropolis on a hill or Prasonisi, Mediterranean heaven of windsurfers.
Rhodes has a typical Mediterranean climate with hot and dry summers and mild, rainy winters with December, January and February as the rainiest. The average annual temperature is 19 °C, along the west coast the sea breeze cools temperature to 28-32 °C. The east coast with a lack of wind has an average summer temperature between 35-40 °C.
Characteristics of the climate of Rhodes is the presence of constant winds all year round. Typical wind for the area around Rhodes is called "Meltemi", which can be translated as breeze or soft wind. From April to October is Meltemi the prevailing wind and dominates sailing conditions, especially during summer it blows relatively constant from NW/W at 11-22 knots. In May it appears only occasionally and from Mid-September it slowly decreases. In winter the prevailing wind direction is from SE. During this period of year a single storm can occur from any direction. We recommend to always check the weather forecast before you sailing trip.
⛵ Top sailing destinations in Rhodes
A sailing trip around Rhodes can offer boaters some of the most exquisite destinations in the world, with countless pristine white beaches, ancient history, majestic natural wonders, and diverse wildlife.
The old city of Rodos is one of the must-see attractions of the whole island. This UNESCO World Heritage Site is the largest and best-preserved fortified city in Europe. Anthony Quinn Bay is named after the famous actor who loved Greece so much, that after filming the movie "The Guns of Navarone" he wanted to buy the whole bay. Perched atop a cliff, the well preserved Lindos Acropolis is the star of the beautiful medieval village of Lindos. The most stunning sights are on the second level of the Acropolis where the Temple of Athena Lindia and a 20 column covered walkway reside.
Prasonisi, is a small island attached to Rhodes, popular for windsurfing and kite-surfing. At their "meeting point" you will find one of the most impressive beaches, dividing Aegean and Mediterranean sea. Chalki is the smallest of the Dodecanese islands near Rhodes. Still untouched by mass tourism, Chalki is the perfect place for those who want a relaxing day from sometimes overcrowded Rhodes. Often referred as the Pompeii of Greece (as we don't know the reason, why it was abandoned), Kameiros is a well preserved ancient city in the northwest of Rhodes and is one of the Rhodes citys' mentioned by Homer.
⛵ How to get there
The Rhodes International Airport Diagoras (IATA: RHO) is the only international airport on the island. It is located approximately 14 km southwest from the capital city, Rodos. Diagoras airport has direct fly connection with rest of Europe, except Portugal, Spain, Ireland, Belarus, Ukraine, Poland and the Balkan States. When you are flying from mentioned countries you must count with at least 1 extra stop. The most convenient means of transportation from airport to capital city is by taxi, which costs from €29 (depends on provider and your luggage) and takes around 20 min. Another option is by a bus that costs around €2.2 and takes around 40 min (bus is not express one). Some of our partner charter companies also offer excellent pick-up services for customers.
🔹 Tips
Even though official language of Rhodes is Greek, you will have no problem communicating in English
The busiest months are July, June and May when prices are also the highest
Ideal period of year for sailing trip is during summer when Meltemi wind is relatively constant
In Rhodes, the power plugs and sockets are of type C and F
Tipping in Rhodes is expected but not obligatory, however remember it is always appreciated
As Rhodes is officially part of Greece EU, USA and Canada citizens do not need visa if not staying longer than 3 months
Rhodes - Most popular charter yachts
Search yachts on map
Rhodes - Most popular charter companies
Contact Boataround
Do you need help? We speak your language and are here for you 7 days a week.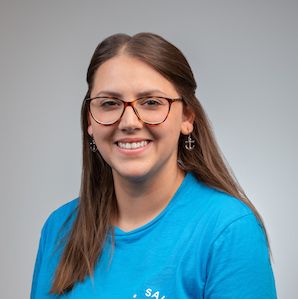 Jana Escher
Your sailing assistant