Catamaran vs. Sailboat – Which one to choose?
A frequently discussed topic among sailors is what type of boat to choose for the next adventure. Should you go for a classic sailing yacht, catamaran or motorboat? Which boat is better? Each vessel can provide you with an unforgettable experience. It is impossible to say that a catamaran is better than a sailboat and vice versa. The question is, rather, what do you want, what are your needs, abilities and budget
Proponents of monohulls love the typical wobbliness of these boats and the authentic sailing experience that they convey. On the contrary, fans of catamarans praise their luxurious spaciousness and stability. Both teams are right.
Let's take a closer look at the differences between monohulls - such as sailboats and multihull boats - such as catamarans. For a better comparison, we will focus only on boats with sails. There are also multi-hull motor boats (power catamarans), three-hull boats (trimarans), or single-hull motor yachts and boats. Let's compare charter sailboats and catamarans based on their handling, equipment, comfort, safety in different conditions and routes, and, last but not least, the price.
What is the difference between a sailing yacht and a catamaran?
Let's start with the basics. Sailing yachts are typically monohulls that are propelled by sails and have a single keel that runs along the bottom of the hull.
Discover the latest review of the Bavaria 46, one of the most popular sailboats

Catamarans have two hulls that are connected by a bridge. Catamarans are generally wider, more stable, and more spacious than sailing yachts, making them a popular choice among families and groups of friends looking for recreational boats.
Discover the latest review of the Lagoon 450F, one of the most popular catamarans

Handling and manoeuvring
The catamaran consists of two hulls, twin engines and two rudders. Sails are similar to those on the sailboat. Due to a short keel, the catamaran has a shallow draft. The construction of the catamaran makes it move faster and, above all, with better stability than a monohull vessel. The experience of real sailing on a catamaran is impoverished by typical heeling and swaying. The catamaran will neither rock you from side to side nor tilt as it happens on a sailboat. But some crews can consider this as their big advantage. On the other hand, sometimes a catamaran has a tendency to slap on the water. 
On the other hand, the sailboat has a long keel and a triangular shape, thanks to which it slices through the water with less effort. The typical movement of the ship is rocking and heeling.
The speed of both vessels also depends on the direction of the wind. When sailing downwind, catamarans usually achieve greater speed than sailboats. Sailboats, on the other hand, perform better when sailing upwind. During turns, sailboats are better manoeuvrable and respond to a helm better, while catamarans lose the necessary impulse for a prompt turn faster.
Unlike a sailboat, a catamaran is practically unsinkable. However, from a physics point of view, it is easier to capsize a catamaran, although the probability of this happening is relatively low, and the boat stays afloat, providing a haven for the crew.
The limit of positive stability (or angle of vanishing stability), which can make the boat capsize, is considerably smaller in the case of a catamaran than in the case of a sailboat. A catamaran is not able to self-right. A strong gust of wind or a wave can tilt the sailboat over when heeled to a more than 90-degree angle (the keel of the boat protrudes above the surface), and it can still be able to return to its normal position by itself. Therefore, a sailboat works more smoothly in waves than a catamaran. However, large and breaking waves are equally dangerous for both types of boats, and you must sail perpendicular to the direction of the waves in such conditions.
Docking and anchoring 
Although a catamaran may seem more difficult to park at first glance due to its more massive appearance, the parking manoeuvre is surprisingly easier than with sailboats. You are able to turn the catamaran 360 degrees on the spot. This is not possible to perform with a sailboat. The catamaran is equipped with two engines that can be controlled independently. The disadvantage of the catamaran's robustness is that it often takes up 1.5 - 2 times more space in the marina than a similarly long sailboat. Especially in peak season, finding a place to dock can be difficult.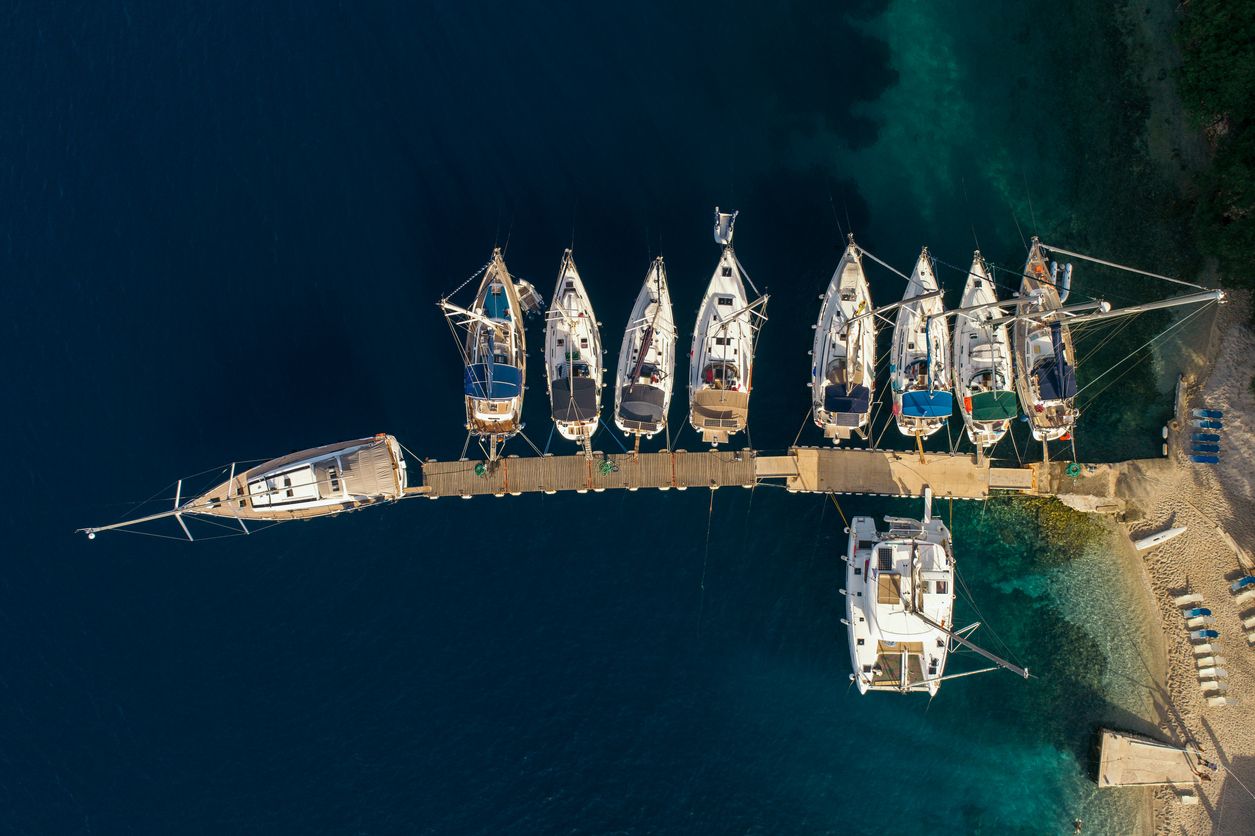 On the contrary, anchoring a catamaran can seem more complicated, at least at the beginning. If you are chartering a catamaran for the first time, be sure to inquire about the anchoring system when taking over the boat. When anchoring the catamaran, you need a bridle rope with a carabiner, which you tie to both the bows and the anchor chain in the middle. The anchor is then centred and the position of the rope prevents damage to the hulls from the chain.
The indisputable advantage of anchoring with a catamaran is its low draft. The absence of a very long keel allows you to drop the anchor even in shallow bays and closer to the shore, where you would not be able to stay with a sailboat.
Comfort
A catamaran is definitely more comfortable. Both for the captain and the crew. It is more spacious and calmer during sailing. If you have a crew that often suffers from seasickness, such members usually feel better on the catamaran. Take in mind that a catamaran has its specific movements as well, and they may not suit everyone's stomach either. Under the same conditions, you can chase mugs in the kitchen and wipe up spilt coffee on a sailboat, and on a catamaran, you can at most "complain" about boredom during the cruise.
During a gust of waves, the crew on the sailboat gets wet immediately; on the catamaran, you can hide and stay dry. Even such a detail as staying dry can uplift the crew's mood during adverse weather conditions.
Catamarans are more often equipped with automatic winches. You don't work so hard manually as you do on a sailboat. Working with the sails is also less demanding, and you have clear instructions for reefing the sails with regular charter catamarans.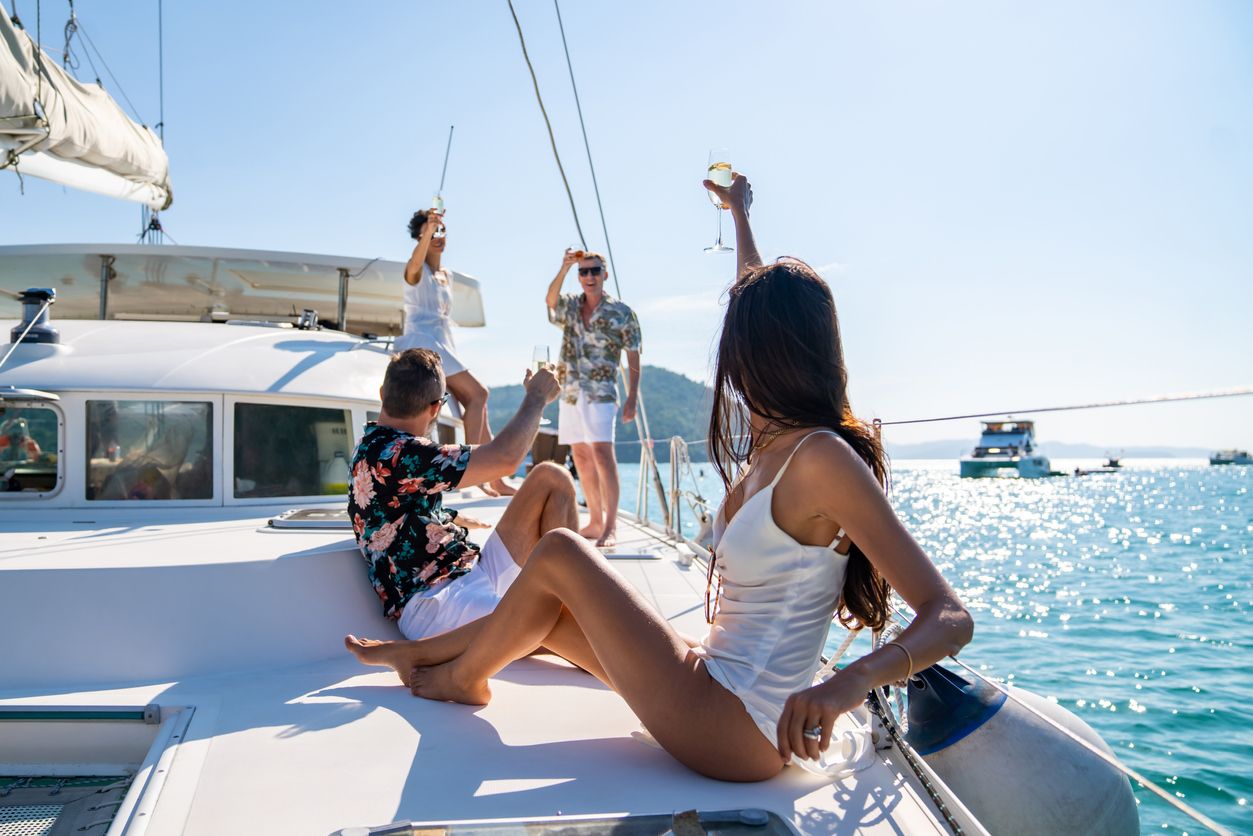 You will appreciate the catamaran more on hot summer days. Air circulation is much better on catamarans. The view from inside the boat is more beautiful from the catamaran because the living part of the deck of the catamaran is located above the water level. You won't see much from the saloon in the sailboat. As for the view of the ship itself, most sailors enjoy the sight of elegant and well built, agile sailboats more than of multihull "bulldozers" on the water.
Safety 
Safety depends not so much on the type of vessel as on other factors - the age and state of the ship, the weather and the human element. If we talk about the safety of staying and moving on the boat itself, a catamaran is definitely a safer place for children and the elderly.
In extreme conditions, a monohull is more wobbly on the water and often a bit safer because a sailboat can take care of itself. It can "dance" in big waves more smoothly and independently than a catamaran. The captain needs clear correction and control in strong winds and high waves.
It is true that if you capsize a sailboat, it has the ability to self-right. When you capsize a catamaran, only the towing service will help you. However, once you're in a situation where even your sailboat almost capsizes, chances are you're already in huge trouble anyway.
Do catamarans flip easily?
The largest modern catamarans exhibit impressive buoyancy and outstanding resistance to rolling. This ensures that capsizes or inversions are unlikely to occur. When faced with 30-foot breaking waves, the boat gracefully sways from side to side.
You can enjoy long routes in greater comfort and with a longer period of self-sufficiency on catamarans. These are usually equipped with solar panels for electricity production, desalinators for obtaining drinking water and generous storage space.
Price 
A catamaran is more expensive than a sailboat of similar size. In addition, you will pay extra for parking fees in marinas and city piers, for entering national parks and sometimes for fuel. The price often wins as a decisive argument when choosing a charter boat. Although the price difference may not be negligible, a catamaran's additional benefits (higher comfort, stability and spaciousness) often compensate for the higher price.
An example of a comparison of rental fleet prices: renting a catamaran Lagoon 42 from 2019 with a length of about 13 meters (6 cabins) will cost you about 480 euros per day; alternatively, renting a sailboat Jeanneau Sun Oddysey from 2019 with a length of about 13 meters (5 cabins) and with a bow thruster can cost from 200 euros per day. The price may vary depending on the month and discounts from the charter company.
How much does a sailboat cost?
Sailboat prices are different, but it is possible to get some idea of the price if we study markets and use several examples. The cost of cruising boats is usually €250,000 or less. The price of a new boat typically ranges between €100,000 and €1,000,000. The value of a used sailboat varies based on its size and year of manufacture, usually between €10,000 and €100,000.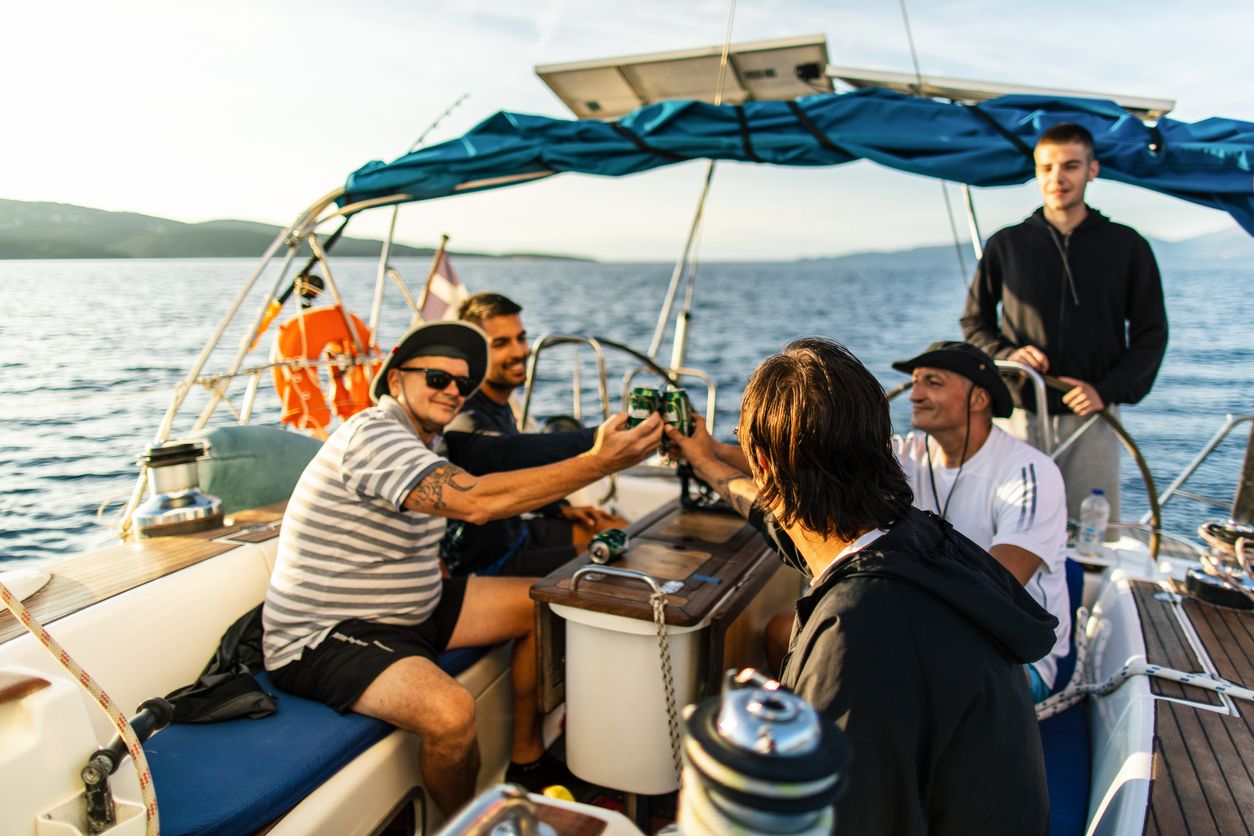 Summary
If you long for a real experience of authentic sailing, you want to enjoy the heel and feel the wind in your hair, then a sailboat is an obvious choice. A sailboat will also be a better option if you plan to reach less accessible, narrow, and capacity-limited places where maneuvering a large catamaran could be problematic. A sailing yacht won't hurt your wallet as much as a catamaran.
If you don't like the adrenaline rush of sport sailing, you prefer bigger living space, and especially if you have children on board, you will fall in love with a catamaran. When choosing a catamaran over a sailboat, enthusiasts of diving and other water activities that require storing bulky items will also be grateful.
If you don't want to lose the charm of yachting while sailing on a sailboat, but you are worried about the wobbly movement tendencies, for instance, while docking in a marina, choose a sailboat equipped with a bow thruster for easier maneuvering. 
What type of boat is better for a novice captain?
We recommend building practice first on a classic sailing yacht (monohull) for novice captains. You need to get enough feel for maneuvering the ship as such. A robust, comfortable, and stable catamaran will forgive many mistakes under normal conditions. Even a novice crew can be trained better on a sailboat - a catamaran "spoils" the crew more quickly.
An old sailor's proverb says, "a smooth sea never made a skilled sailor". So, if you are still at the beginning of your captain's journey, a similar rule also applies when choosing a vessel :)
So, what is the best deal for your next yacht charter vacation? Whether a catamaran or a sailboat, a multihull or a monohull is better, there is no winner or a loser. Each vessel has different advantages and disadvantages. Very important aspects of life on a boat are a good captain, a friendly and capable crew and favorable conditions for sailing. Although we cannot guarantee this at Boataround, we are here for you when choosing a specific boat.
---
At the end of the day, the choice is yours:
Subscribe to see special deals
Save money with every booking