Sailing the South Ionian: Tranquil Waters and Enchanting Islands Await Novices and Experts Alike
The Greek gods created a sailing paradise - a blue gem set within a green terrain called Eptanisa, which literally means Seven Islands. Sailing around Corfu, Lefkas, Ithaka, Cefalonia, Zakynthos, and other spectacular islands will leave you enchanted by this mystical 90-nautical-mile-long slice of the Mediterranean. Those who seek gentle and tranquil sailing exceptionally apt for novices will be excited to set sail in this dazzling sailing area.
Sailing the Ionian Sea: Breathtaking Scenery, Gentle Winds, and Unmatched Greek Hospitality
The location of the Ionian Sea is popular with sailors due to its reliable breezes, astonishing geography and proximity of anchorages. Contrary to other parts of Greece, you won't spot white houses in the hills but rather red-tiled Venetian architecture. Clear waters and lush green vegetation are omnipresent. Another difference is that Meltemi Winds (strong northern Greek winds) generally do not affect the Ionian Sea.  
The region of the South Ionian Sea shares many similarities with Croatia regarding sailing conditions. Short distances suitable for bay-to-bay kind of sailing, good "gentleman" wind and predictable weather make this region one of the best sailing places in the world. Although prices are generally more favourable, top-notch amenities in marinas are relatively scarce. To compensate for a bit lower standard in marinas or harbours and tricky berthing with no mooring lines, you will be rewarded with excellent sailing conditions, unbeatable Greek hospitality and cuisine.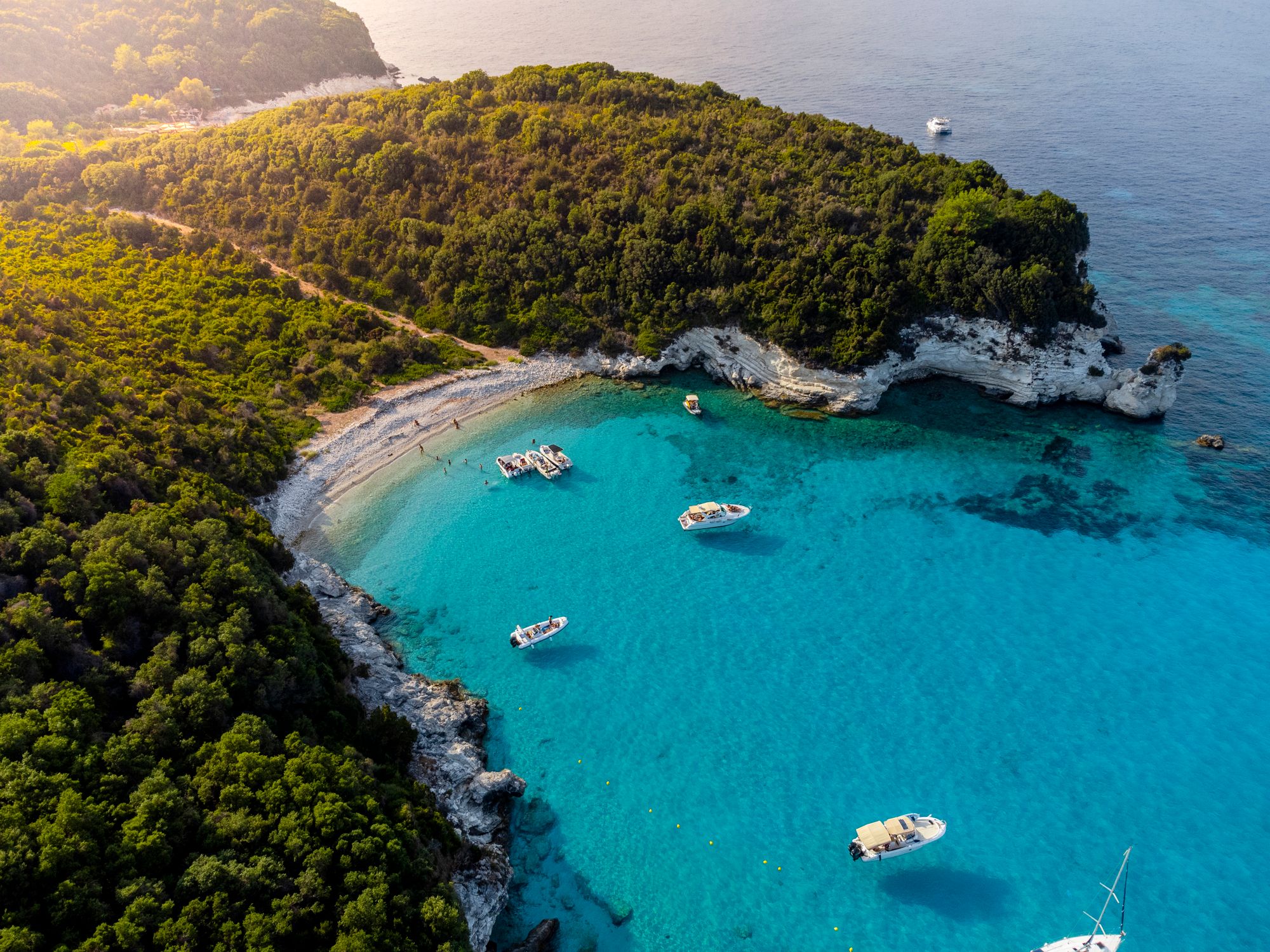 The Ionian islands are well-accessible by flights - either to Corfu or to Preveza. If you wish to explore the southern area, you should begin your journey from Lefkas. If you leave Corfu, head north of the Ionian Sea. If you want to cover the Ionian islands' northern and southern parts, prepare for a minimum of 14 days for the whole area.
When sailing around the South Ionian islands, don't rush. There are numerous bays with picturesque spots, waterside tavernas and quaint villages. Your first stop is the surprisingly mountainous island of Lefkas, famous for its lovely beaches and white limestone cliffs. Technically, it's not an island but a piece of island-like land with a lifting bridge connecting it to the mainland. Lefkas offers a plethora of stunning spots for a swim break and safe anchorage for nights.
Explore the caves of Meganissi island and immerse yourself in traditional Greek dances by night. While in the Ionian Sea, don't miss the enchanting island of Ithaka, the legendary birthplace of Odysseus. Sail past Cephalonia's majestic mountain landscapes and indulge in its renowned wine. For postcard-perfect white cliffs, navigate around the secluded island of Atokos.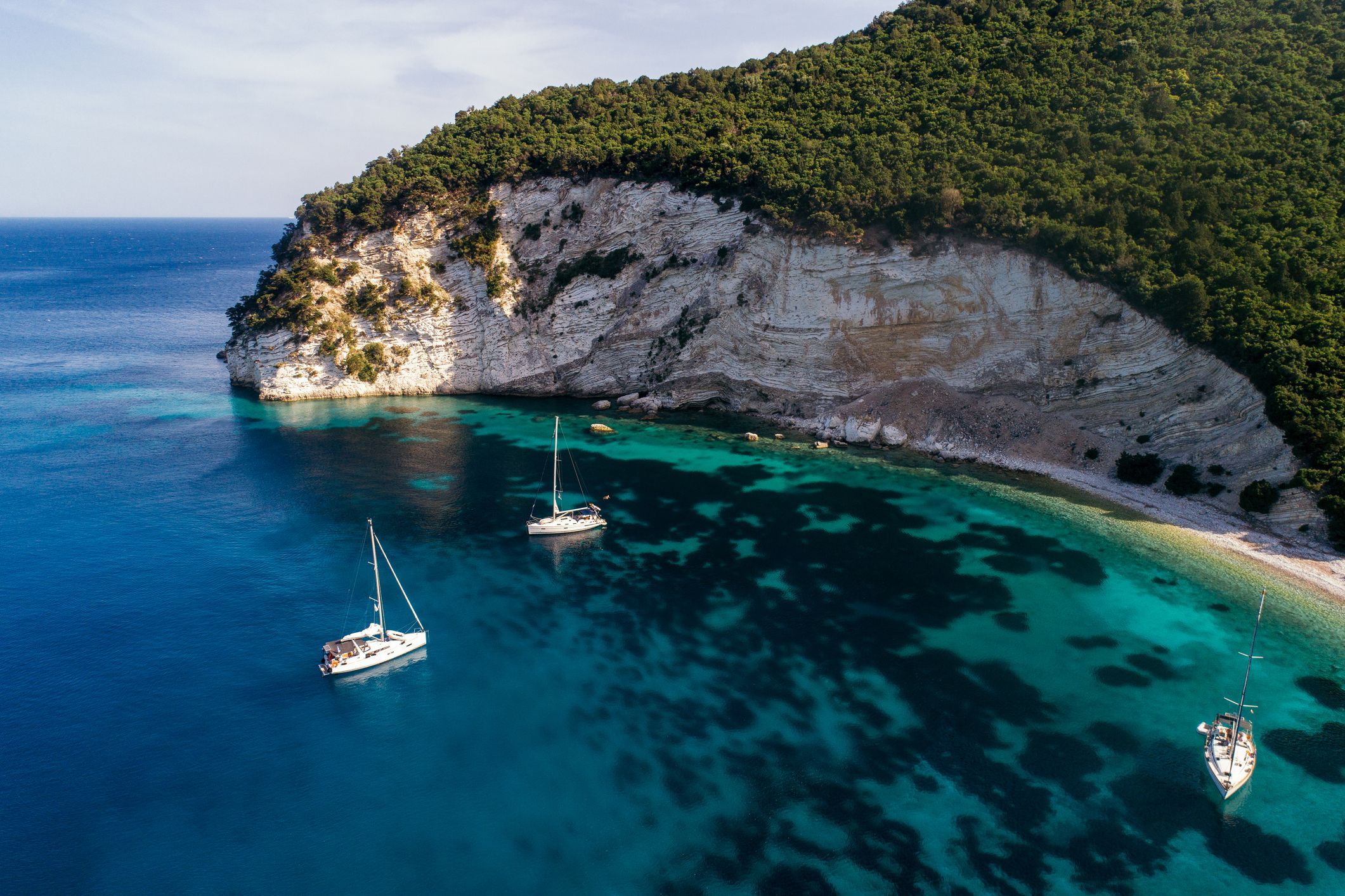 Remote islands such as Kalomos and Kastus are known for cosy, idyllic harbours and untouched nature. We advise sailing down to Zakynthos with more time available so you won't get your 7-day trip too packed. In Zakynthos, a Smuggler's Cave is one of those must-see spots.
Optimal Sailing Times in the Mediterranean: Navigating Winds, Weather, and the Ionian Islands
The main and best season is like anywhere in the Mediterranean - from May to October. Avoiding the Ionian Sea in August is better because of too many vessels. July can be too hot and suffers from an abundance of wasps. Opt for September or October to enjoy more winds as well. The sea is still warm, and there are more options to berth. Late spring is also an option, although you may experience gale winds from the south.  
Prevailing summer winds (Maestral) are consistent and blow from NW at force 2-6 (6-25 knots). Mornings are calm. Winds pick up after noon, making afternoons the perfect time to take your sails out.
When you spot dense clouds above the summits of islands Ithaka, Kefalonia or Zakynthos, it means that you may encounter strong gusts of winds on the leeward side (away from the wind), especially on the east side of Ithaka island.
Autumns and springs are known for SW winds that arrive at noon and gradually die off at sunset. The area of the Ionian islands tends to be more rainy than other Greek parts, and lately, thunderstorms have become more frequent due to higher sea temperatures. In the autumn, you may experience hurricane-like tropical storms called "medicanes". Warm seas, significant depth and low wind gradient are prerequisites for creating such intense storms. Unfortunately, these weather extremes are becoming more likely and common everywhere in the Mediterranean; Greece is no exception. 
Chartering a Boat in Greece: Essential Tips for a Safe Voyage
When chartering a boat in Greece, there are a couple of things to bear in mind. Have two people on board with a skipper license (or at least one skipper and one crew member entitled to use the VHF). They do check these papers in marinas. When doing a check-in, observe the state of your anchor, anchor locker hatch and chain. You will be dropping your anchor daily. Have a long line on board and better check the condition of all stripes and sails. Don't drink water from tanks and buy water from shops. 
When navigating, be aware that the map you see on the plotter probably needs to be updated, and it is just a digital copy of an ancient paper chart. Rely on the excellent and good old eyeball navigation - your observation and navigation skills.
Stern-to Berthing in Greece: Techniques and Tips for Successful Docking
The most common technique for berthing in Greece is the stern-to method (or bow-to). Moorings typical for Croatia are rare in Greece and usually belong to a local taverna. The stern-to-quay or pontoon method means that your boat is berthed with the stern to the quay, and you drop the anchor out from the bow. Don't get frustrated when you need several attempts for a successful docking; it is just about practice and crew strategy.
You reverse (with the stern) towards the harbour with all fenders out and one large fender attached to the stern. Have two stern lines ready for throwing. Start dropping off your anchor at about five boat lengths from the quay. Dropping the anchor too soon may result in ending up too far from the quay. Release the anchor manually and gradually, stop after 10 meters when the chain is lifting and then drop another 10 meters. It is better to have more of the chain out than less.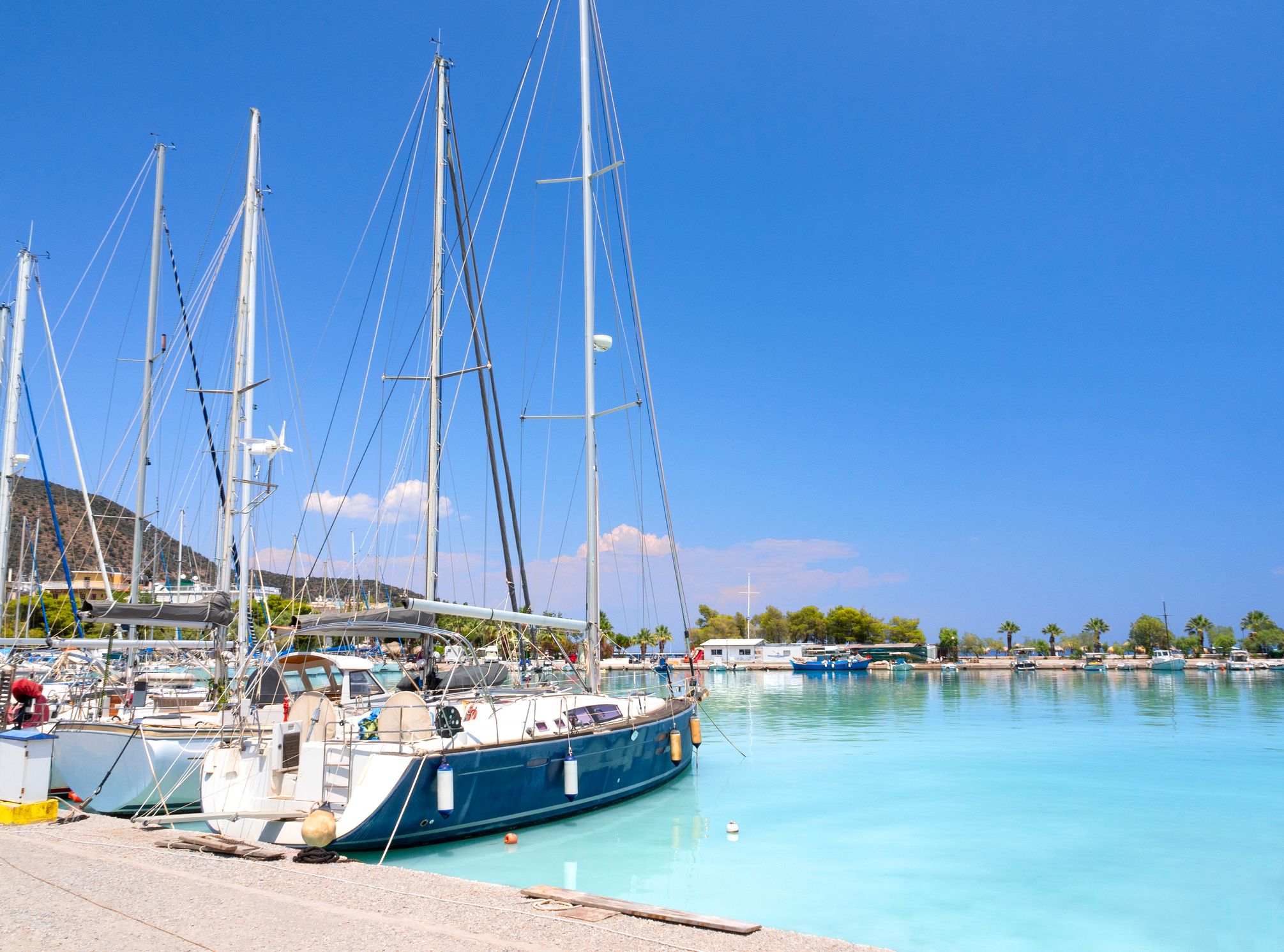 Another common method is to anchor with a long line ashore. Release the anchor and go backwards to the spot you chose. Then, swim with the line and tie it off around a rock.  
Suggested 7-day sailing itinerary in the South Ionian - from Lefkada to the south
Your "leisure and pleasure" type of Odyssey journey starts and ends on the island of Lefkas, considered a real South Ionian sailing hub. Charter your boat in the Lefkas marina, just 40 minutes from the Preveza airport by taxi.
Thanks to the short distances between bays, it's fine to plan and replan your itinerary on South Ionian island. This itinerary showcases several beautiful islands, one island per day or two, but we suggest dedicating more time to the island of your choice.
The area resembles a large lake enclosed by three big islands on the west and the mainland with small islands on the east. No wonder it is so popular among watersport fans, but luckily, there are endless possibilities to anchor.
Day 1 (Saturday):  Check-in at Lefkas marina at 17:00 (0 nm)
Day 2 (Sunday): Lefkas Marina - Fraxia - Sivota (15 - 18 nm) or Vassiliki 
Day 3 (Monday): Sivota - Cephalonia/Effimia (22 nm) (11 nm)  
Day 4 (Tuesday): Efimia - Paliouras beach - Ithaka/Vathi or Kioni  (18-20 nm)  
Day 5 (Wednesday): Vathi or Kioni - Atokos - Kalamos/Kastos (18 nm) OR Ithaka Kioni - Atokos - back to Cephalonia/Fiscardo (20 nm)
Day 6 (Thursday): Kalamos or Fiscardo - Meganisi/Atheris or Spartakhori (15-22 nm)
Day 7 (Friday):  Meganissi - Lefkas Marinas (7 - 10 nm)
Have a look at the route marked on Google Maps on this link here.
. 
Day 1 (Saturday): Lefkas Marina (0 nm)
The local marina is one of the key highlights of Lefkas Town - the capital of Lefkas island. Walking around more than 600 boats is an obligatory sightseeing activity. This beautiful marina is pricey but well-equipped with good facilities. Water and electricity are offered based on a slightly dubious pre-payment system with no refunds. Get your provisioning in a supermarket within walking distance from the marina.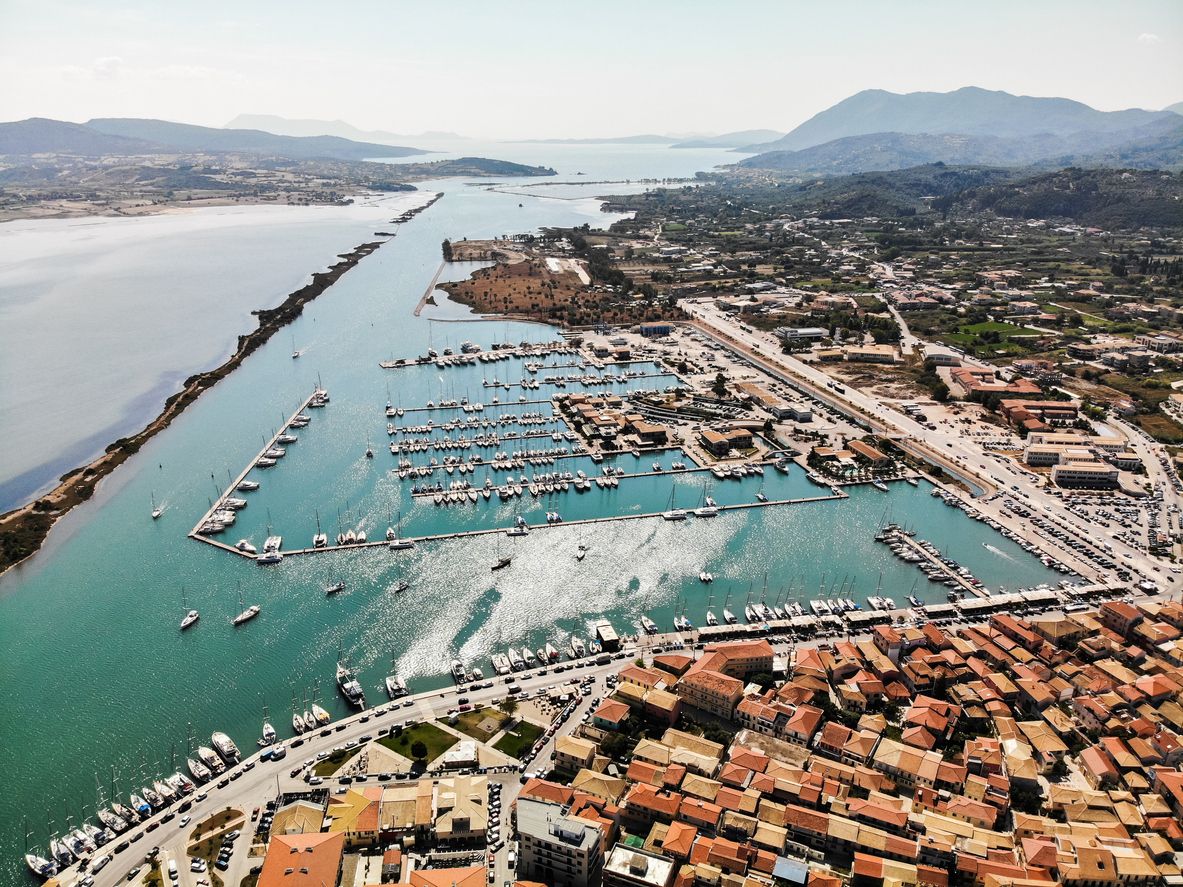 If there is time left, stroll to Lefkas Town and observe the creative yet impressive chaos of colourful houses, churches and alleys. Stop for dinner at places such as Taverna Eutuxia or Fytopoulous to get the best souvlaki. You can spend more time walking down the Lefkas streets on your last day. The capital, surrounded by sea from three sides with an array of waterfront tavernas and bars, deserves your attention.  
Day 2 (Sunday): Lefkas Marina - Fraxia Beach - Python Cove - Sivota (15 - 18 nm) or Vassiliki 
Leave early in the morning on Sunday. It takes 30-45 minutes just to leave the channel, and it can sometimes be stressful. Before entering the channel, get your sails off and avoid sailing close to rocky shoals. Lateral buoys mark the channel clearly.
Continue your trip south alongside the east side of Lefkas island. After 2-3 hours of sailing, get a break in a well-protected and quiet Fraxia Bay with a small sandy beach surrounded by green forests. The bottom holds the anchor well, although it is steep in some parts. The bay lies just in front of twin islands, Scorpio and Skorpidi. If you are up to it, you can meander around them and anchor off, but it is prohibited to walk on land. These islands used to belong to the Onassis family, and now the new owners implemented restrictions for curious yachters.
Another attractive stopover, especially in the late afternoon, is the Python Cove. The bay is a good choice during the heat because of the long shade coming from the surrounding cliffs. The bottom is deep, and we recommend taking your lines ashore and using around 50-60 meters of chain. 
Where to stay overnight?
Just around the corner from the Python Cove lies your final destination of today. You can spend your second night in the lovely and lively town of Sivota. The town is situated in a well-protected landlocked bay with a concrete quay at its disposal. There are plenty of nice taverns to choose from, and use the pontoon to berth in exchange for dinner you pay there. Our tip is Taverna Spiridoula, with very safe berthing and a super welcoming ambience in this family-owned Greek restaurant. Book the place in advance.
In case you are keen on sailboarding, continue several miles down to the wide bay of Vassiliki, one of the best places for windsurfing in the whole Mediterranean. Drop an anchor in a spot called Apollonioi at the head of the bay or go stern to the quay in the harbour at the village. There is a marina under construction, but as of summer 2023, it still needs to be fully completed. There are some places you can moor, but be aware of some local handymen pretending to work as port managers who collect mooring fees illegally.
Day 3 (Monday): Sivota - Cephalonia/Effimia (18 nm)
Outstanding scenery will spread in front of your eyes when sailing south to another mountainous island - Cephalonia. The island boasts captivating views. Sandy and pebbles beaches, steep slopes, wild vegetation, friendly villages and dozens of shades of blue colour. 
The East coast of Cephalonia, with the opposite island of Ithaka, is dotted with several appealing anchorages. Expect crystal clear waters, sandy bottoms and solitude in bays. When anchoring, put a long line ashore. On your way south down the Strait of Ithaka, have a well-deserved stopover to breathe in the beauty. Goat Bay, the neighbouring Piglet Bear Bay or Kapsolimionas Bay further to the south are all cute and tranquil bays with small pebble beaches visited mostly only by local goats. Unfortunately, wasps are dominant in this part of the island. Lit a coffee powder to get rid of wasps; it is an old sailor's trick.  
Boataround Tip: You may decide to adjust your itinerary today and explore other sides of the island as well. The west and south sides of Cephalonia have wonderful bays such as Myrtos and Atheros, a southern bay with red-sandy beach Xi, a secluded bay Three umbrellas, and dozens more. It takes up to 25 miles to get from Sivota to Atheros. From Atheros, you can return to the N of Cephalonia (Fiskardo) and then to Ithaka.
Where to stay overnight?
Effimia (or Eufimia) is a picturesque village located centrally on the island. When approaching the harbour, the harbour master (VHF 74) should assign you a berth either on the north quay (with water and electricity) or east in case the north is packed. Wind gusts are common, so make sure to anchor well. Be careful not to cross the anchors with other boats.
There are several restaurants on the promenade. We recommend getting a day's catch from a local fishing boat and, of course, the famous Cephalonian wine to accompany your dish. Popular tavernas are The Local, Paradise or Pergola.
Alternatively, below Effimia, there is a modern town and marina Sami set in the wide bay. If you need to refuel and get water and electricity, Sami is a good, well-protected place with a very friendly harbour staff. Reservations are yet to be possible, so it is advisable to arrive earlier. Walk uphill to an ancient acropolis situated above the marina.
Day 4 (Tuesday): Efimia - Paliouras beach - Ithaka Vathi or Kioni (20 nm) 
Your today's goal is to sail to the legendary and gorgeous island of Ithaka, the home of Odysseus. On your way there, have a stopover or two on Cephalonia island. Between Effimia and Sami hides the Cave of Melissani. To get inside the cave, you need to hire a local boatman. This half an hour long excursion takes you through a tunnel to the cave and a lake inside. A bay located in the Cape Dichalia boasts a peaceful beach Paliouras. The whole Cape of Dichalia is a place worth setting foot on - there is a nice viewpoint providing stunning views over Ithaka. Wave to the old lighthouse Sami on your starboard and then slowly bear toward Ithaka.
Where to stay overnight?
As everywhere in the South Ionian area, you have numerous anchorages to choose from. If you don't need to resupply, anchor for free in the Filiatro Bay, well-protected from S to NW winds. You can access the beach with a dinghy from the left side of the bay.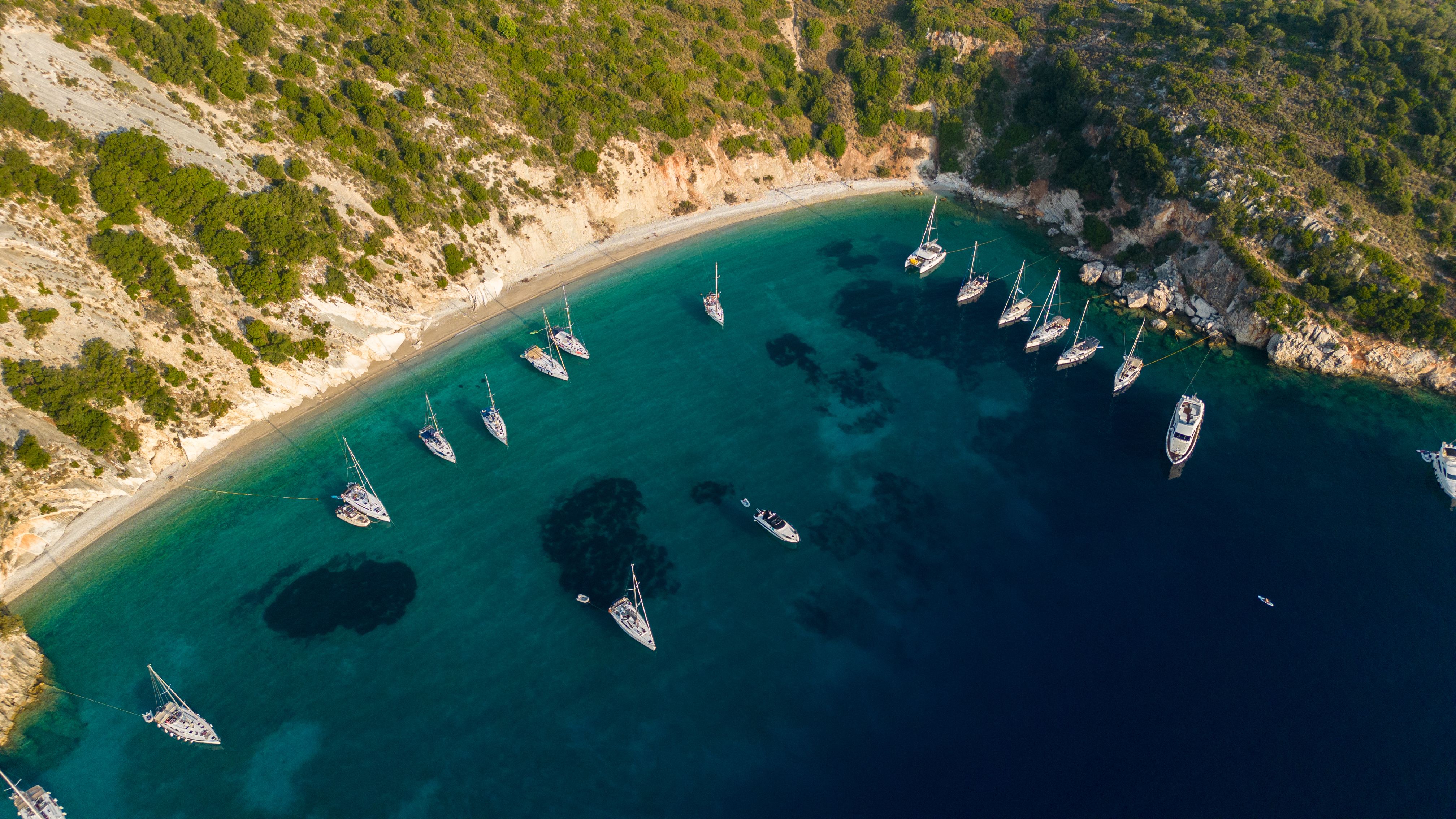 If you prefer going for a walk in a coastal town, opt for Vathi or continue for 2 more hours to Kioni. The bottleneck bay of Vathi is protected from all directions, and it has an excellent anchor holding. Unsurprisingly, it is a popular spot for sailors. Many claim that visiting Vathi town is like travelling in time to St. Tropez in the 60s. A culinary pleasure awaits you in any of the taverns. Dining in the Poseidon or Agathi taverna will be a memorable experience for your taste buds. We recommend arriving in the early afternoon.

Another delightful spot is the village of Kioni. Bear in mind that the place gets full quickly in the top season and that the gulf of Molo between Vathi and Kioni tends to be very windy in the summer. Kioni is a little gem with a cobalt blue colour of waters in the bay and with houses built on steep slopes that are covered with olive and cypress trees.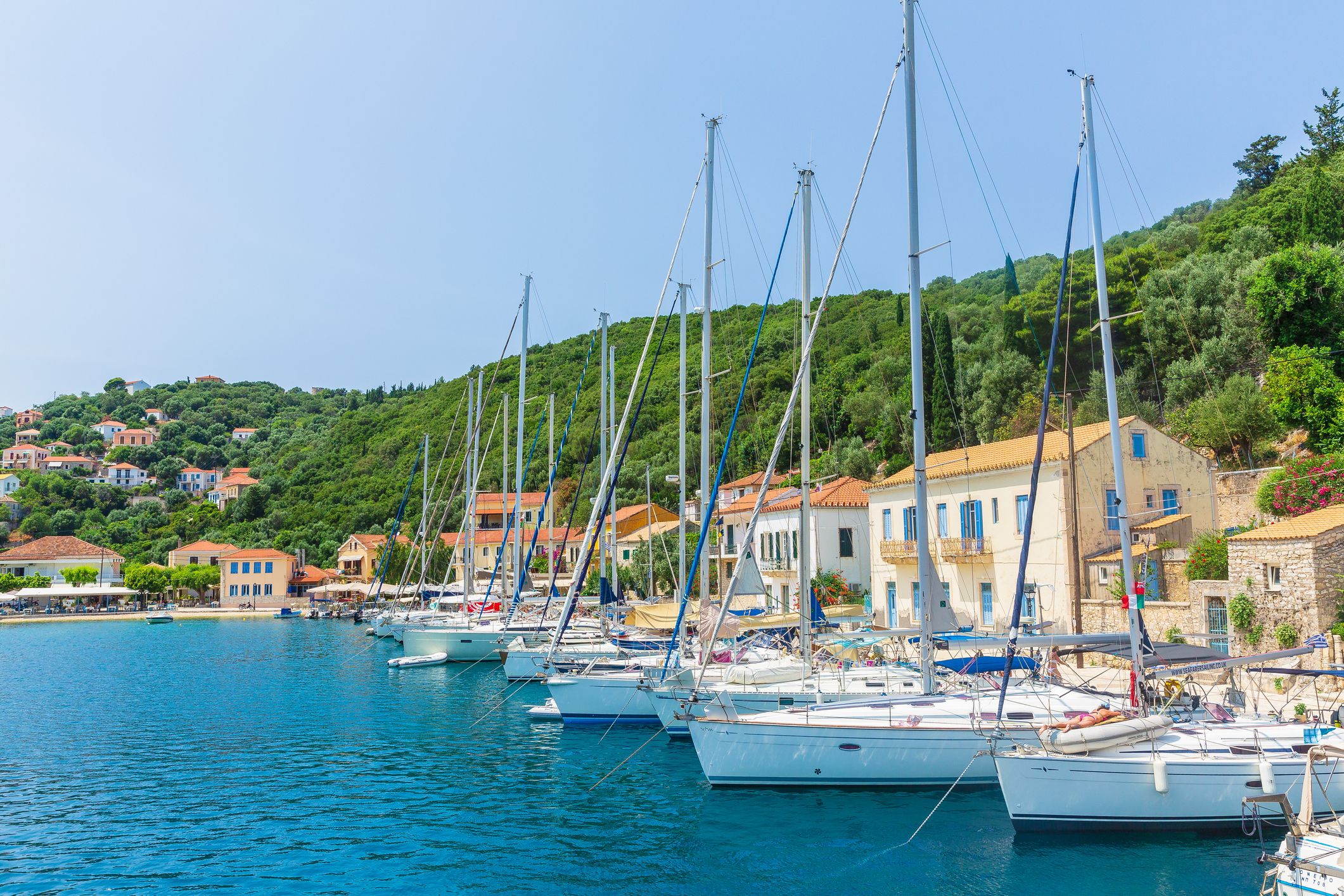 However, there are some drawbacks too - expensive water to fill your boat up and a ferry passing around 22:00 causing sudden strong waves. Adjust the lines and lift the passerella (gangway) at this time. Be careful about crossing the anchors with other vessels. For a tasty dinner, Mythos and Calypso Taverna are both fine choices.
Day 5 (Wednesday): Ithaka Vathi or Kioni - Atokos - Kalamos OR Ithaka Kioni - Atokos - back to Kefalonia/Fiscardo (20 nm)
This is again one of those days to adjust your plan on the go. We strongly recommend visiting the charming island of Atokos. Then it is up to the crew if you want to continue to see less famous but more authentic Kalamos and Kastos islands or go back to the north of Kefalonia or Ithaka. Either way, you won't end up disappointed.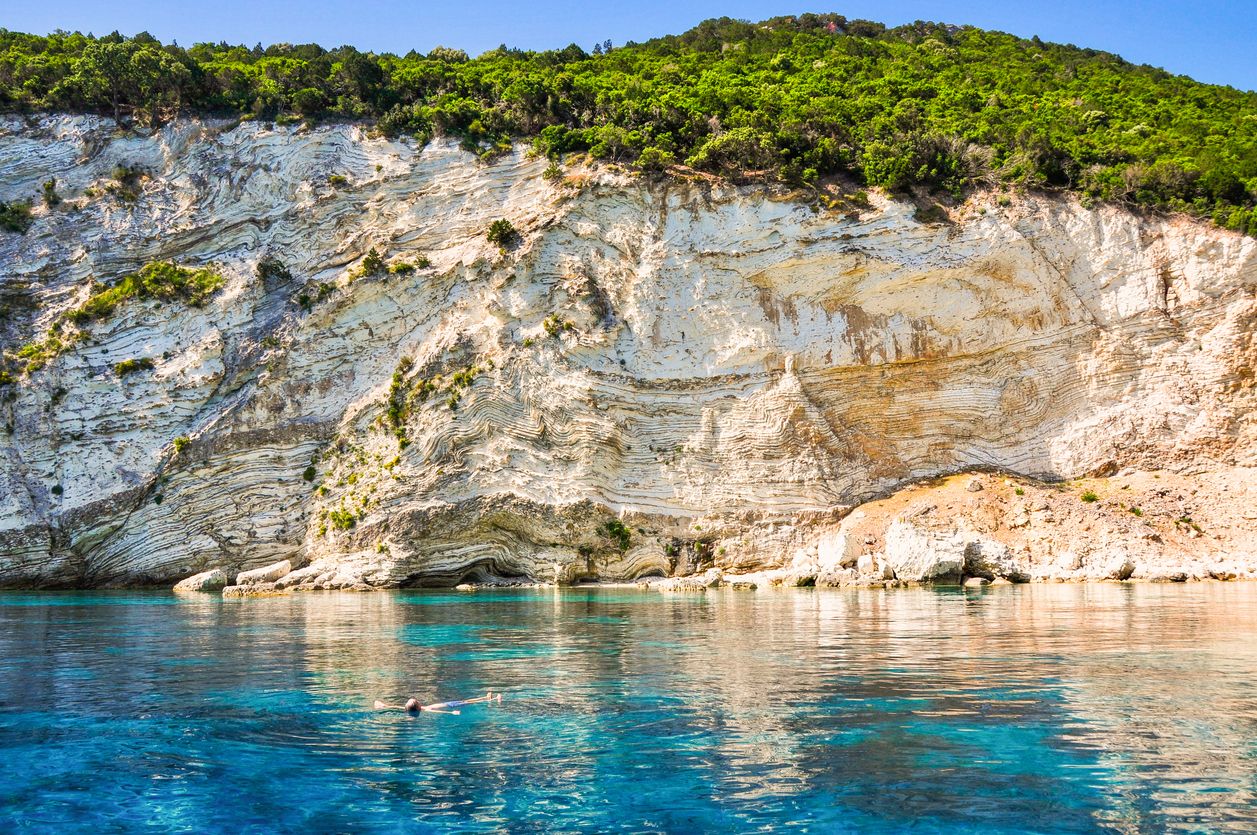 Atokos is a private island with anchoring allowed. The island has Caribbean vibes thanks to turquoise waters and bays bordered by impressive cliffs. The South is definitely worth sailing to. Stop for a swim either at the first southern bay or choose a popular One House Bay with Greek Pig beach. The name of the beach has literal meaning - indeed, you will be entertained by wild but cute oinking pigs.
Another suggestion for a stopover is Wasp Bay on the relaxed island of Kastos. Sandy bottom with good holding and spectacular clarity of the water - that's what you need for a nice snorkelling. You can either walk from this bay to Port Kastos, or you can anchor some bays closer to the village.  
Where to stay overnight?
If you want to soak up the authentic Greek experience, head to the island of Kalamos. The shape of the bigger sister of the Kastos island resembles a huge whale. We recommend staying in the Kalamos port. It is a charming little village, but what stands out here, compared to other plentiful villages elsewhere, are the people. Everything on this island will be stress-free.
The local harbor master Georges and owner of the largest taverna in the village, is an expert on mooring and will help you with berthing with a smile. He is able to squeeze in many boats in the port, and it's a memorable experience just to observe his skills. As a payment for his services, get a tasty dinner at his place. For breakfast, definitely have some bread from the local superb bakery.
Tip for the alternative itinerary: After hopping off at Atokos, set sail back to Cephalonia to the enchanting town of Fiskardo on the north of this island. It's quite a bustling place with many sailors, so better arrive early. The number of tavernas, beautiful pine woods and boats on the water create a postcard-like scenery.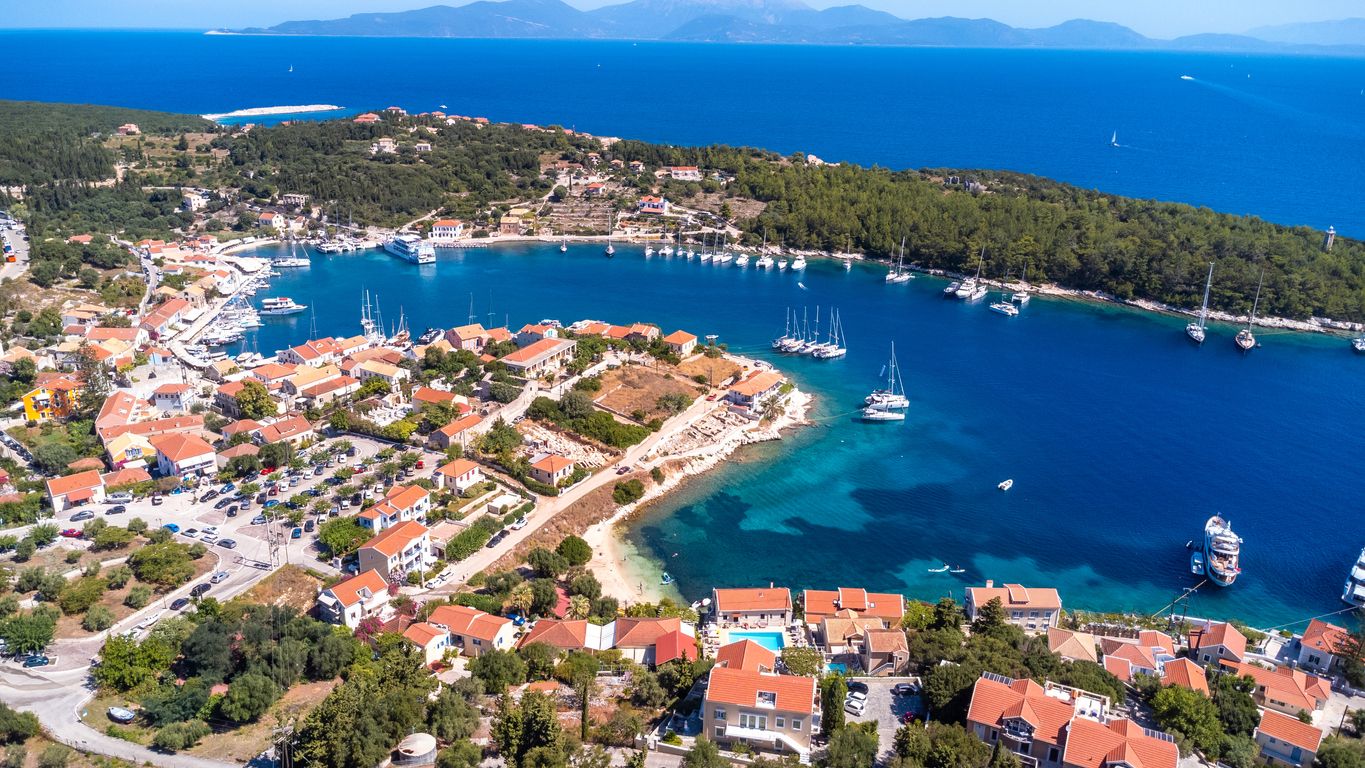 Day 6 (Thursday): Kalamos or Fiskardo - Meganissi Porto Atheni/ Spartakhori/Little Vathi (14 or 20 nm)
From the Port of Kalamos, sail further to to east side of Kalamos island and then turn towards the north of Meganisi island. Enjoy a glimpse of the mainland when cruising around Kalamos. Stop for a swim at the quiet Kalamos Woods Bay in the very east. Enjoy the music of cicadas and the mixture of green and blue waters. Release your anchor at the beautiful Episkopi Bay on the north and get lunch in the Varka taverna. The hiking part of your crew can take a walk to the ruined monastery with views over the strait.  
When you reach the island of Meganissi, you will be amazed by the abundance of alluring anchorages on the north and northeast shore. There is no wrong choice. The northern shore is pretty ragged, and its bays are all well-sheltered. Such a structure of the coastline made Meganissi popular for pirates and smugglers till the recent past.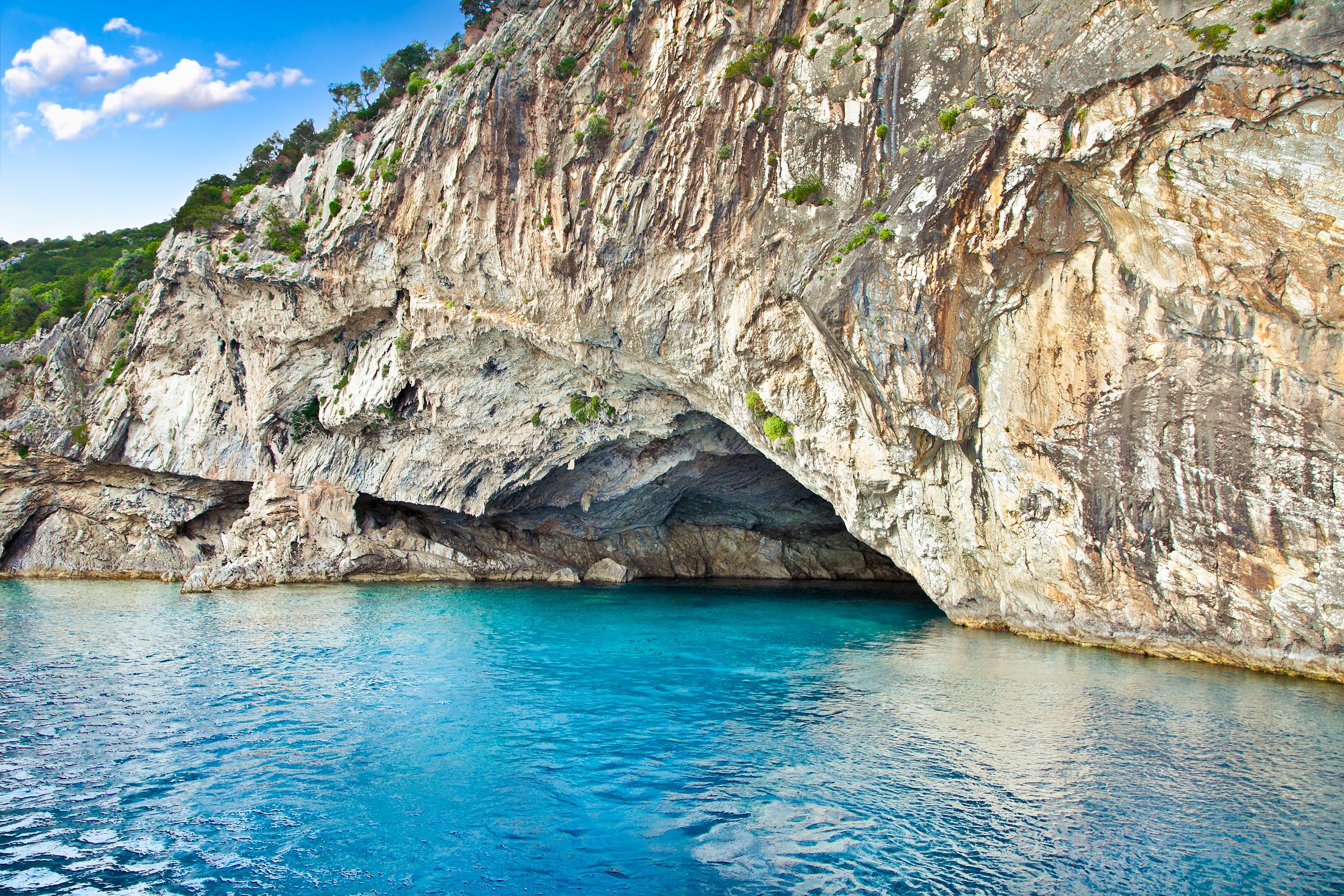 Boataround tip: If you are sailing from Fiscardo from Cephalonia, you can stop by the famous large Papanikolis cave situated on the west side of Meganisi island. Arrive before afternoon (before the wind picks up) and take a dinghy to the cave. 
Where to stay overnight?
We vote for staying at the Port Atheni or in other parts of the wide Atherinos inlet. It is a perfectly sheltered and not overcrowded bay surrounded by olive trees. Moreover, there is no better way to say goodbye to your last full day on the Ionian Sea than with good food and dance. Park your boat on the quay at the south end of the bay or directly in front of Taverna Niagas when the weather is settled and with no swells. Taste fresh Greek specialities in Niagas or Atherinos taverna and enjoy a cosy atmosphere. Maybe you will be lucky to take part in the traditional Greek dance Zorba. To continue tasting the real Greece, walk to the authentic village of Katomeri and to the Kapitounia mill on the hill. 
Spartakhori Bay is another large bay worth staying in. The Spartakhori village settled on a summit consisting of small alleys, and we definitely recommend climbing up there from the harbour or taverna berths. Visit Lakis taverna on the top and enjoy the splendid view. For berthing, choose taverna Porto Spilla, in which you will be met with the Greek hospitality of friendly owners Panos and Babis, who will help you with boat manoeuvre. Reservation is needed a day in advance. Taverna Spilla on the east side of the bay is also an excellent choice for your overnight stay. Park bow to quoy so you can swim off from your stern.
Day 7 (Friday):  Meganissi - Lefkas (7 - 10 nm)
When approaching your home marina, feel free to make a couple of stops on the Meganissi and Lefkas coastline.
Drop an anchor at one of the indented bays on Meganissi and Lefkas, stop in the Ligia Bay and get lunch at Taverna Kanioria. The nearest petrol station to the Lefkas Marina - Elin, has a good position and is large enough to take more boats. Luckily, no long queues are expected even on Friday afternoon.  
You may get caught up in making plans for your next Ionian adventure. We get it! This compact area with sheltered waters and a fascinating marine atmosphere is the best playground for all sailing enthusiasts.
In conclusion, the South Ionian offers an unparalleled sailing experience, with its breathtaking islands, crystal-clear waters, and rich history. From the bustling Lefkas Marina to the serene bays of Meganissi, every day presents a new adventure. As you sail through this picturesque region, you'll be captivated by its beauty and charm. If you're looking to embark on this unforgettable journey, don't wait any longer. Book your yacht through Boataround and set sail on your own "leisure and pleasure" Odyssey. Safe travels and fair winds!
Subscribe to see special deals
Save money with every booking