Sailing in Germany - A Thrilling Journey Across the Baltic Sea, North Sea, and Inland Waters
Experience a variety of water adventures thanks to countless sailing opportunities in Germany - an unexpected hidden gem for all types of sailors. Whether it's the Baltic and North Sea, eclectic islands, inland rivers and lakes, cozy little towns or Hanseatic seaport cities, sailing in Germany outreaches all expectations. 
Why sail in Germany?
What is the best time to sail in Germany?
What are the sailing conditions?
What is maritime and river infrastructure?
How much does sailing in Germany cost? 
Top places to add to your sailing itinerary 
What makes Germany a good place to sail?
Although Germany is usually not the first destination to pop up in your mind as the top sailing destination, it surprises you with three aspects:
Germany is a country with developed yachting culture and a high level of sailing skills 
 Quality marine infrastructure - numerous and well-equipped marinas with transparent service and facilities
Unique coastline sailing experience with fabulous sailing conditions in the main season - constant bad and rainy weather is actually a myth
The most popular area for sailing in Germany is the German Baltic coastline. The Baltic  Sea is a closed sea with almost no tidal activity and easy access to Scandinavia. In summer, a Baltic area is a great option for beginners, family-friendly sailing and for a more relaxing and yet still eventful sailing trip. Uncover picturesque islands such as Fehmarn or Rügen, sail alongside the rugged 2000 km long Mecklenburg coastline littered with lighthouses or relax on sandy beaches. 
The northwest part of Germany is a starting point for your sailing adventure in the North Sea. We recommend exploring the North Sea when you are a skilful skipper. The German North Sea coastline allows you to experience a range of sailing activities - sailing around 14 islands, visiting little harbours and seaside resorts, enjoying sightseeing or getting to know the North Sea through the stomach thanks to plentiful culinary options. Nature lovers will be thrilled to set foot on Frisian islands - the best place to stumble upon seal colonies. 
If you fancy inland boating, you can set sail or start your motorboat in one of the 2000 lakes in Mecklenburg Lake District or in Brandenburg. 
The northeastern Brandenburg state is covered with more water areas than anywhere else in Germany, and the number of sunny days is above-average. The Brandenburg features a variety of sailing holiday tips. You can combine routes from lakes to rivers and pass through the bustling city centres of Berlin or Potsdam. 
For more experienced sailors, we recommend chartering a boat on the largest German lake Bodensee (called Lake Constance), located in the south of the country. The lake is known for its stronger winds, but beginners will also enjoy their sailing week to the fullest. 
In case your preferred water activities are not linked to sailing, opt for a houseboat charter - an increasingly popular leisure activity on numerous beautiful German lakes or even within the Berlin area itself. More than 3000 lakes in Berlin offer an infinite choice of entertainment in the vicinity of water.
When is the best time to sail in Germany?
Unlike popular destinations in the Mediterranean, Germany is not a year-round sailing area for relaxing sailing. However, sailing in Germany in the peak season is considerably more hassle-free. The area is not crowded with tourists and vessels. 
The best time to steer your sailing or motorboat is from May to September. The weather patterns are more predictable, the days longer and warmer, the cultural events more frequent, and the water temperature nice even for swimming. 
What are the sailing conditions?
The conditions are slightly different in each part. Generally, the Baltic Sea is particularly calm and wave-less during the summer, with favourable breeze perfect for relaxing sailing. Days with no wind are rare. Watch out for the depth in lakes and along the Baltic coast in some areas. 
In the North Sea coastline, you may encounter dangerous swells, tide cycles and strong winds that may result in an inability to enter a marina. Pay more attention when the northwest wind blows in the east of Borkum (East Frisian islands). Some parts located on the North Sea belong to national parks, and nautical charts are a must. 
On the other hand, one of the sunniest places in Germany - Fehmarn island (Baltic Sea) and neighbouring areas have fairly consistent weather with wind strength of 3-4 Bft. Be more cautious with the change of wind to the east.  
Water temperature inland and offshore is up to 18-20 °C. Waves reach a maximum of 1.5 meters, and wind speed up to 21 knots (5 Bft).
What is maritime and river infrastructure?
Germany has more than 170 marinas to choose from. Even in the top season and late in the evening you will be able to get a berth without booking in advance. Numerous sailing clubs are a practical spot to get information about local peculiarities.  
Although marine infrastructure on the German coastline is dense enough, when planning routes in the Baltic Sea outside of German waters, expect to find buoys or marinas in only some bays. Navigation-wise, the German coastline is covered with plenty of cardinal marks, markings of fairways and channels. However, always watch out for unmarked shoals.  
Parking at marinas in the area of the Baltic and North Sea is different from the Mediterranean way of docking. The bow part is positioned at the pier and the stern towards the water. It may happen that you will not find any gangway on the chartered boats. At the harbour, you will maneuver among wooden stakes and park the boat between two pillars in a narrow spot. You will carefully adjust the boat in the box with four ropes. Tying the boat with mooring ropes is rare, and sometimes boats are tied to each other sideways. In smaller harbours, you will do better with boats shorter than 13 meters (40 ft).
Worth staying are the following famous marinas and harbours. The second largest marina in Europe is located in Hamburg - a busy city with nautical history dating back to the medieval era. On the Rügen island dock at the marina Glowe with the most beautiful sandy beach on this island. Marina Peenemünde, in the town of Usedom in Mecklenburg state, is rather small and shallow, but it is known for its old Soviet submarine K-24.
 From the City marina in the lovely Hanseatic city of Stralsund, you can observe the city centre listed on the UNESCO Heritage list. When boating or houseboating in Brandenburg, stay at the friendly Marina Plaue on Havel River - one of the most beautiful German rivers. 
How much does sailing in Germany cost?
Fees in marinas are slightly smaller than, for instance, in Croatia. To book a new sailing boat Hanse for six people in Rostock, you will pay around 1800 EUR for a week's trip in the high season. You will save on expenses for meals, and with the same budget, you can afford better service than in the Mediterranean.  
Top places to add to your itineraries
When sailing or boating in Germany, there are several areas that will fit your needs.
The Baltic Sea coastline
When sailing alongside the northeast German coastline, head off to the largest German island Rügen (Mecklenburg state). You would need more days to circumnavigate the whole island. You can start your itinerary inland (e.g. marinas in Lubmin or in Peenemünde) and on the way to Rügen island stop by the pretty town of Stralsund. On Rügen island, you can find a good shelter in Breege, Wiek or Lohme. Enrich your island-fun sailing trip with islands such as Hiddensee and Ruden. 
To feel the nice maritime vibe and to combine your trip with a little bit of inland sightseeing, visit the charming city Rostock (dock in the port Yachthafen Hohe Düne) and then take a bus to discover the impressive castle, Schwerin. Take a route to Lübeck, an old Hanseatic city listed in the UNESCO Cultural Heritage. Soak up romantic flair in the Travemünde seaside resort with typical roofed chairs.
To feel the thrill of the salty Baltic Sea, hop over to Fehmarn island, named "Sunny island" located on the eastern coast of the Schleswig-Holstein region. Stay at harbours such as Yachthafen Burgtiefe or inland in the lovely Heiligenhafen. Fehmarn is a suitable starting point if you are up to a voyage to neighbouring Denmark, Kiel Bay or along the Mecklenburg coastline. 
The North Sea coastline 
Tidal charts are necessary when sailing the North Sea and be aware of swells and currents when entering local harbours. Favourite places to visit are East Frisian islands (islands Borkum and Norderney), Cuxhaven and Helgoland island. 
Borkum island is home to stunning wildlife with dunes, freshwater pools, orchids and seals. Moreover, it is a top place when you like scuba diving and live music events.
Cuxhaven Marina is a large port of call when heading off to the North Sea and to the North-Ostsee-Kanal (NOK/Kiel channel) that connects the North and Baltic Sea. Due to large commercial vessels gliding next to the port, swells are common.
Helgoland island is a great place for wonderful walks along the cliffs with red rocks and for bird spotting in the wilderness. Avoid staying on this island at weekends, the port of Südhafen may be crowded. Helgoland is also famous for several duty-free shops and for cheaper fuel. 
Mecklenburg Lake District
The Mecklenburg-Vorpommern region has charming lakes placed every few meters. Sailing is permitted in some fairways, but chartering a motorboat makes more sense. Müritz is the second largest lake in Germany and is ideal for boating and relaxation on exquisite beaches. The flat bottom of the lake causes occasional higher waves. Very popular is Marina Müritz in Claassee with tranquil berths from which you can observe the sunset over the Lake District. Try other nice marinas in Buchholz on the southern tip of the lake, in Nebel or in Rechlin. 
Brandenburg and Berlin Lakes 
Popular areas in the Brandenburg region are Havel Lakes and Potsdam with unforgettable waterways to pass by. This destination offers a mix of lakes, rivers, small channels across forests, and little villages. The Scharmützelsee is the longest lake in Brandenburg, and sailors appreciate the constant wind (3-4 Bft).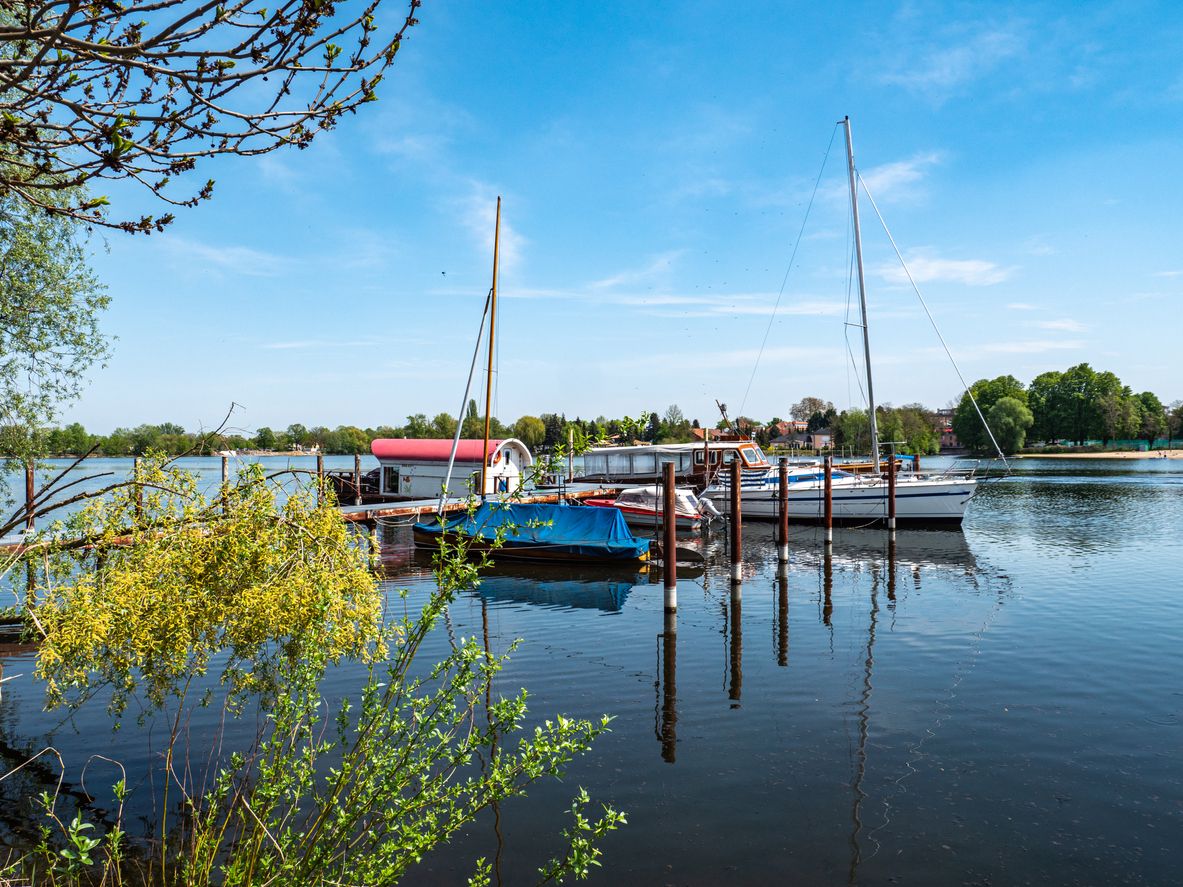 The Lakes of Berlin boast diverse boating experiences. The middle of Lake Müggelsee has an ocean-like atmosphere. You can start your sailing itinerary from Treptow, continue along the river Spree to the East Berlin part (Köpenick) and finally into Lake Müggelsee.  
Breathe in the salty air of the German coastline and get impressed by the captivating beauty that Germany offers. Sailing, boating, fishing, sightseeing, beach and nature aficionados will be astonished at this underrated yet outstanding destination. Book your vessel and head to Germany. 
Subscribe to see special deals
Save money with every booking