Uncover Corsica by Boat: A 7-Day Sailing Adventure
Once you glide with your boat in the waters of Corsica alongside its striking coastline, you will understand immediately why this island is called "the island of Beauty". Breathtaking scenery with red cliffs and rugged shores, vibrant atmosphere and old towns enchant sailors worldwide. When you are an intermediate and experienced sailor seeking to explore horizons, Corsica is the right choice.
Discovering Corsica: The Unspoiled Gem of the Mediterranean
Although Corsica is French, it is a rather individual region with a unique island culture, Italian vibes and its language, Corsu. Corsica shares many similarities to its Italian cousin Sardinia, and many say that Corsica is what Sardinia looked like 20 years ago - a bit wild and with a relatively unspoiled nature.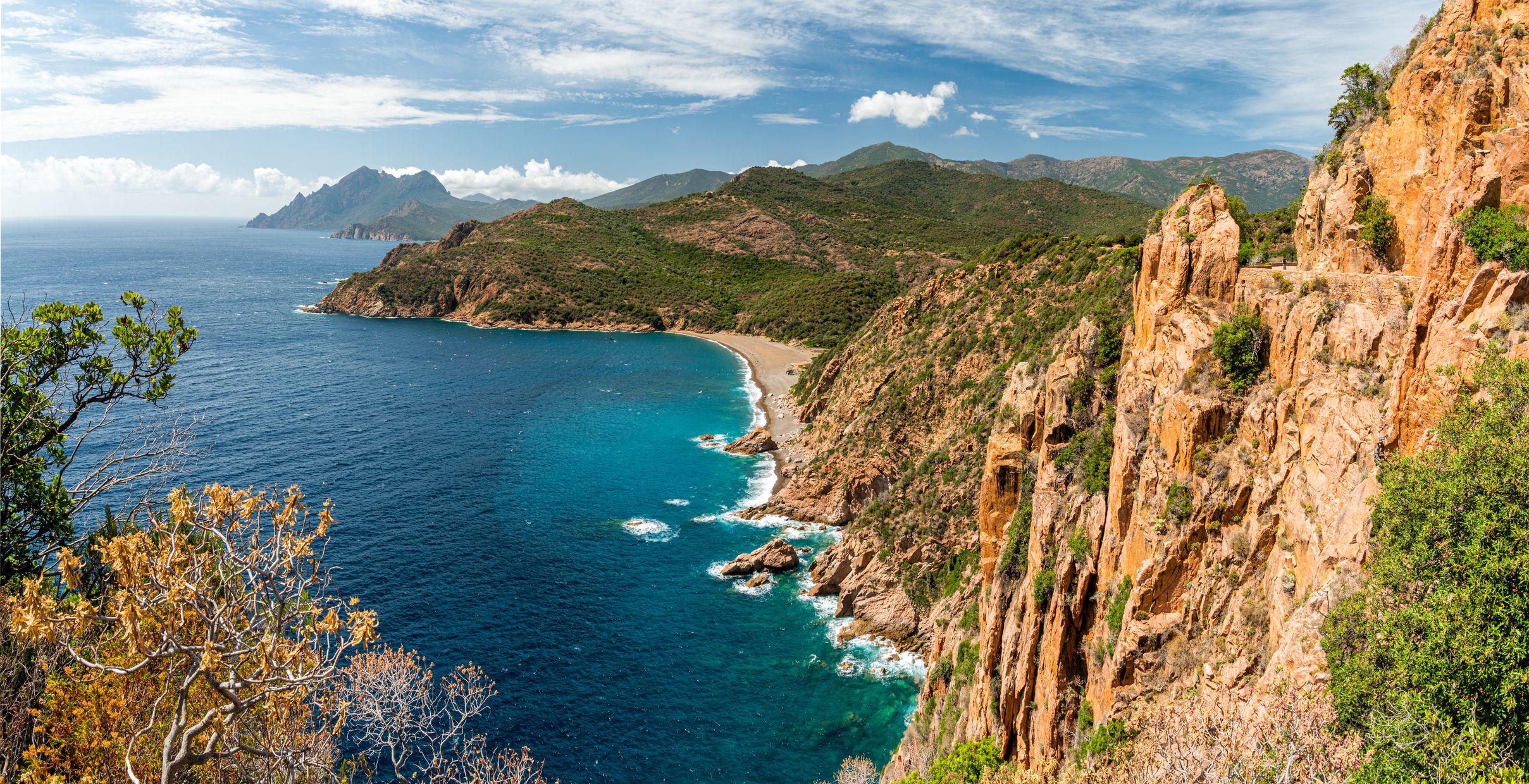 You won't spot big concrete buildings on the coastline, but you can climb on one of the 20 summits exceeding 2000 meters. You will not bump into crowds of tourists in every bay, but you can tick off romantic locations from an endless list. Corsica is a destination with a calm and slow rhythm with no big parties. When it comes to gastronomy, Corsica is not a fishing place. The cuisine is very hearty and meaty. 
Your sails will be out most of the time. You will thus embark on a real sailing adventure in windy conditions, enabling you to put your skills into practice. 
Navigating Corsica's Winds and Seasons: A Sailor's Guide
The best months to sail in Corsica are May, June, September, and October. As anywhere in the Mediterranean, the summer is usually hot and more packed with people, with August being the most overwhelming month. The spring is bloomy and coloured, and the autumn may be too windy but rewarding for experienced sailors. 
Generally, prevailing winds blow from the NW; therefore, circumnavigating the island, sail anti-clockwise. Corsica can face winds from any direction, and you may encounter Tramontana, Mistral, Scirocco and other winds anywhere. The good thing is that these strong winds affect Corsica only for a short time (1-2 days). 
Winds can quickly gain more strength than you predicted, especially in northern Corsica and in the Cape of Bonifacio (known for strong gales) between Corsica and Sardinia. Therefore, we recommend sailing in Corsica only if you have trained in conditions with higher wind force or are a reliable crew to avoid being easily left off guard by the wind and waves. 
Check the weather forecast carefully and frequently. The sea can turn rough in a minute. Luckily, thanks to its indented coastline, there are many good mooring opportunities and protected bays to find a quick shelter. Although you may anchor almost everywhere, there are some places to verify the nautical chart for depths and restrictions. 
Exploring Corsica by Sea: North vs. South
North and South of Corsica differ in their offers for the sailing community. If you are more of a history rather than beach and nature enthusiast, go north. South is the best choice if your crew craves idyllic beaches and more relaxed sailing.
North of Corsica
In the island's northern half, a couple of must-see places stand out. With its majestic citadel, the seaside town of Calvi is worth a stroll. One of the most symbolic towns in Corsica is Basti, with its vast and eventful esplanade full of bars, restaurants, exotic trees and sailors from all over the world. The Scandola nature reserve, with unique rock formations and caves, is the best place to spot seals, dolphins and other wonders of marine life. Cliffs diving into dark blue waters and fantastic snorkelling spots are best accessible by boat. Anchor off in one of the bays close to Girolata. On the north of the island, hop off on the Saleccia beach - a Polynesian postcard made life. 
South of Corsica
When sailing along the southern coastline of Corsica, the gorgeous port Bonifacio in south Corsica is an irresistible and must-see attraction. The arrival to the town on the limestone cliff is a memorable experience. An old port or Porto Vecchio is a distinguished town surrounded by many coves. This location is known for water sports and beaches. The nearby spot Palombaggia belongs to the top most beautiful world's beaches. 
Sailing to Bonifacio is only recommended for experienced sailors who understand nature's force! Some parts can be challenging, with mistral blowing at 25 knots even in the summer.
Recommended 7-day itinerary in the Southwest of Corsica
The southern coastline of Corsica is the perfect blend of romantic bays, beautiful beaches and lovely towns. More importantly, this part of the island has more steady weather conditions than the north. 
Rent a boat in the capital - Ajaccio, conveniently close to the airport and considered the best gateway to the south of Corsica. There are two marinas - Port Charles Ornano and Port Tino Rossi situated next to each other. You will end your week sailing voyage in the paradisiacal Lavezzi islands. If you are comfortable with longer daily routes of 35-45 miles, set Porto Vecchio as your final destination and return to the base marina. 
Day 1 (Saturday): Ajaccio (0 nm)
Day 2 (Sunday): Ajaccio - Cala d'Orsu - Cala di Conca (26 nm)
Day 3 (Monday): Cala di Conca - Bonifacio (25 nm) 
Day 4 (Tuesday): Bonifacio - Lavezzi islands or Rondinara (7 - 16 nm)
Day 5 (Wednesday): Lavezzi islands or Rondinara - Cala di Roccapina (20 - 27 nm)
Day 6 (Thursday): Cala di Roccapina - Baie de Cupabia (or Campomoro, Porto Pollo if NW wind blows)  (17 nm)
Day 7 (Friday): Baie de Cupabia - Anse de Cacalu - Ajaccio (19 nm)
See the map with the itinerary here. 
Day 1 - Ajaccio (0 nm)
From the capital and the birthplace of Napoleon Bonaparte, you will cruise down the rugged and stunning west and south coasts and return after a week. Once you make a check-in, familiarise yourself with your boat and get provisioning, visit the old town breathing with history. 
Ajaccio is a noisy yet cosy town. Its name is derived from Latin means "a place for resting". Ajaccio lies in a bay encircled by mountains. In the past, shepherds came down to the settlement for a winter. Ajaccio's historical downtown is worth exploring.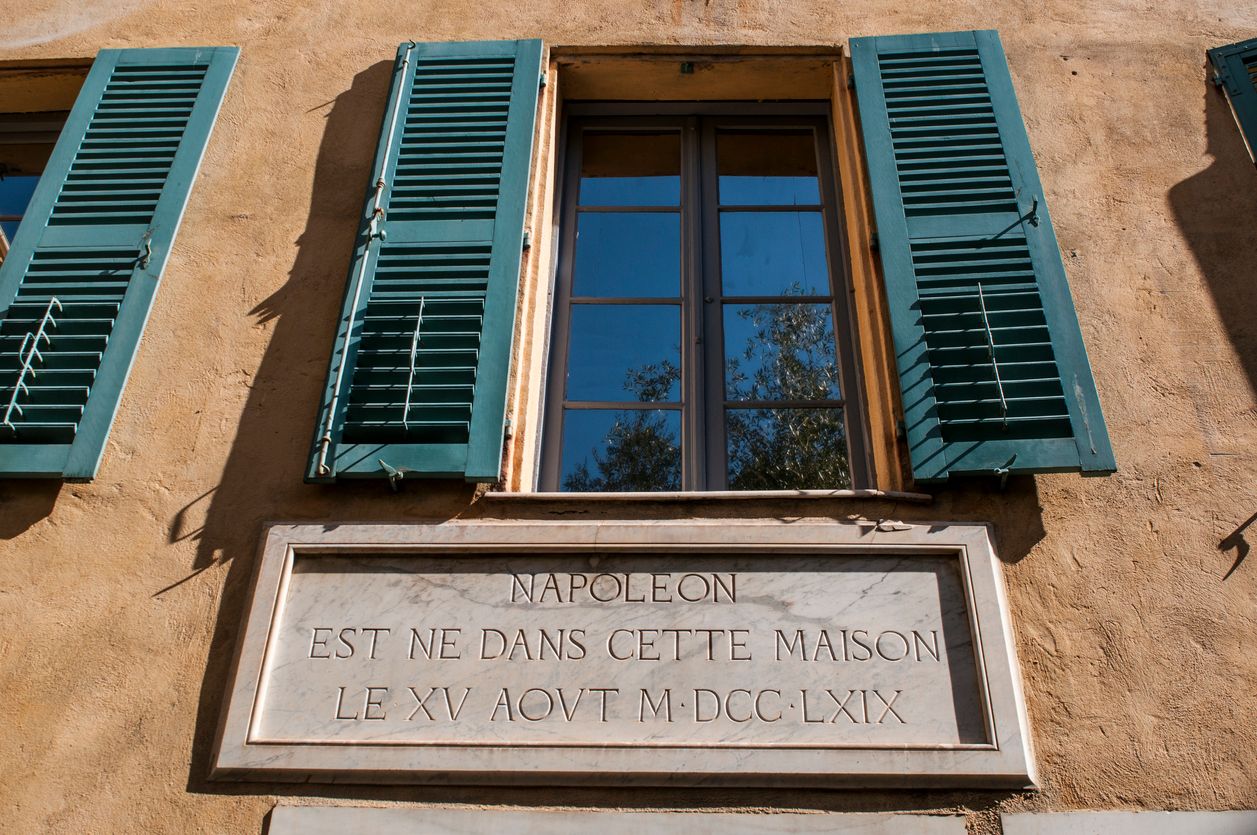 Take a leisurely walk in the footsteps of Napoleon Bonaparte. Remember to visit his birth home on the Rue Saint Charles - the Maison Bonaparte. Walk up to the citadel to enjoy a view. In the evening, taste your first Corsican dishes in the restaurant Le Poseidon on the boat inside the Port Tino Rossi. 
Day 2 - Ajaccio - Cala di Conca (25 nm) 
With stunningly clear water, this coast part offers several significant stopovers to enjoy swimming before relaxing on your boat for the night. The final anchorage of today is magnificent and secluded Cala di Conca with no cell coverage, so you can fully succumb to its beauty. 
When on the sea, gaze towards the Gulf of Ajaccio toward the Sanguinaires archipelago, where, according to legends, a lot of blood was lost when ships capsized in bad weather over rocks. These little islands are made of red granite, which makes them look like they're on fire.
On your way to Cala di Conca, stop for a chill at the Cala d'Orzu. Drop an anchor 8-10 meters deep to a sandy bottom, swim in transparent water, or get a snack in one of the two straw huts on the beach. The beach is difficult to access by car, so there are usually few people around.
Where to stay?
Cala di Conca is an anchorage with a sandy bottom with good holding. The bay is protected from N to S winds but is exposed to NW and SW winds. You can drop your anchor close to the beach without wind. There are several hiking trails and an open-air aquarium inside the waters.
If the wind gets unexpectedly stronger, head to a little Tizzano port with a good restaurant and grocery store. In less favourable conditions, don't sail so south and aim for the marina in Propriano town that lies before Cala di Conca. In this case, count with a longer route from Propriano to Bonifacio (33 nm).  
Day 3 - Cala di Conca - Pointe de Senetosa - Bonifacio (22 nm)
The highlight of your Corsica adventure is the fortified ancient city of Bonifacio. Get lost in the labyrinth of medieval alleys of this astonishing port. Spend a little time in nature close by or snorkel before reaching the harbour.
Just a stone-throw away from Cala di Conca lies a beautiful cove, Pointe de Senetosa, with white and round rocks sticking out of the water. You can walk to the nearby lighthouse, Fanale di Senetosa, with a museum and hiker's shelter. You can observe one of the wildest Corsica's coastline from here.  
Where to stay?
Today you will stay in the Port de Bonifacio. The entrance to Bonifacio is simply spectacular. The marina is unique, and you will get berthing assistance to make the whole process efficient for all the arriving boats. We advise coming to Bonifacio before 4 p.m. to avoid traffic jams at the mouth of the bay.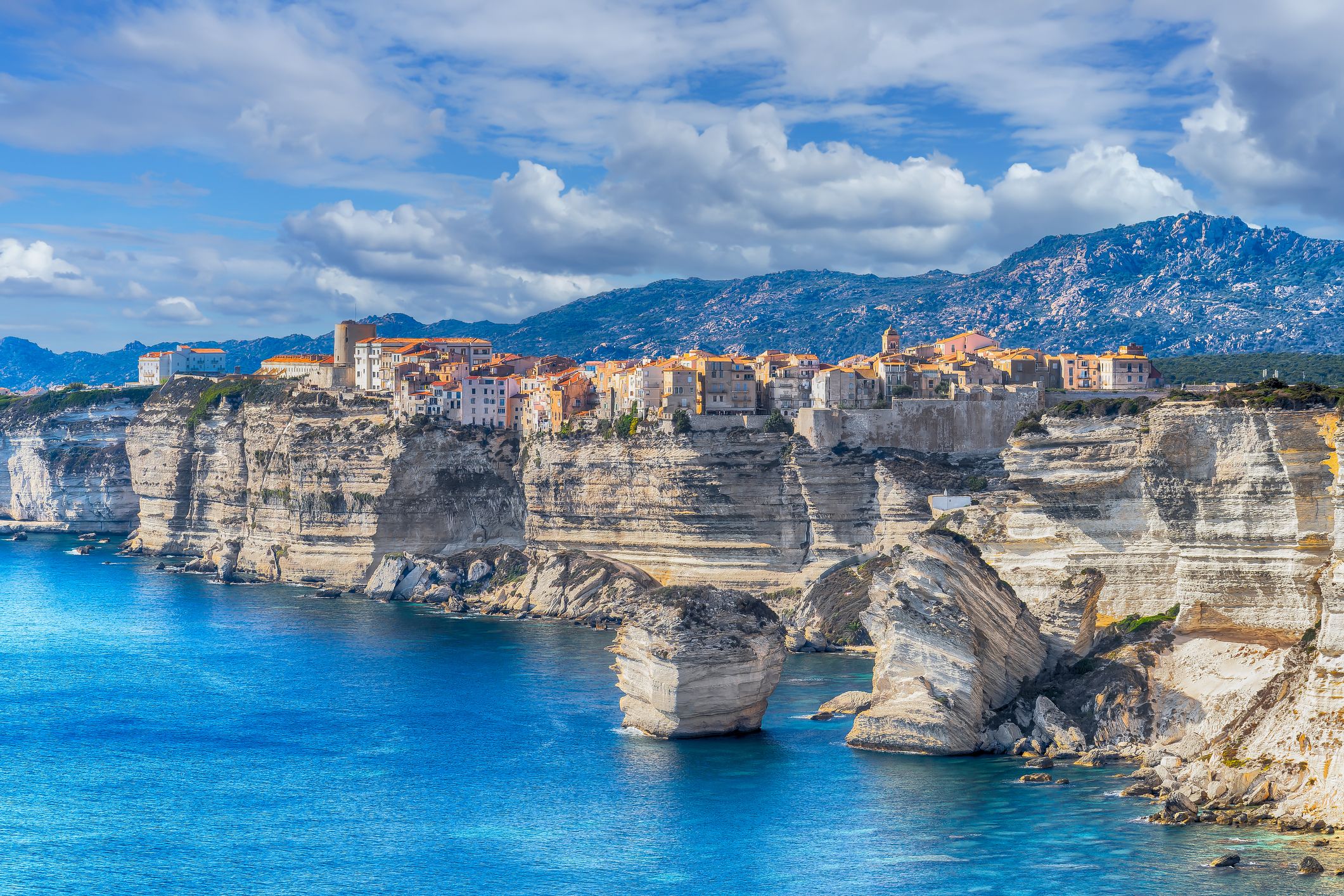 Get your cameras ready to shoot the picturesque scenery with houses on the top of the cliffs. Visit the Citadel, walk down the steep and rocky staircase of King of Aragon and at night, get dinner in the port's restaurant Les Quatre Vents or Del Ferro. For another breathtaking scenery, walk up to the Pertusato lighthouse; you won't regret it. 
Just a reminder - Bonifacio is a famous and loud port, so don't expect tranquil nights. The whole atmosphere is, however, a must-feel. 
Day 4 - Bonifacio - Lavezzi islands or Rondinara 
You have two options for today. Either stay anchored for the night in Lavezzi islands or detour from Lavezzi more to the southeast to Golfe de Rondinara.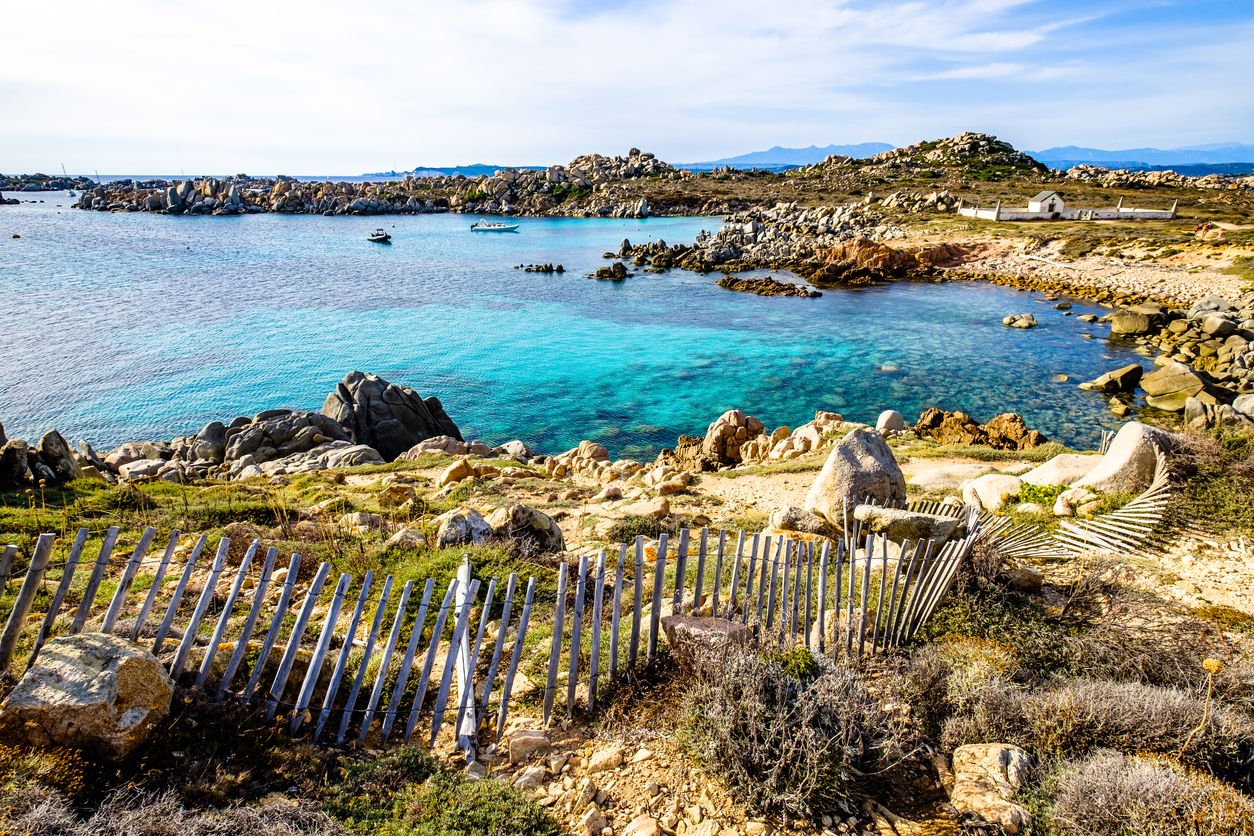 It takes approximately 1.5 hours to reach the Lavezzi islands from Bonifacio. These islands are one of Corsica's natural wonders, with magnificent beaches and huge granite rocks at the water's edge. You can first drop an anchor at the Cala Lazarina on the biggest island - Lavezzu. This bay, resembling a bit of Jurassic Park, is one of those bays not to be missed. Arrive early in the morning before the hoard of tourists from Bonifacio jump in the water for snorkelling. There are two beautiful beaches with rock formations and sand. When the wind blows from the south, visit and stay overnight in the Cala della Chiesa with another heavenly beach. 
If you have enough time, take a walk around the island. You can discover two cemeteries with hundreds of sailors who died when the ship Sémillante hit the reefs during a storm. 
A smaller Lavezzi island - Cavallo is another of Corsica's little jewels. Visit or stay at the Cala di Zeri, a bay exposed to the east wind but protected from west to south direction. The anchor holds very well. 
Where to stay
Stay at the Cala di Giunco, a bay protected from east and northern winds and swells for a night anchoring on Lavezzi islands. There is a restricted area marked by buoys where you can anchor. The sunset from this bay is magical. Another option is the Cala della Chiesa if you need shelter when southern winds hit. Guards enforce some anchoring restrictions, but they will provide you with guidance. 
If you need to berth in a marina, head to the Cavallo island for a more expensive yet well-sheltered and beautiful marina, Porto de Cavallo.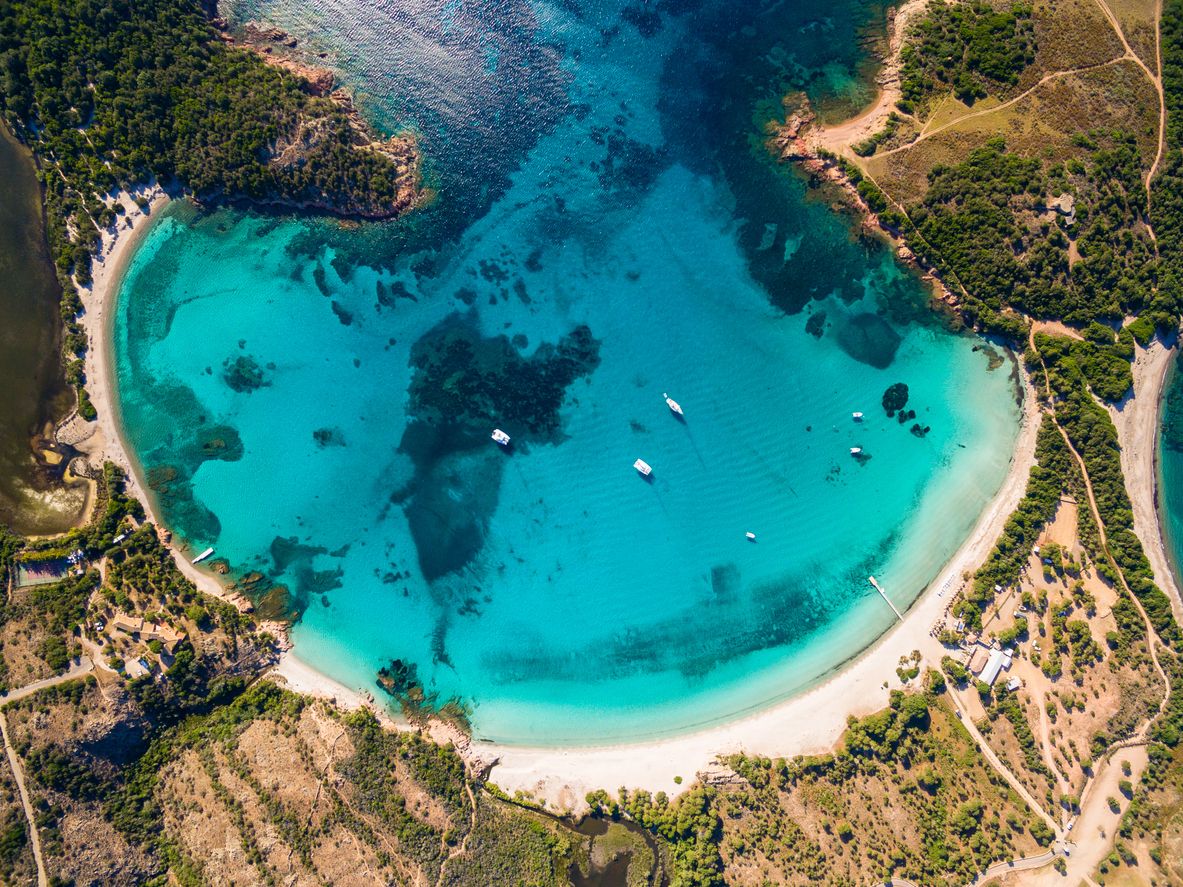 If you decide to leave Lavezzi for the night, we recommend sailing to Rondinara, situated in the middle between Bonifacio and Porto Vecchio. Rondinara is a favourite anchorage for sailors due to its horseshoe shape and excellent protection from winds from N to S in the west radius. The water is crystal clear with turquoise shades because of the white sandy bottom. There is a grocery store with a delivery to a pontoon. Even though it is crowded, the bay is unforgettable. Be aware of a submerged rock on the east of the bay. 
Day 5 - Lavezzi islands or Rondinara - Cala di Roccapina (20 - 25 nm)
Hoist the sails and start returning in the direction to Ajaccio. Stop by the sublime bays Anse de Fazziolu or Cala di Paragnanu next to Bonifacio, with a natural swimming pool. Both bays are well-protected from winds basically from all directions. In case of sudden gales, this is the place to find a shelter. The Fazziolu Bay is busy from morning till 5 p.m. but empty in the mornings, evenings or out of season. 
Where to stay?
Roccapina is another dreamy anchorage and place best accessible by boats. Protected from all the winds except SW and S, this bay ensures a good anchor holding and idyllic setting. Be careful with the rocks in the middle of the bay; better read your chart.
There is a huge rock above the bay that is shaped like a lion. Start from the beach on the right of a hut, climb up to the rock and continue on a path to the Genoese tower. The walk can be a bit challenging, though. 
Day 6 - Cala di Roccapina - Baie de Cupabia or Campomoro (17 nm) 
On your way to Baie de Cupabia, close to the town Porto Pollo, take a chance to disembark to enjoy some lovely beaches or charming villages. Visit towns such as Tizzano or Propriano. 
In Tizzano town you can berth for a lunch break in front of a restaurant called Chez Antoine. 
If you are up to a visit to Propriano, drop an anchor in Baracci Bay, a short distance from Propriano. You can moor your dinghy in the marina or head to the town marina directly with your sailing boat.
Where to stay?
You can find good protection from north winds in the bay Baie de Cupabia. It is a large bay with no obstructions and an excellent anchor grip. You can easily arrive even in the evening. The bay is exposed to westerly winds. There is a nice beach restaurant to grab dinner and many paths around for a walk. The whole environment is very agreeable. 
Another option to anchor is Campomoro, well protected from south winds and magnificent in its appearance. The only drawback is the depth (20 meters), so you need to release a lot of anchor chains. If you need a marina to stay overnight or the NW wind blows, choose Porto Pollo. 
Day 7 - Baie de Cupabia - Anse de Cacalu - Ajaccio (19 nm)
This is your last chance to stop in appealing bays. One likeable place is Anse de Cacalu - a stunning bay with Genoese towers (defensive fortresses) on the hills. Walk up to Capo di Muru tower for breathtaking views and cool yourself in the clear waters. Don't forget your snorkelling gear.  
Other good break options for swimming and snorkelling are bays such as Anse de Portigliolo, with a beach bar and Plage d'argent, both close to the village of Portigliolo. 
Corsica lures skilled sailors for understandable reasons. Fill your sailing holiday with idyllic beaches, romantic bays, charming towns and natural wonders. More importantly, enjoy perfect sailing with your sails out. We wish you fair winds! 
Subscribe to see special deals
Save money with every booking