Sailing in Spain – the Perfect Haven For Sea Lovers
The Spanish have it all: wonderful diversity, historic towns, stunning islands, and excellent food. Whether you prefer the rugged north coast facing the Bay of Biscay, the shelter of the versatile Rías, the warm Mediterranean south and east, the beautiful Balearic Islands or the Atlantic Canary Islands, sailing in Spain never disappoints. 
Another advantage: wherever and whenever you decide to go sailing, the food and wine are guaranteed to be good! As the country offers various geographically distanced cruising areas, you need to choose where to go cruising.
Keep reading as we highlight the following: 
Is sailing in Spain worth it?
Where to visit while sailing in Spain
The sailing conditions in Spain
Weather conditions in Spain
When is the most suitable time to sail in Spain?
How much does sailing in Spain cost?
Is Sailing In Spain Worth It?
Spain is a desirable destination for numerous tourists across the globe! The diversity the country has to offer is unmatched. Spain is the perfect destination if you'd like to explore different cities, landscapes, climates and cultures. Furthermore, if you reside in a town with harsh winters like London, you can escape by sailing to Spain from the UK. 
Spain is a destination worth considering if you enjoy hot summers, rough sailing conditions or mild winters.
The coastal line covers 6,000 km, and two seas and an ocean surround Spain; the Cantabrian Sea, the Mediterranean Sea and the Atlantic Ocean, making it a sailor's dream destination. 
The cities are diverse as well, and you'll be able to enjoy a vibrant lifestyle while sailing in Barcelona, Spain. Other towns worth cruising in are; Palma, Valencia and Málaga.
Where to Visit While Sailing in Spain?
If you are planning on sailing in Spain, you probably want to know the best destinations to visit. Here is a list of sailing-friendly islands and regions.
Islands and Regions to Visit in Spain 
Here are the top destinations you should visit while sailing in Spain:
North Coast
Seasoned sailors will love the coast that borders the Bay of Biscay. Although storms are rare in the summer, the rough weather conditions here are notorious throughout the year. 
The north coast offers historic and lively cities like San Sebastián with uniquely delicious pintxos bars. Or take Bilbao: from the marina in Getxo, it's easy to reach the city's Guggenheim Museum and other highlights. 
Santander's lack of a historic centre, destroyed by fires and civil war bombardments, is compensated by choice of bars with delicious food. Not to mention the many picturesque small fishing towns and natural harbours this stunning coast offers.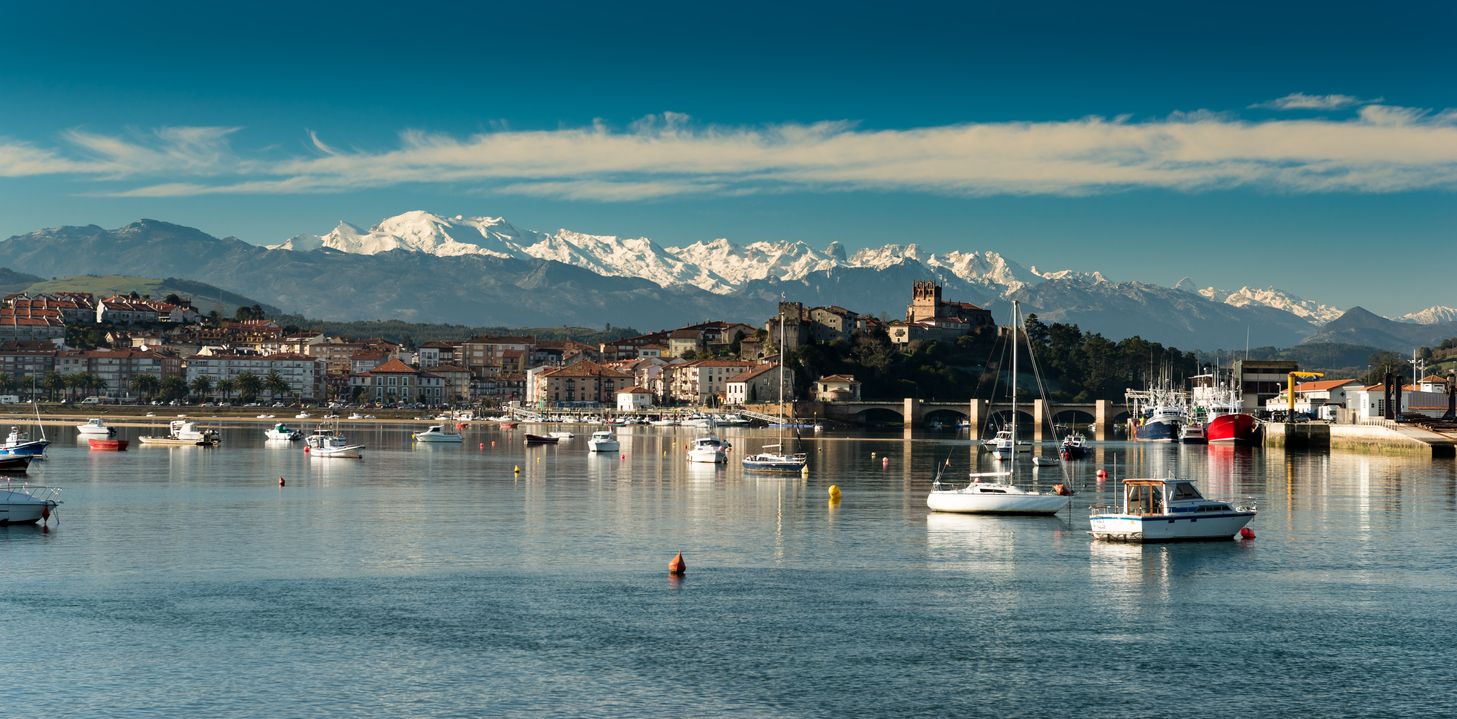 When rounding Cape Finisterre, the weather will often be calmer and warmer. From here, it's not far to visit the stunning Rías (bays). In Muros, we fell in love with the weekly Friday street market that sells the local Arzua cheese and Galician bread. 
In the Ría de Arous, we anchored at Cambados and saw the vineyards where the famous local Albariño is grown. In the Ría de Pontevedra, Combarro is a charming little town where shops and restaurants occupy the fishermen's houses of yesteryear. Don't miss the Islas Cies. 
These three Atlantic islands offer crystal clear blue water, long white sandy beaches, pine forests and steep mountains. A stop in nearby Baiona's marina can be handy to stock up on groceries and other supplies.
South and East Coast
Heading east from Portugal, several rivers offer opportunities to navigate inland, such as the Rio Guadiana, the natural border between Portugal and Spain. It offers marinas on both banks, but you can also explore the river by anchoring further upstream.
Or cruise the Rio Guadalquivir to Sevilla! When moored in one of Cádiz's marinas, all it takes is a stroll to the centre to absorb its impressive history. Make sure to time your passage well through Gibraltar Strait, considering the current and prevailing winds. Do check-in at one of Gibraltar's marinas. Be prepared for British politeness and the wide availability of tax-free goods and services.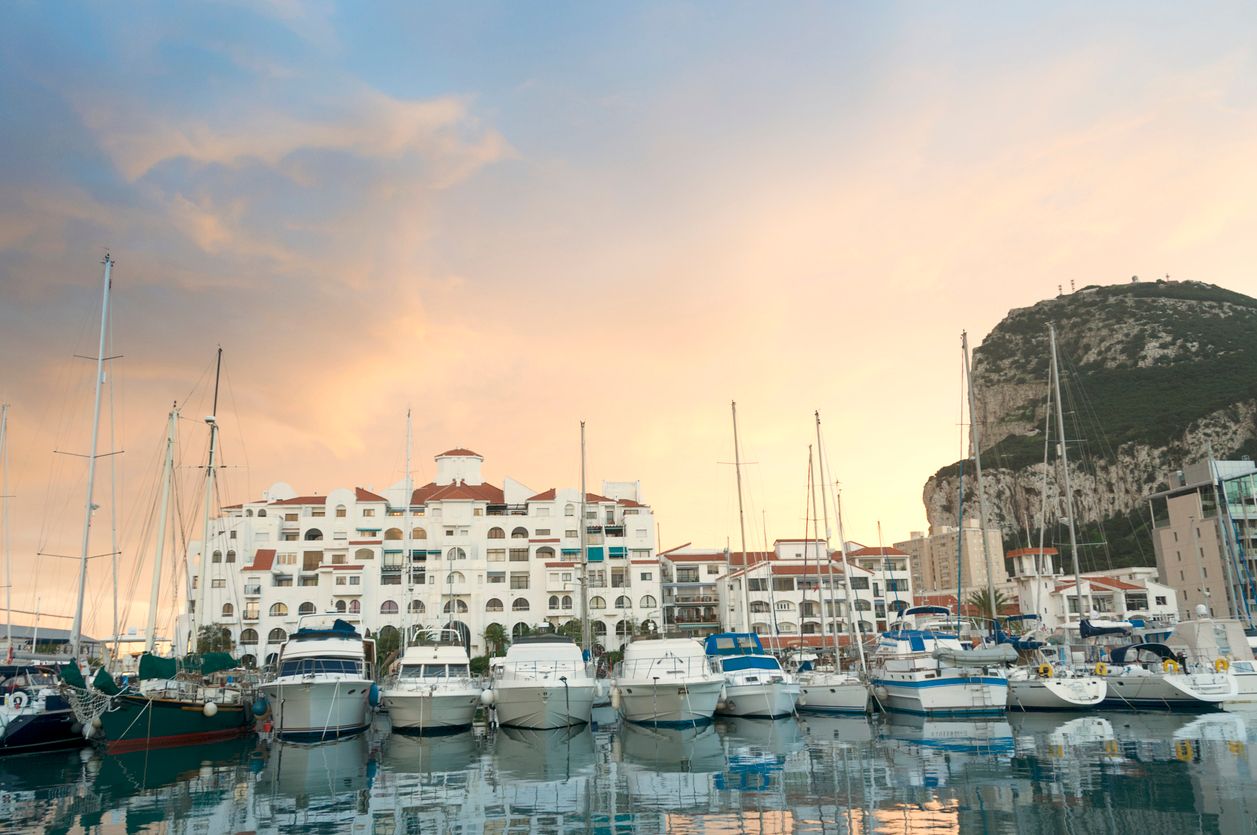 The Costa del Sol may have a bit of a reputation for being crowded and expensive, but it surprises us positively. In the low season, there are plenty of affordable berths in government-run marinas. Marbella offers a charming old town centre hidden between all the modern concrete. In buzzing Málaga, we visited the Picasso museum and learned that the city is almost 3,000 years old. 
Caleta de Vélez and Almerimar, on the other hand, offer marinas and restaurants, but lack authenticity. Cartagena makes up for that with its historic old town and mouth-watering Mercado. Its vast selection of regional products is a real treat. We buy as much fresh fruit, vegetables and olives as we can carry.
Valencia and Alicante are other main hubs on the east coast that offer comfortable marinas and bustling city centres. A sailing trip around Valencia or Alicante is undoubtedly worth it, and you can be sure it will stay with you for the rest of your life.
However, our favourite city is Barcelona. What's not to love about bustling markets, great restaurants, and countless museums? Before you head to the Balearic Islands from here, don't miss picturesque Cadaqués and Salvador Dalí's intriguing house there.
Balearic Islands
Mallorca, the largest island and the central charter hub, has everything you look for on a sailing holiday. 
Large marinas with facilities and secluded Calas (Bays) with crystal clear blue water and sandy beaches make sailing in Mallorca, Spain, an unforgettable adventure. 
Its capital city, Palma de Mallorca, offers historic sites like the magnificent cathedral but also high-end shopping and a wide variety of local and international cuisine. As keen hikers, we loved the well-marked trail around Soller through orchards and green valleys and across some steep mountain ridges. Mallorca also offers opportunities for cycling, surfing, swimming, and snorkelling.
Don't skip the smaller neighbouring islands, Menorca and Ibiza. Besides feeling more intimate, they offer a big bonus. Since these islands are small, it´s easy to move to another Cala when winds change direction, especially in summer when marinas become extremely expensive.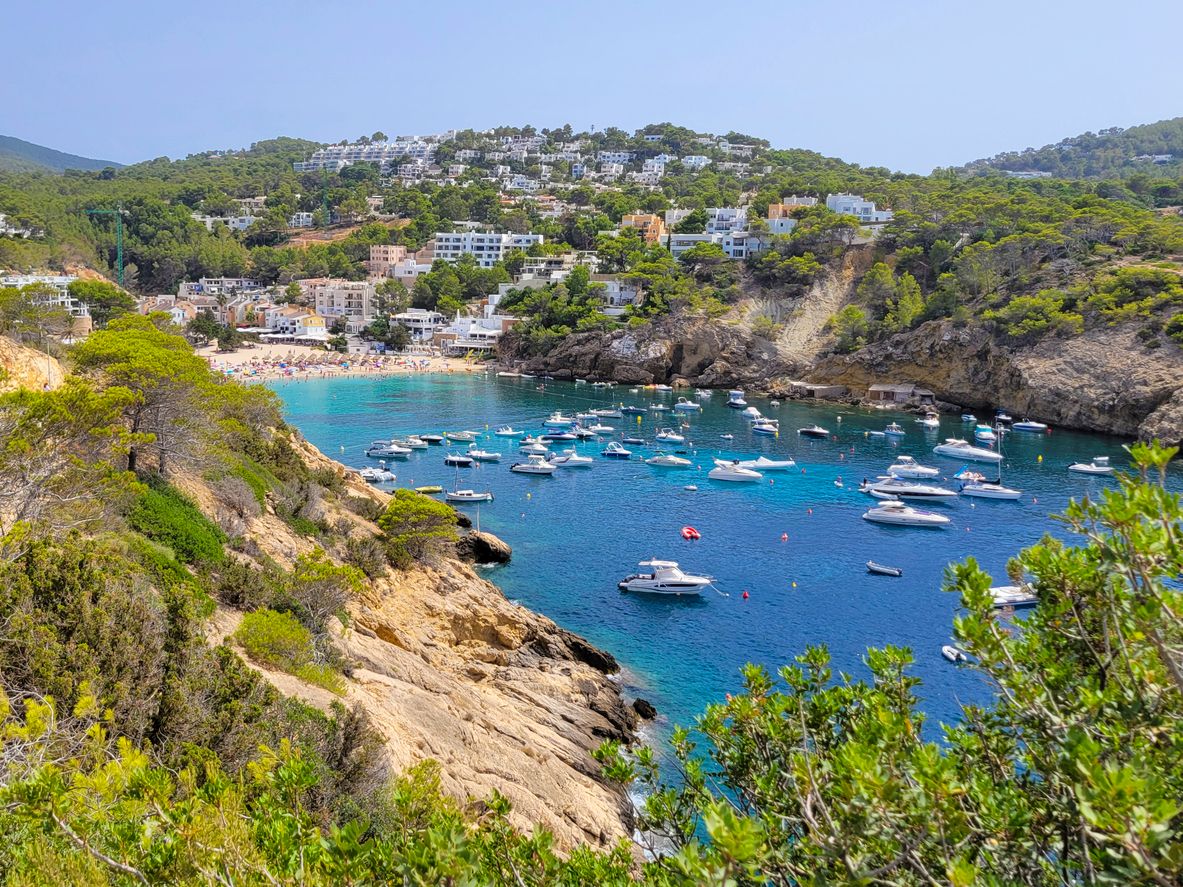 Especially in Ibiza, the nightlife is world-famous. But did you know that this stunning place also has a green side? Get introduced to the wonders of sustainable living, for example, at the eco-education centre Casita Verde.
Canary Islands
These stunning islands in the Atlantic Ocean form a league of their own. Although they were created through volcanic origin, you'll soon find they differ.
Boataround TIP: when sailing between the islands, be aware that these mountainous islands significantly disturb the usually steady and moderate N-NE trade winds.
All islands have marinas and often anchorages, although ocean swell is a factor to consider. Lanzarote offers the most spectacular volcanic landscapes, caves and lava tunnels, and remnants of ancient eruptions that you can visit with tours. Neighbouring Fuerteventura is still quite wild in places. Anchor off a beach in settled conditions or in the harbour of Puerto del Rosario, a charming town.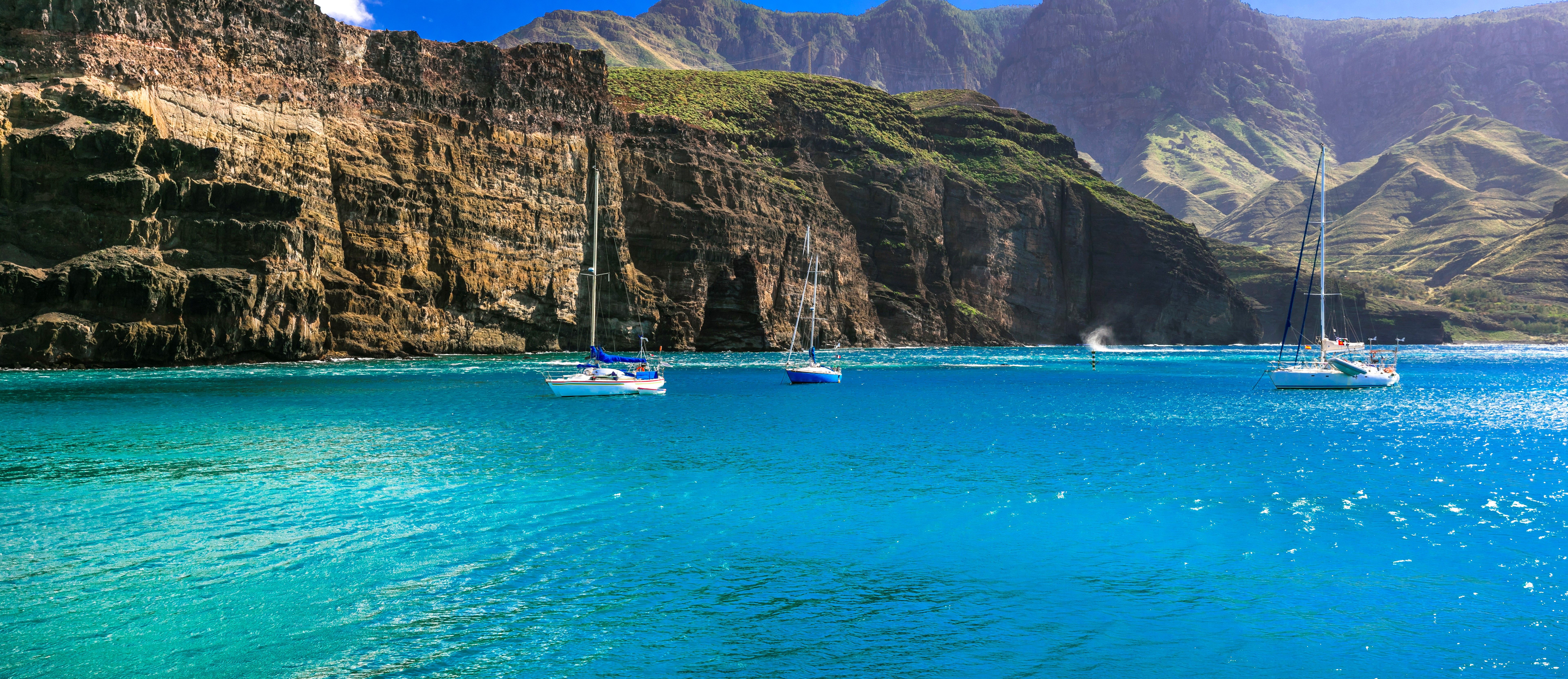 The main sailing hub is Gran Canaria, whose huge marina is in Las Palmas. The bustling town starkly contrasts the island's green and mountainous interior. From Tenerife's marina in Santa Cruz, it's only a short walk to explore the historic main town. 
Spain's highest peak, the Teide volcano, dominates the island's geography and is well worth a visit. Smaller La Palma boasts countless banana plantations and hiking trails. Charming El Hierro's marina is at Puerto de Estaca, while the rest of the island life takes place at more elevated levels. 
Don't forget to experience the island's surreal natural contrasts between dry and wet areas. Finally, La Gomera's black beaches and colourful flowers will make you want to return to the Canaries for your next sailing charter.
The Sailing Conditions in Spain
The marine condition varies depending on location, climate and other factors you must consider before planning your trip.
Weather Conditions
Spain has stable weather conditions all year round but is prone to wind. The east coast of Spain is the best region to sail if you want to experience relaxing cruises. The area is also recommended for novice sailors. On the other hand, the northern region has stronger winds that trigger waves that can go over 10 m during winter. Furthermore, one of the highest recorded waves was in Galicia, which was 26.3 m.
When Is the Most Suitable Time to Sail In Spain? 
The best time to sail to Spain depends on you since the country offers many options. You need to figure out the conditions you prefer.
Winter
If you want to escape the harsh winters in Europe, you can opt to sail in the Canary Islands, where the weather is sunny all year round. It's not for nothing that they are also called the "Islands of Eternal Spring". The sea temperature in this region is 22 degrees Celsius, and it rarely drops below 18 degrees Celsius, making it an excellent destination for anyone who enjoys warm weather.
Autumn and Spring
If you want to leave the crowded lifestyle in popular cities to recharge, you can choose to sail in the Mediterranean to enjoy a wonderful vacation life. The temperature ranges between 14 to 25 degrees Celsius during this time.
Summer
The Northern region has so much fiesta to offer during the summertime. You can sail to hidden gems such as Donostia, Coruña, Gijón, Santander, and Oviedo. While the northern part tends to be colder, it is warmer during the summer, with temperatures between 15 to 23 degrees Celsius.
What Is the Cost Of Sailing In Spain?
The cost of renting a sailboat per day ranges from as low as €200 to as high as €2,000 per day, depending on your needs and preferences. 
Sailing in Spain on a sailing yacht can cost around €2,500 per week. The accommodation is enough for up to 10 people with five cabins and three bathrooms. It is common for boats to include heating and audio systems and an oven, microwave, sink, cooker, and kitchen utensils. Additionally, they are equipped with a Bimini and a bow thruster. 
Catamarans are a good option if you have a large family. Among sailors, they are called SUVs on the water. The price depends on the model and date. The average price is €4,000 per week and includes marina fees, buoys, fuel, food and transit log. Basic amenities are available at the accommodation as well.
Motor Yacht Charters  are a convenient way to Sail in Spain. Weekly rates start at €2,400 per week.
Spain is a beautiful destination if you plan on going on an unforgettable cruise. From calming seas to rough oceans, the adventures are endless. We, at Boataround, are here to assist you as you select a perfect boat, whether you are sailing from Croatia to Spain or if you are sailing from Spain to Morocco. Regardless of your destination, we'll find a suitable boat that adheres to your needs. 
You can also read:
Subscribe to see special deals
Save money with every booking