Choosing the Right Charter Option - Bareboat, Skippered, or Crewed
There is no better time to plan a vacation than now. We hope that sailing is at the top of your wish list. What can you do to make this dream come true?
The first step is to choose a destination. There are numerous stunning places for perfect sailing trips - you can find inspiration while browsing our previous blogs about the best sailing destinations. The second step is to select the type of boat. The third step - and now comes the tricky part - is determining how you would like to operate this vessel. Do you or someone in your crew have a valid skipper license and enough courage to take up responsibility? Are you willing to pay additional money to hire a professional skipper? Or do you dream of having more professionals at your disposal to handle your whole sailing trip?
Three questions, three options to charter a vessel of your dream: 
Bareboat charter - there is no skipper or crew included in the price. This is the basic and most common practice for sailors to rent a boat. 
Skippered charter - you can hire a professional skipper who frees you from all the stress of operating a boat. This option is increasingly popular among non-sailors in pursuit of sailing adventures. 
Crewed charter - there is a professional skipper and a hired crew with people helping with all sorts of tasks, from manoeuvring the boat to providing you meals, drinks and comfort.
Depending on your crew's preferences and abilities, each type of boat charter has its pros and cons.
What is bareboat chartering?
A bareboat charter is a boat rental arrangement that doesn't include a skipper, crew or provisions for the charterer.
Rental boats marked as"bareboats" come standard with everything you need to sail in your desired location. For additional fees, you can rent more equipment such as a safety net, gennaker, stand-up paddle, heater etc.
The main feature of bareboat chartering is that the boat comes just like the boat. The skipper belongs to the friends' group but has extra responsibilities. More responsibility means more work, more burden and potentially additional insurance. 
What are the pros of the bareboat charter?
There is no doubt that having a captain from your crew has a number of advantages, including friendship and total privacy. The risk that you will not get on well with a rented skipper is mitigated. You can enjoy more freedom and flexibility. 
The bareboat charter is considerably cheaper than any other option (unless you or your friend as skipper asks to get paid or pay less for the rental price). A captain's role is a great way to improve your sailing and leadership skills.
What are the cons of the bareboat charter?
The most significant disadvantage is related to the number of responsibilities a skipper has. Usually, as captain, you only have a few thoughtless moments to relax fully and are 24/7 on watch. You are accountable for planning the route, analysing weather forecasts, making final decisions, and teaching and managing your crew.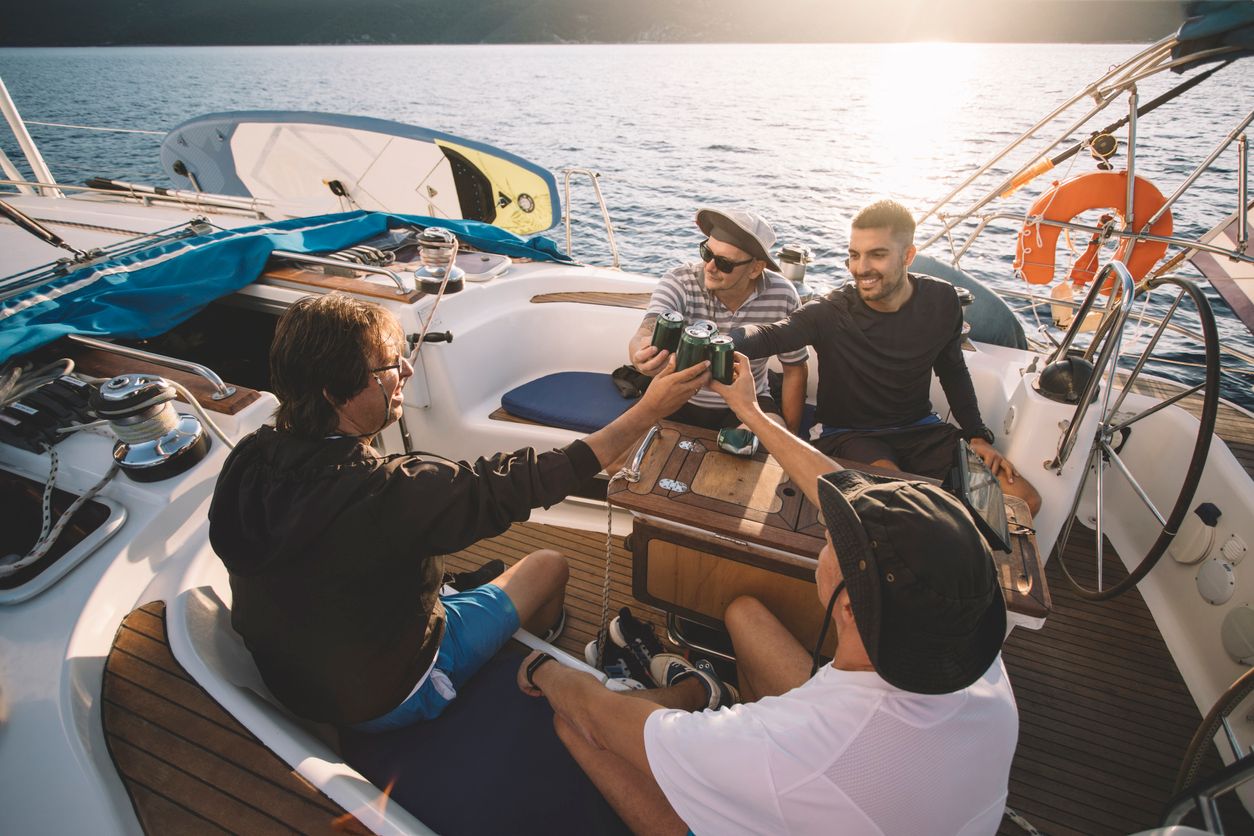 Skipper is a boat commander. Clashes among the crew members or/and with the captain are easy to occur, and it is usually the captain's job to make the crew work together as a team. Every crew member is expected to obey the skipper and act as they order. The crew is supposed to operate with no excuses and delays to avoid potential accidents. However, this rule applies to both types of boat rental, and crew members also have their duties. 
We recommend that every skipper train their crew intensively during the first days and have confidence in their abilities.
As a crew member, absorb as much knowledge as possible and listen to your captain. Although the ultimate responsibility lies upon the skipper´s shoulders, you are all on the same board. The unspoken rule on board is that the captain should be relieved from tasks such as cooking, washing dishes or cleaning. 
Bareboat charter: what should you know?
Bareboat charters do not mean you can rent any vessel you want. Every skipper license and every country has slightly different restrictions to keep in mind. There are restrictions in terms of the distance from the coast, the length of the vessel and in some cases, there are limits set on the number of people on board. 
Take a closer look at your/your friend's skipper license and the rules of your sailing destination. For instance, with a RYA Yachtmaster license and ICC Certificate, you can charter a boat up to 24 meters. With the standard German, Dutch and Croatian skipper license, you can charter a boat up to 20, 25 and 15 meters, respectively. Some licenses permit a maximum of 12 people on board. In Greece, you must have two people with a skipper license onboard. In Italy, you can charter a boat when you hold a skipper license issued in your country of citizenship (for example, non-British skippers with RYA licenses or non-Italians with Croatian licenses may encounter difficulties chartering Italian boats, depending on the charter companies).  
Plan Wisely
Make sure you consider your skipper skills when planning a bareboat charter. If you are a novice skipper, select a destination with shorter distances between the anchorages or marinas. Plan your daily trips carefully based on the weather and wind. Never rely solely on digital apps to navigate. 
Keep in mind that the skipper is responsible for carrying all the burden. Not only mental and physical burdens but often also financial ones. An important chapter is insurance - deposit insurance and skipper liability insurance. Deposit insurance is a common practice. But there are several damages not covered by it. Each charter company has different policies on what is and what is not included and has its price list for compensation. Losing a fender, an anchor or a dinghy, tearing up a safety net, or clogging a toilet are usually excluded and occur more often than one would assume. We recommend obtaining additional insurance for the skipper's liability, typically valid for a year. As well as protecting you from horrendous payments, it can also cover damages caused by gross negligence. Skipper's liability insurance applies to the captain and everyone on the crew list. 
What is a skippered charter?
A skippered charter is a type of yacht or boat rental where the vessel comes with a professional and experienced captain or skipper. The majority of charter companies offer the option of hiring a skipper who will be responsible for steering the boat and suggesting suitable routes. A skippered sailing trip is ideal for to-be sailors or sailors that fancy a hassle-free sailing holiday without ultimate responsibilities. In your role as an ordinary crew member, you will be able to enjoy the beautiful scenery without being distracted by maritime conditions too much. As a bonus, you will get useful tips on local attractions. It is a skipper's job to take the helm, set and trim the sails, fix technical failures, work out itineraries based on your crew's needs, and, most importantly, keep you and your crew safe at sea. 
At Boataround, you are able to select an option to add a skipper to your reservation. Count with an additional charge of approximately 150-200 EUR per day for a skipper, depending on the charter company and destination. 
Suppose you want to hire a professional captain speaking your language and not being part of the charter company. In that case, you can go for the bareboat charter option and search for an official skipper online or through sailing schools in your country.
What are the pros of the skippered charter?
The key advantage is undoubtedly the worry-free sailing trip. No need to plan all possible combinations of itineraries based on several apps and blogs and local mariners. No heavy responsibilities, no complex and constant decision-making and no unsettling situations to solve. You are "just" a crew on holiday helping your captain. 
A great plus when opting for skippered charter is that the professional skipper from your charter company usually knows the sailing area thoroughly and is a local expert on the best taverns, attractions, and secluded and picturesque spots. They know the special characteristics of some bays or the behaviour of the sea. Such a captain probably speaks the local language and can create an unforgettable itinerary satisfying every crew's needs - from families with small kids, party crews, sailors "collecting" their miles, and sunset searchers to active divers. The professional skipper is able to adjust the pace, manoeuvres and choice of anchorages following the crew's skills and preferences. 
Professional skippers typically have year-round insurance, so crews are not burdened with increased insurance costs.
What are the cons of the skippered charter? 
The cons of having a captain out of your friends' circle are pretty relative. Having a "stranger" on board can sometimes make the crew behave more politely and less risky. Additionally, the cost of hiring a professional skipper will increase the overall price of your charter. This added expense might deter some travellers, mainly if they are working with a limited budget. Nonetheless, the advantages of having an experienced captain often outweigh these drawbacks, especially for those new to sailing or seeking a more relaxed experience.
Skippered charter: what should you know?
If possible, get to know your captain before your trip to see who will share the same limited size of living area days and nights of your sailing adventure. Search for references in other sources as well. It is not uncommon to realise that there is no "chemistry" between the captain and the rest of the crew; better to acknowledge this before the start of the voyage. 
As a general practice, it is expected and polite to tip the hired captain or at least pay them for their meals.
What is a crewed charter?
This rental type is less widely-spread than the previous options. An example of a vessel used for the crewed charter is a superyacht longer than 24 meters - vessels above this length must have professional crew and not only people with some level of sailing certification. A crewed charter is an excellent choice for maximum comfort and relaxation. Crewed charters tend to be more luxurious and, therefore, more expensive. In return, you will enjoy exclusive services ensured by at least three crew members (captain, hostess and chef). 
Whether you opt for a bareboat, skippered, or crewed charter, each option offers unique advantages and drawbacks. Your choice will ultimately depend on your crew's preferences, abilities, and budget. Consider your destination, your crew's sailing experience, and the level of comfort and convenience you desire when making your decision. Regardless of the charter type you select, a sailing adventure promises to be a memorable and enjoyable vacation for everyone on board. So weigh your options carefully, and set sail towards your dream sailing getaway.
Now that everything is set, you can hit the famous out-of-office automatic reply "Gone Sailing". Boatround wishes you fair winds and following seas.