Laidback sailing trip in the West Aegean - 7-day itinerary around Saronic islands
Greece is undoubtedly a "land of sailing". Within a few hours of Athens International Airport, you can set sail on all kinds of sailing routes according to your preferences and skills. The Saronic Gulf area is considered the best in Greece for novice sailors and crews taking it relatively slow and safe. You can hop on and off the Saronic islands and rely on predictable weather conditions. Waters are so clear that you don't need goggles. The whole area is pretty cosmopolitan, with a long history dating back to ancient times. History enthusiasts and snorkelling fans will be thrilled to sail in these locations. 
Why the Saronic Islands?
The journey begins when you land in Athens, and you will embark on a relaxing sailing trip in half an hour. In terms of distance from Athens, the Saronic Gulf is the closest region. Your sailing holiday will be worry-free and enjoyable. With its Marina Alimos, Athens is a very convenient gateway for sailors sailing to diverse areas. 
The Saronic islands are a favourite location mainly because:
excellent and gentle conditions with a reliable afternoon breeze
short distances, enabling easy island hopping
postcard towns with rich history and anchorages with pristine beaches

Every island will stick in your memory for different reasons. An island such as Poros looks like a live version of a postcard with an additional bonus - a lemon scent. Hydra is the only Greek island with no cars but plenty of donkeys and a port that stayed unchanged since the 19th century. The atmosphere is vivid and colourful thanks to the manor houses. Aegina, with her monasteries, archaeological ruins, and temples set in lush vegetation, is another island that must be added to your itinerary. Dokos is a tiny island inhabited by a small number of monks, shepherds and fishermen. There are wonderful views from the top of this barren island. 
The mainland's town Epidaurus is nowadays famous for its theatre ruins with a legendary acoustic. In ancient times, Epidarus was more known as a healing centre with a holistic approach to medicine. 
Sailing conditions and infrastructure
Saronic Gulf is ideal for newbies. The area is only partially and not frequently affected by Meltemi winds (N, NE). Meltemi are cold, northerly winds that blow forcefully in hot months. However, even if the winds turn strong, waves in the Saronic Gulf area are usually lower than elsewhere when sailing upwind. The only exception is near Poros island, where waves can become bigger. Otherwise, you generally experience gentle sailing with an agreeable wind of 4-5 Bf force. 
As for navigation, hone your eyeball navigation skills. Fishing nets and rocks may pose a danger. Heat haze (common when sailing from Athens to Aegina) reduces visibility. Outdated charts contain inaccuracies. 
Apart from that, you can be sure to find well-sheltered anchorages or harbours dotted alongside the shores. 
The best time for sailing in this area is spring and autumn. Summer is too hot and stormy. crowded and with a bit of a higher probability of meltemi blowing. 
What is typical for sailing in Greece is the extensive usage of anchors when berthing. Most of the time, you will drop an anchor with a long line ashore or berth with the stern to the quay, and the anchor dropped from the bow at about five boat lengths from the quay. Therefore, pay special attention to the state of the anchor and chain when doing a check-in of your chartered boat. 
Recommended 7-day itinerary
Most places worth sailing to are a short distance from each other. This beautiful cluster of Saronic islands combined with selected mainland sites creates a natural itinerary without time-consuming planning. 
The itinerary is pretty straightforward - from Athens, you go to Dokos or Hydra (or even further to Spetses) and then return. On your way there or back, you can hop off on islands such as Aegina, Poros and Salamis and make stops in towns on the Peloponnese coastline, such as Epidauros or Ermioni. 
Day 1 (Saturday): Marina Alimos (0 nm)
Day 2 (Sunday): Marina Alimos  - Salamis (Peristeria Bay) - Aegina (Perdika/Agia/islet Moni) (22 nm)
Day 3 (Monday): Aegina - Hydra (21 nm) 
Day 4 (Tuesday):  Hydra - (Ermioni) - Dokos (15 nm)
Day 5 (Wednesday): Dokos - Poros (12 nm)
Day 6 (Thursday): Poros - Epidaurus (23 nm)
Day 7 (Friday):  Epidaurus - Athens (30 nm)
Check the map with the itinerary here. 

Day 1 - Athens - Marina Alimos (0 nm)
After arriving at your pier, successful check-in and provisioning purchase, you can take a taxi to the cradle of democracy. 
In just 30 minutes, you can reach the world-famous Acropolis. The view of the city is wonderful. It is possible to buy tickets online and beforehand in order to skip the line. Of course, feel free to visit other historic monuments, but let's stay focused on the actual sailing part of your unforgettable holiday.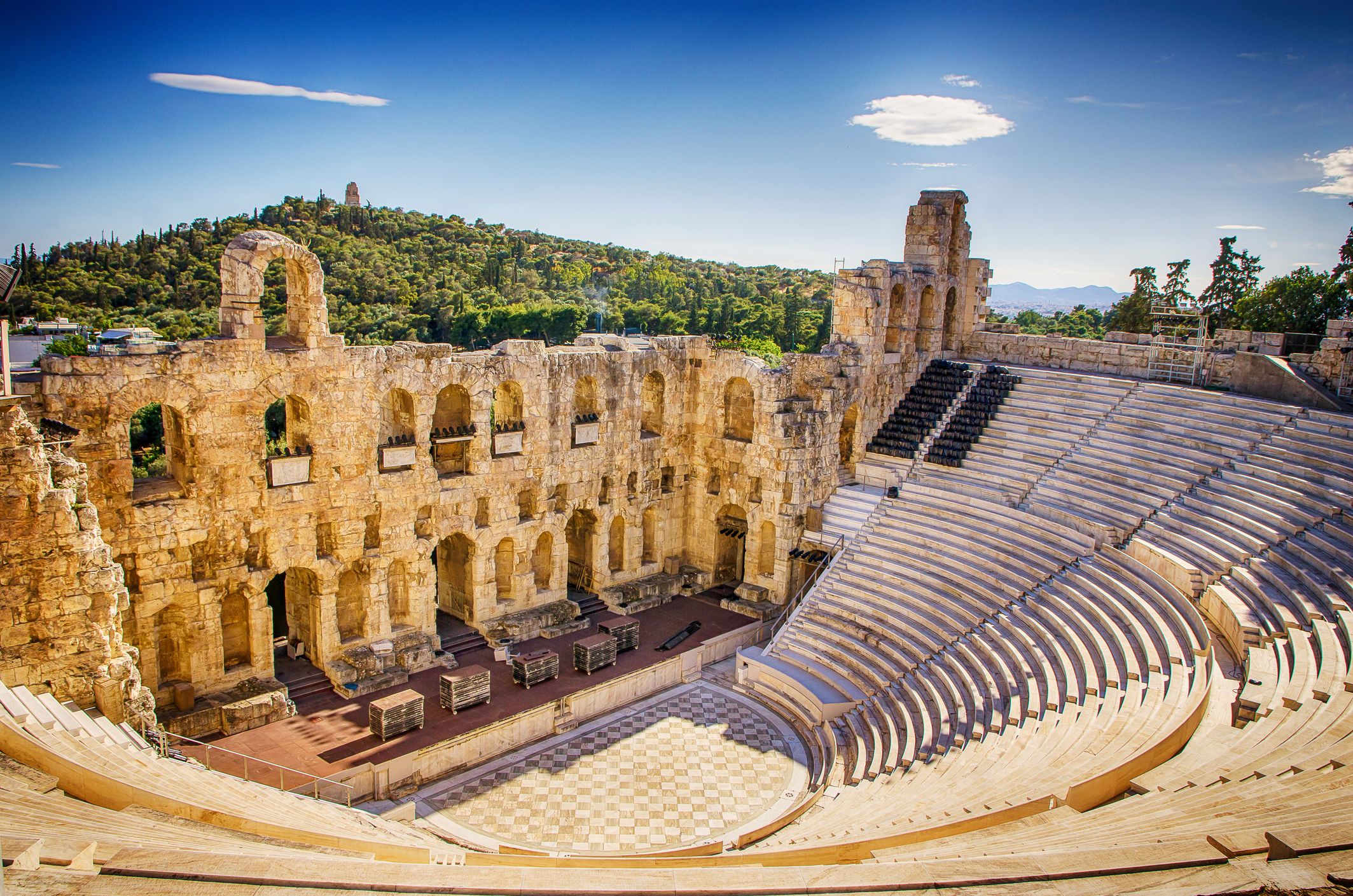 In the evening, have some tasty cocktails and a simple menu at the Inicio spot. You can come here tomorrow morning for breakfast.  
Day 2 - Marina - Salamis - Aegina (22 nm)

Setting sail toward Aegina, you'll be journeying to an island honoured to become Greece's first capital following the Revolution of 1821. Besides its historical significance, Aegina carries the quaint nickname of "Pistachio Island" due to establishing the first pistachio plantation in the nation.
The island reflects a long history and typical charm of Greece. Sailors somehow overlook it since everyone aims to sail immediately further to Hydra, but there's a lot to see around the island, including the beaches, ancient temples and monasteries. The Temple of Aphaia deserves your attention for its mysterious position in the perfect geometric triangle with two other temples, the Parthenon and Sounion.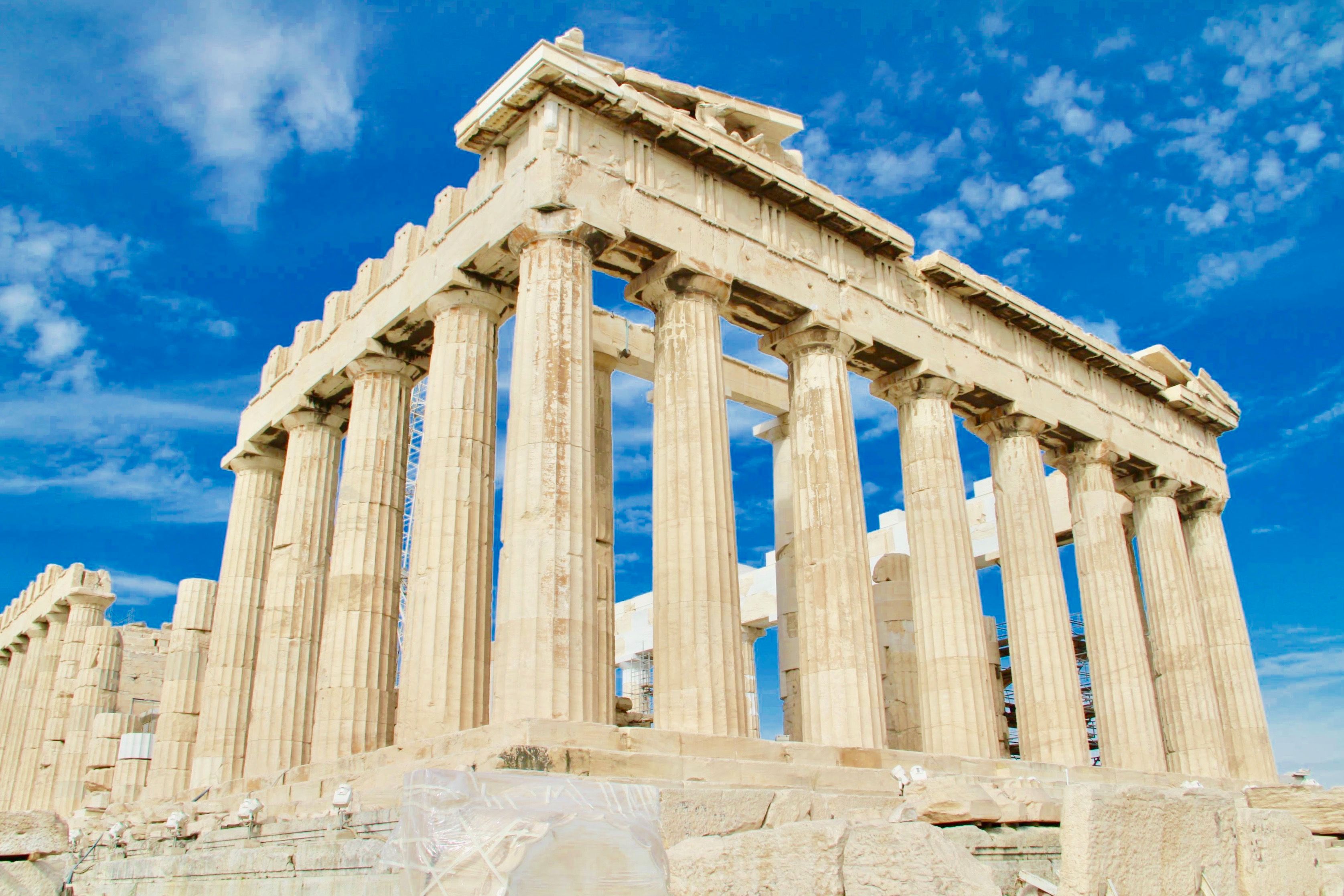 On the way to Aegina (or your last day when returning to base marina), make a short stopover on the island of Salamis and swim in the southern Peristeria bay. It's an excellent choice for a break and refreshments at the beach kiosk (definitely order local souvlaki here). Watch out for depth when anchoring. Although Salamis is the largest Saronic island, it is rarely visited because of prohibited anchoring on the northern coastline and its short distance from Athens.
If you decide to head to the west or south (either Aegina town or Perdika), do not stray too close to the small Metopi island, where the shallows are dangerous. 
Where to stay?
The usual spots for overnight stay are Perdika Bay,  Aegina or Agia. If you love history, you will like the idea of seeing the ruins of the Aphaia temple. In this case, drop an anchor in the bay called "Agia Marina North" - N of the Agia marina, between Agia and Kavos Bay. 
The port is unsuitable for comfortable berthing as it consists of an old small pier for smaller vessels. The anchorage becomes a dangerous choice when meltemi blows, although a new breakwater closes off the anchorage, so swelling is less noticeable than in the past. Ride a dinghy ashore and walk 30 minutes up to the archaeological site of Aphaia. On your back, stop by the family-run restaurant Tholos for a superb dinner. The food is yummy, and service is more than welcome. 
Another suggestion is sailing more to the south of the island. Perdika port in the south is a safe place to stay, but sailors somehow overlook it. For calmer nights, head to the anchorage in Cape Pirgos close to Perdika or a tiny islet, Moni, opposite Perdika. Cape Pirgos is exposed to westerly winds that cause strong swells, but the spot provides excellent shelter from northern winds. 
When opting for Moni, you will be rewarded with a heavenly setting. The passage between Aegina and Moni is danger-free. Drop your anchor in the sandy bottom of the bay located more to the northwest. Avoid Moni on Thursday, when the bay is overcrowded with charter boats returning to Athens. 
Day 3 - Aegina - Hydra (21 nm)
The only larger settlement on this empty and mountainous island is the town of Hydra. Cars are prohibited on this island, and you might use a donkey as a mode of transportation. You can hike up the steep trails and observe the stunning view. The island and its museum-like town are very captivating. Summers are too touristy, with gift shops on every corner. Out of season, you will be fully immersed in the island's unique beauty. This island has served as an artistic inspiration for many artists and movie-makers. The island is now popular among celebrities, which explains why it is more expensive than other Saronic islands.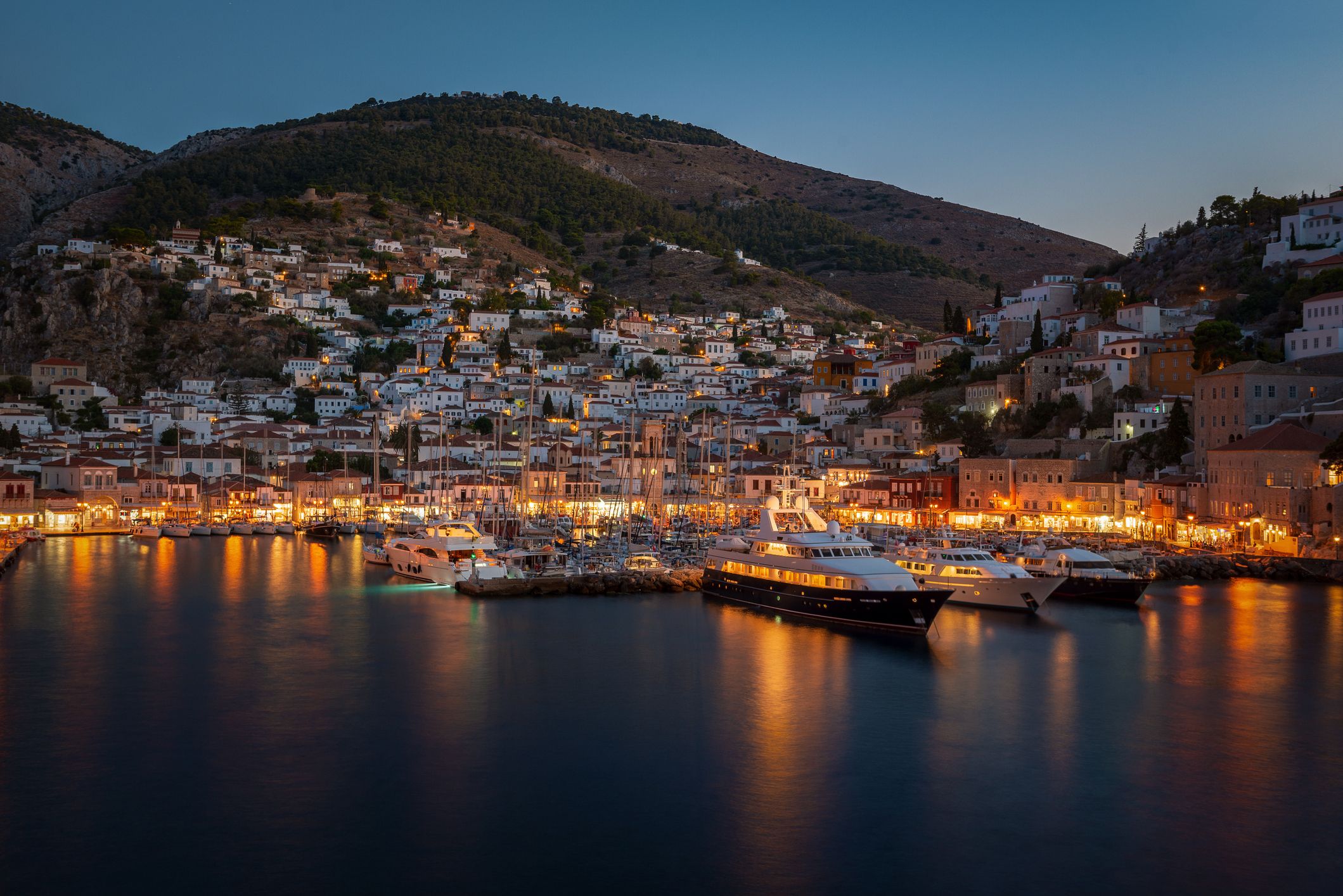 Where to stay?
If you want to get a berth in Hydra, you better be there by midday and brace yourself. Strong northern winds can make the harbour untenable, which ends with crossed anchors and tempers among sailors as well. The port is chaotic, and many say it is a sailor's nightmare to park there. Off-season, it may be better. 
Generally, we would recommend staying anchored in a bay close to the town and visiting the town by sea taxi. A good shelter with a lot of space and strong holding is Molos Bay, although it is not protected from N and NE winds at all. The water taxi is expensive but it saves you from the stress. The closest option is Mandraki Bay, enabling you to arrive in Hydra town in 20 minutes of walking. Be aware that in the area opposite a church, there are chains laid on the bottom, so don't get your anchor stuck. The swimming area is buoyed, so count on anchoring to over 15 meters deep. 
Day 4 - Hydra - (Ermioni) - Dokos (15 nm)
Dokos is exactly the type of island that is lesser-known but surprises with its unspoilt beauty like it has just been discovered. The island looks more desert and bare than Hydra. Dokos is a dreamy, calm place where you might meet monks walking around the island together with sheep. Dokos is also famous for being the world's oldest shipwreck, aged 5000 years old. Don't forget to climb up some cliffs for breathtaking views.  
If you are up to a detour from the island's hopping, Ermioni is a tranquil town with a smell of pine trees and a relaxed atmosphere. Grab a beer there, stroll around the town and head towards the bay Ormos Skindos situated on the north of Dokos.
Where to stay?
Ormos Skindos is a large bay where you drop your anchor in 10-15 meters. Try to anchor in the NE corner of the bay. Not only will you be more protected, but it is closer to the taverna. 
Wreck Cove (also named Ayios Ioannis Dokos is part of the Ormos Skindos (the very NE corner). The bay is well-protected from the prevailing winds. As the name suggests, a ship was excavated here. On the shore, there are old remains of houses and walls from the 2nd century BC.
Day 5 - Dokos - Poros (12 nm)
From Dokos, you begin your voyage back to Athens. Your next stop is Poros. Poros stands for "strait" or a "crossing" since the island is only 200 meters distant from the mainland. Most part of the island is rugged and uninhabited, and the majority of attractions are concentrated in Poros town. There are just a few roads on the island.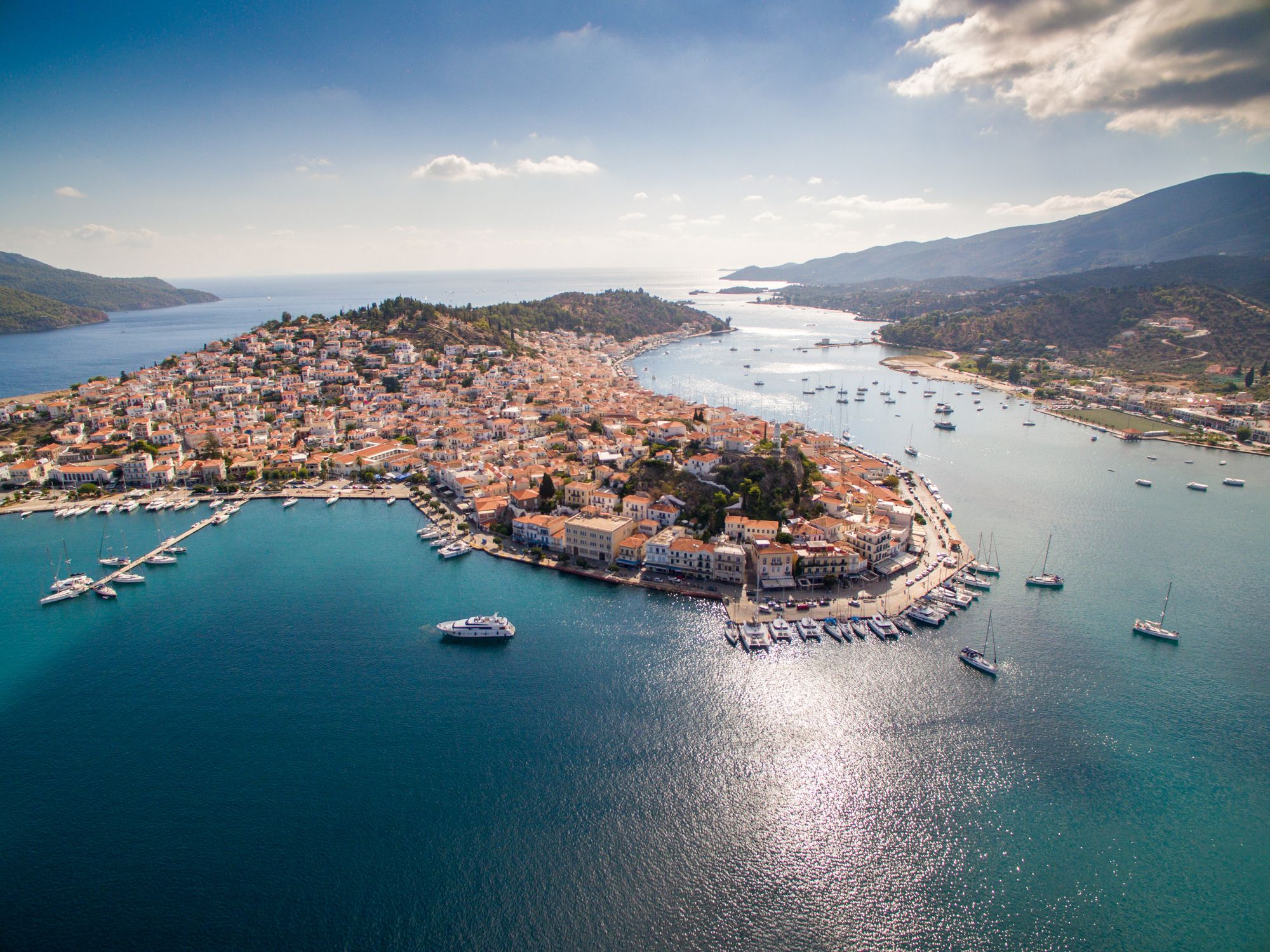 Where to stay
The Poros town remains a picturesque spot despite the ferries, loud bars or lack of quay space, and the town has an undeniable charm. The anchor holds very well. The town is worth visiting - not only there are several good restaurants, bars and ice cream shops, but also some short hiking trails. And, of course, the omnipresent flavour of history. You will not regret dining in one of the best Aegean restaurants - Poseidon or White Cat. 
With northern winds blowing, you can find a good and pretty shelter in the Ormos Porou Bay or in the Monastery Bay, located close to the Poros town. The Ormos Porou offers a quiet night and an excellent dinner at the U Kanali taverna. The name Monastery Bay is derived from the monastery of Zoodhokos Pigi, located above the bay. There is a spring outside of the monastery with supposedly curative waters. 
Day 6 - Poros - Epidaurus (23 nm)
From Poros, sail up to the mainland to another place with ancient roots. Before ending up in Epidaurus, stop at one bay south of the Epidaurus town (there is a camp place opposite the anchorage with the main attraction). This bay will provide you with an unforgettable snorkelling experience. You can snorkel above the sunken city of Epidaurus. The relics are more than 3,000 years old; be careful with your flippers. Small buoys are not for anchoring; you can use them for your dinghy and then, from there, snorkel to the archaeological underwater site.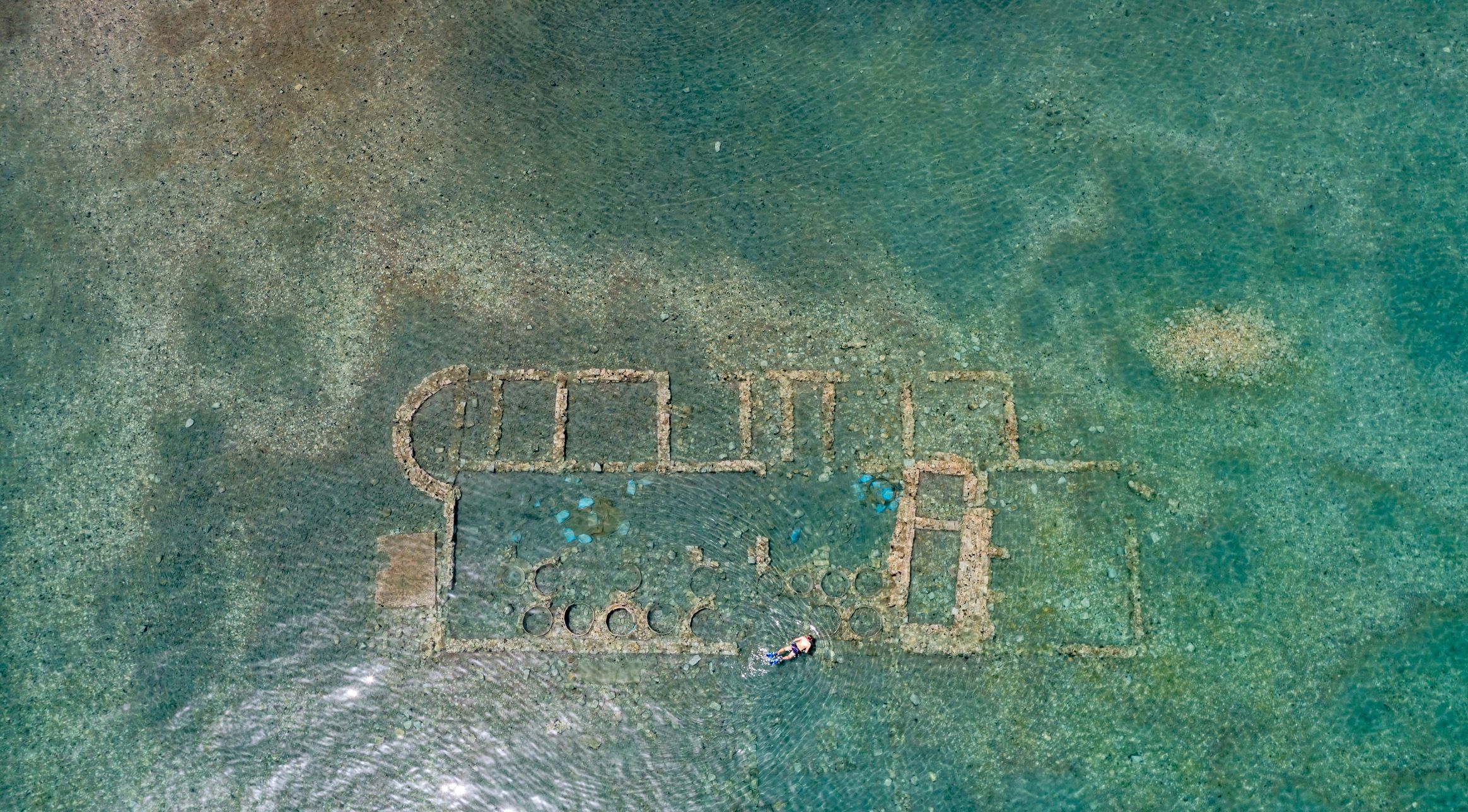 Where to stay
Epidaurus is a small, appealing town set in a protected bay with good access to the natural harbour. The bay is open to the East but you won't feel this wind that much, just the swells. You can either stay in the small port (parts painted yellow) or stay anchored in the south of the bay.
Visiting the old theatre is a must. Drop a coin in the orchestra part and your friend will hear it from the top-row seat, such is the perfect acoustic. 
Day 7 - back to Athens (30 nm)
The last day of your sailing trip is the longest route. You don't have to hurry so take your time and have several stops on your way home. 
You can stop again in one of the bays in Aegina (or Moni in case you stayed in Agia on Day 2). Another option is to hop off Agistri island. Agistri is a green heavenly island worth stopping by. We recommend Skilomango Bay on the SW of Agistri for a short stopover. Don't be surprised to spot dolphins and octopuses in this bay. 
We wish you fair winds and easy, leisure sailing days. The Saronic Gulf is a great area to start exploring the sailing side of Greece.  
Subscribe to see special deals
Save money with every booking