Sailing around BVI – 7-day itinerary
Imagine a maze with immaculate bays and breathtaking scenery. That's what the British Virgin Islands (BVI) look like. These leeward islands offer a variety of sailing routes around four main and 50 other islands. You can sail in calm and favourable wind conditions. BVI is a perfect destination for families, beginners, or those wanting to delve into a picturesque paradise. 
Why should you sail in the BVI?
One of the most significant advantages of sailing BVI is the flexibility of routes. You can let your itinerary loose and adjust on the go. The passages between islands are short and easy to navigate. Don't expect to sail a lot of miles, though. 
Your boat (we recommend taking a catamaran for its low draft and better comfort) will be steadily propelled by a mild Eastern trade wind. The weather is tropical all around the year and with low humidity. The best time to explore these virgin islands is from December to May to avoid hurricane season. BVIs are one of the safest places for sailing in the Caribbean, not only in terms of sailing conditions but also in terms of criminality. 
Tip: an essential part of your packing list is snorkelling equipment and a waterproof bag. Consider adding a paddleboard as well. 
How do you sail the BVIs safely?
Although it is not so difficult to navigate waters around high volcanic islands, sometimes you will have to navigate by sight. Always watch out for shallows and coral heads. Navigate with extra care, especially in the area of Anegada. 
The usual starting and ending point for sailors is the biggest island Tortola and marina in the capital Road Town. Sailors usually arrive some days earlier and, on day 1, head off to an island nearby. On day 7, it is a common practice to return from an islet near the Road Town, so you don't have to be back in your home marina the night before.  
The Sir Francis Drake Channel between Tortola and a group of small islands called Little Sisters on the South (Norman, Peter, Salt, Cooper, Ginger Islands) is well-sheltered and with no waves. This area is great for novice skippers and for island hopping. 
When it comes to provisioning groceries, it is convenient to place an order online via services such as Rite Way or One Mart a couple of days prior to your arrival. Otherwise, BVI is famous for excellent restaurants and the best beach bars in the world.  
Suggested sailing route
This is a sample itinerary of your best sailing holiday in the BVI with no stress:
Day 1: Tortola (base marina) - Norman Island (The Bight/Privateer Bay)
Day 2: Norman island - Pelican Island (The Indians) - Cooper Island (Manchioneel) 
Day 3: Cooper Island - Virgin Gorda Island (The Baths / North Sound)
Day 4: Virgin Gorda Island - Beef Island (Trellis Bay) or Scrub Island
Day 5: Beef Island/Scrub Island - Guana Island - Jost van Dyke
Day 6: Jost van Dyke - Tortola (Cane Garden Bay) - Peter Island (Little Harbour) 
Day 7: back to Tortola from Peter Island 
If you want to add Anegada, skip the Beef or Scrub Island on Day 4 and head to Anegada instead. From Anegada, sail directly to Jost van Dyke. Although Anegada is undoubtedly one of the "must-visit" islands, we suggest adding it to your itinerary only if you are an experienced sailor and if your boat is a catamaran because of shallow waters. All in all, Anegada is better for a 10-day itinerary for you to fully succumb to its unique kind of beauty. 
Day 1 - Tortola - Norman Island (6 nm)
Tortola offers a whole range of stunning beaches to visit. The best ones are located in the northern part. If you are keen on surfing, try Apple Bay. Long Bay West is a typical Caribbean beach with white sand. The capital Road Town is a great option for a shopping spree. Worth visiting is the local Botanical Garden.   
What to see and do
Around noon, set sail for Norman Island to enjoy the best snorkelling experience. One of the "Little Sisters Islands" is also nicknamed Treasure Island for its legendary pirate treasures allegedly hidden in one of the beautiful caves. It is this island that served as an inspiration for Robert Louis Stevenson's book Treasure island. 
Nowadays, Norman island is famous for its three caves named Treasure Point and for its unique bar experience.
Anchorages
The most famous and well-protected anchorage in The Bight. This place has more than 100 mooring lots. Grab a Mahi-Mahi sandwich to eat and drink refreshing drinks at the floating bar "Willy T" or/and at the "Pirate Bight Bar".
If you prefer a more secluded alternative to The Bight and you belong to sunset hunters, spend the night at the Privateer Bay. You can take a 15-minute ride with a dinghy to The Bight if needed. The famous caves to snorkel in are reachable even by paddleboard. 
Day 2 - Norman Island - Pelican Island (The Indians) - Cooper Island (10 nm)
Enjoy the morning snorkelling in the spectacular area of Pelican island (The Indians), and then hop on to other small islands on your way to Cooper Island. 
What to see and do
The Indians' rocks are just a 10 minutes ride from Norman island. These four rocks standing out 15 meters above the water level will leave you speechless. It is one of the best snorkelling spots in the BVI. Arrive early so you can enjoy the place for yourself only. Watch out for swimmers in the sea! In the evening, look forward to observing a captivating sunset from the bay.  
Experienced divers or keen snorkelers can have a stopover located near Salt Island. There is a popular wreck dive to the RMS Rhone royal mail ship from the 19th century. 
Anchorages
The best option to overnight on Cooper island is in Manchioneel bay on the east shore. The mooring field fills up fast, so we highly recommend booking a place in advance via Boaty Ball (a useful app for booking moorings in the BVI). 
Day 3 - Cooper Island - Virgin Gorda Island (The Baths / North Sound (12 nm)
The earlier you leave, the more solitude you will enjoy on Virgin Gorda island in the natural park The Baths. If you are up to more sailing, continue to see other parts of this tranquil island. Although the Irma hurricane hit this island in 2017, the natural attractions remain intact. 
What to see and do
A must-see sailing landmark is a geological wonder with unique rock formations created by volcanic eruptions in the park, The Baths. Enjoy this memorable stopover on beaches scattered with large granite boulders. You can climb these rocks or take a bath in natural pools.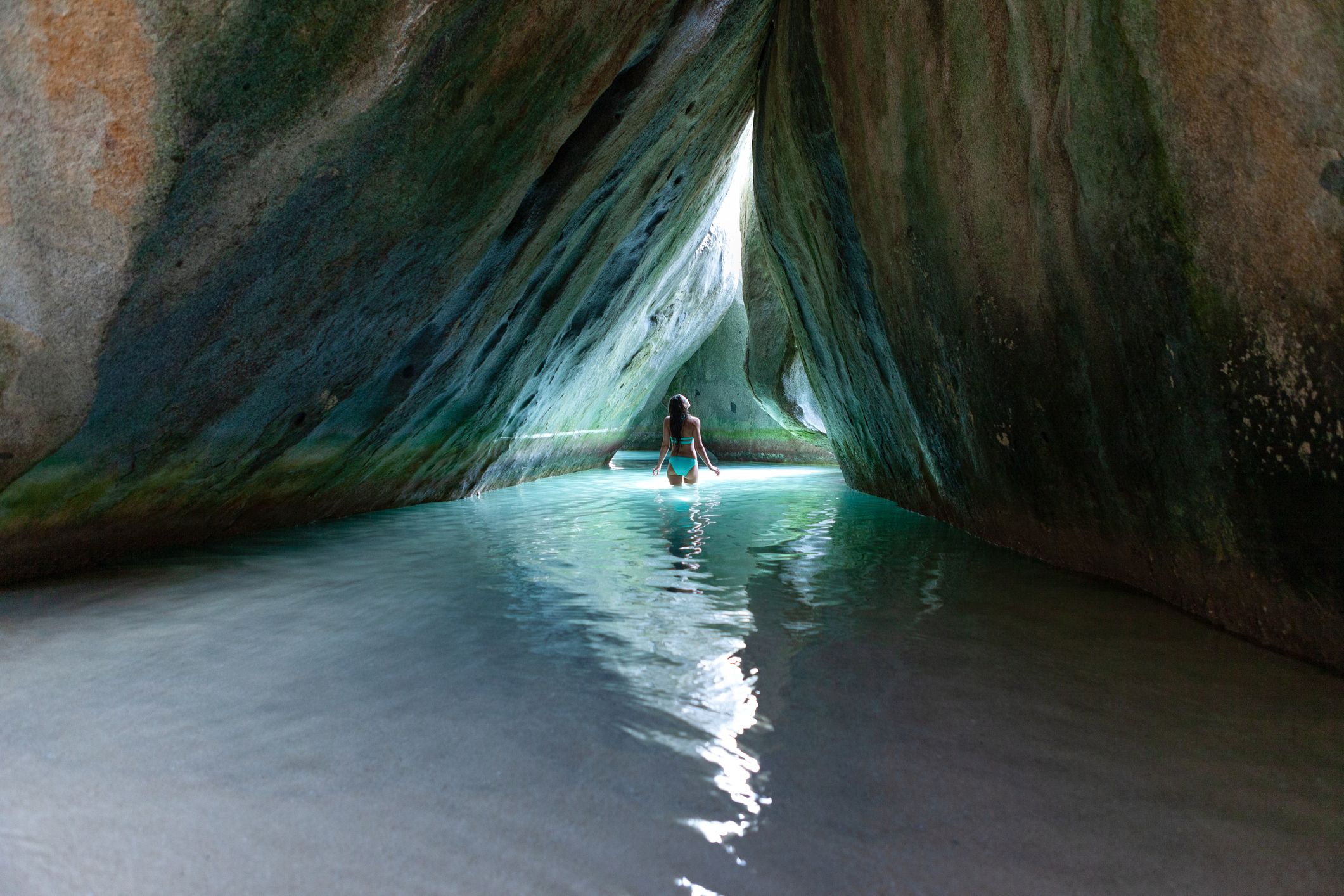 Have a tasty lunch or cocktails at CocoMaya restaurant to experience exquisite cuisine in the BVI. If you want to dive into a transparent sea aquarium with plenty of fish, go to Long Bay to stay for a night. The bay has incredibly transparent waters.
In case you decide to sail to Anegada the next morning, the best place to initiate this cruise is from Leverick Bay in the North Sound. Leverick Bay has a typically colourful and cheerful Caribbean atmosphere. From The Baths, it is 8 nm long sail to this bay. Anegada is the only coral island in the BVI. Called "Drowned Island" for its very flat shape, it boasts a pristine kind of nature and a stunning underwater world. The Horseshoe Reef is the largest coral barrier in the Caribbean. 
On the north of North Sound, there is a tiny islet with its main attraction at the Saba Rock Resort, where you can feed tarpon fish in the evening. 
Anchorages
To visit The Baths, pick up a mooring at Devil's bay, with plenty of mooring buoys. Be there early or book in advance. An alternative for accessing The Baths is Spring Bay. Another wonderful anchorage to drop your anchor (no buoys) is hidden in the magical Valley Trunk Bay. An almost private beach with white sand, turquoise water and granite stones is a perfect spot to take a postcard photo. From the Valley Trunk Bay, it takes only 10 minutes to walk to The Baths. At night expect a little rolling and occasional swells. 

The Long Bay is another superb anchorage with an underwater bonus, a small wreck. 
The Leverick Bay in the northern part of this island has mooring balls (booking in advance is always a good idea), or you can stay in the marina to resupply all you need. If you prefer more chill, head for Saba Rock or Bitter End further to the north. 
Day 4 - Virgin Gorda Island - Beef Island (Trellis Bay) or Scrub Island (12 - 15 nm)
If you want this day to be more about sailing, move alongside the Virgin Gorda Island up north to Prickly Pear Island and then adjust your course to Beef Island or to Scrub Island. 
What to see and do
In case your sailor's curiosity brought you closer to the very north of Virgin Gorda, pay a visit to some of the beautiful bays at Prickly Pear Island. On your way, don't be surprised if you spot Mr Richard Branson, who owns Necker and Moskito island. 
The uninhabited Prickly Pear Island is named after the opuntia cactus. This perfect Caribbean hideaway is surrounded by azure waters, and you can take a short hiking trail from Vixen Point. You will come across salt ponds and other secluded beaches. Don't worry about staying hungry on this little island; there is a bar serving tasty lobsters.
Beef Island is famous for its luxury resorts, bars, eccentric art galleries, crafts shops and of course, paradisiacal beaches. Trellis Bay is one of the most popular anchorages with a true yachtsmen vibe. 
Anchorages
The Beef island is a stone's throw away from Tortola and the airport. The Trellis bay is a very well-protected and appealing harbour and offers a combination of nice restaurants, bars and water activities. 
If you are looking for a more tranquil place, choose Marina Cay (an islet closer to Scrub Island) with a nice dining spot Pussers. For another gastronomic experience, take a dinghy from Marina Cay and try a restaurant named Donovan's Reef. A beautiful and clean marina with pools, shops, and a restaurant is on Scrub island.  
Day 5 - Beef Island/Scrub Island - Guana Island - Jost van Dyke (12 - 14 nm)
Today you will enjoy a beautiful sailing adventure aboard, and embark on the charming island, Jost van Dyke. 
What to see and do
On your way, use an opportunity to have an unspoiled island almost for yourself. Guana island is a hidden gem in the BVI. Take a break at the White Bay and walk on the long stretch of white sandy beach. 
Jost van Dyke island bounced back fast from the hurricane catastrophe. The island is abundant in history and cultural mix, resulting in tasty and diverse dining options. This rather small (8 km2) island is the birthplace of the famous fruity Painkiller cocktail (created in the still-operating Soggy Dollar Bar in White Bay). 
Lovers of nature can take a scenic hike into the rainforest above the Great Harbour. On the NE side of the island, don't skip taking a swim in Bubbly Pool, a natural "hot tub". If you have a party crew, don't miss out on live music at Foxy's Bar in Great Harbour. 
Anchorages
Diamond Bay is the most suitable anchorage to access both island's lures - Foxy's bar and Bubbly Pool. While snorkelling, you will be able to see green sea turtles. 
On the southern shore, Great Harbour Bay and White Bay are the best choices for spending the penultimate night aboard. Book your mooring balls via an app.
Day 6 - Jost van Dyke - Tortola (Cane Garden Bay) - Peter Island (15 nm)
After a short sailing, jump ashore on the Cane Garden Bay, surrounded by sweeping lush hills on the coast of Tortola. Cane Garden Bay is a lovely place for paddle boarding, live music and pelicans.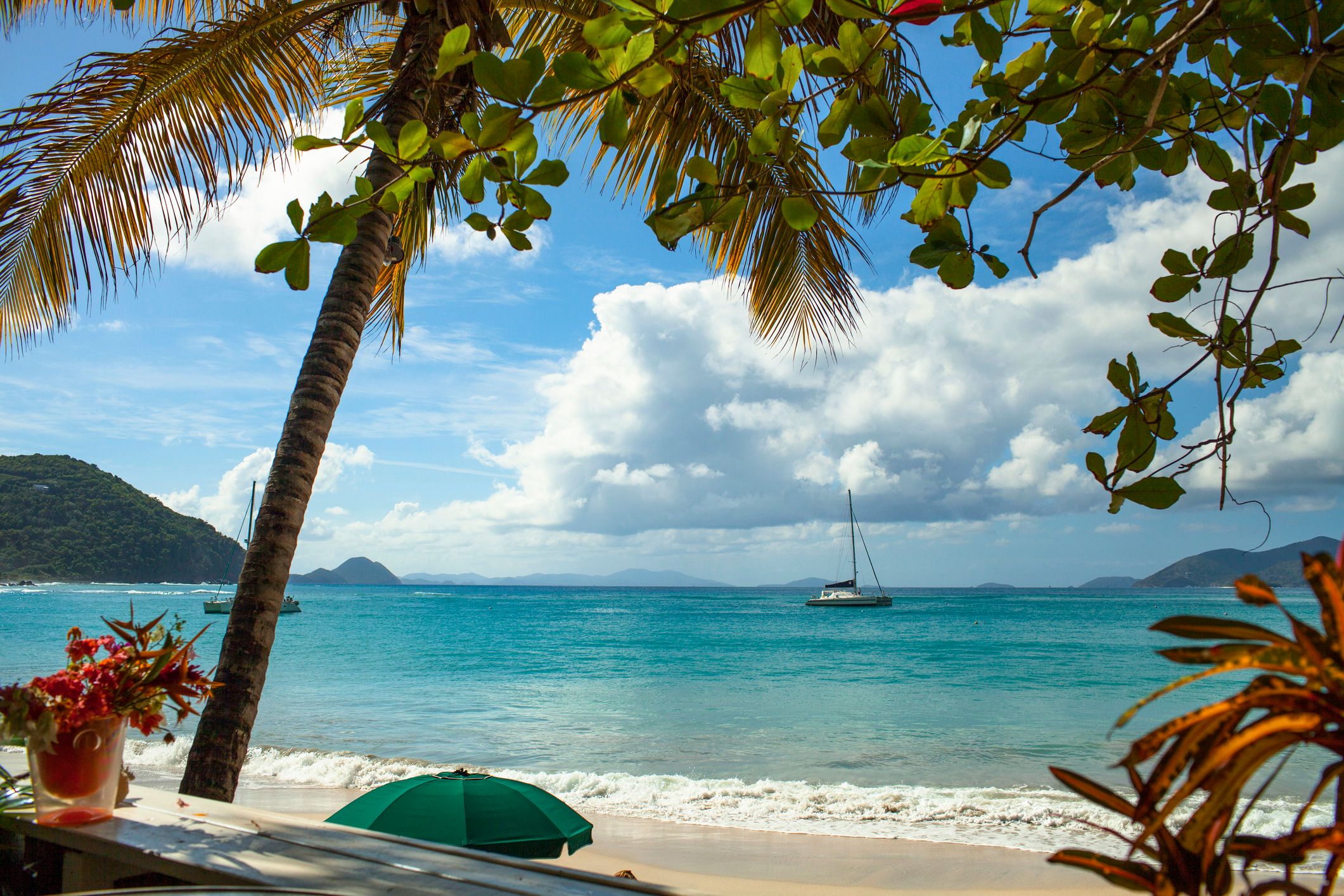 In the afternoon, continue to Peter Island. If you are up to a cardio workout, take a 1-2hr hike to The Sunset Loop. You will be thrilled to watch the sunset over the surrounding islands and Sir Drake's Channel. 
Anchorages
There are several terrific spots to stay. The sublime cove Little Harbour is a well-protected place with glassy water and turtles. Great Harbour offers a substantial number of moorings. 
Day 7 - back to Tortola (Road Town) (5 nm)
Enjoy one last morning of snorkelling and swimming before returning slowly to your marina. Today, your yachtie dreams came to an end. 
The British Virgin Islands are not (just) about sailing. They are a dream destination for those enjoying one of the best snorkelling or diving experiences for having a romantic idyll or party of your life. As with everywhere in the Caribbean, BVI should be explored slowly. You can start with the first step - picking a suitable catamaran on the Boataround website.
Subscribe to see special deals
Save money with every booking