Sailing in Turkey - A Modern Sailor's Paradise
Imagine a sunny sky, short sailing distances in calm weather, azure blue warm water in tranquil bays, and local cuisine. Add a spectacular 8,000 kilometres of coastline, hundreds of islands, beautiful nature, fascinating historic sites, and hospitable locals. That's the sailors' paradise called Turkey!
If you're craving an unconventional adventure, Sailing in Turkey is an excellent idea. Keep reading as we highlight the following:
How is the sailing season in Turkey?
Where to visit while sailing in Turkey
Reasons why Turkey should be on your bucket list
The best way to explore the Turkish coastline
What Is the Most Suitable Time to Go Sailing In Turkey? 
Before you go on sailing trips in Turkey, you must decide the most appropriate time. Turkey is a remarkable destination since the sailing season is longer than in Greece, Spain, or Croatia. 
The entire Turkish coastline usually has excellent sailing conditions during the warm summer months. The sea is mostly calm, and the distances between stops are relatively short, which makes it easy to find shelter should the weather change. 
Therefore, this area is suitable for less experienced sailors or a family vacation with children. As the sailing season in Turkey is quite long - from May to October – it's also possible to avoid the peak summer season and still have good sailing conditions.
Where to Go Sailing In Turkey? 
Aegean Coast
This is the area of choice for island lovers! The Aegean coast stretches from Izmir to Bodrum and offers many stunning islands with fascinating histories, white-sandy beaches, and authentic restaurants. The main sailing centre and charter hub in this area is Bodrum. 
Located on a peninsula near the Greek island of Kos, it's one of Turkey's most picturesque cities. It is rich in history, full of culture, and famous for its bazaars and popular nightclubs. While in Bodrum, don't miss the castle of St. Peter, built by The Knights of Rhodes during the middle ages. The Underwater Archaeology Museum is also well worth a visit. Yalikavak and Turgutreis are the other well-known charter bases in this area.
From Bodrum, it's a short sail to the pine tree-covered island Kara Ada, known for its warm mineral pools and isolated caves. Scuba divers will love it here! Next to the wooden pier is a restaurant called Arkanessos, the island's old name. 
It serves traditional meals and offers stunning views. Another famous island to sail to is Sedir island, known for the spectacular Kiran mountains. This island has magnificent, fine, white sand beaches. According to legend, Roman emperor Mark Anthony brought the sand from Egypt as a token of his affection for Cleopatra.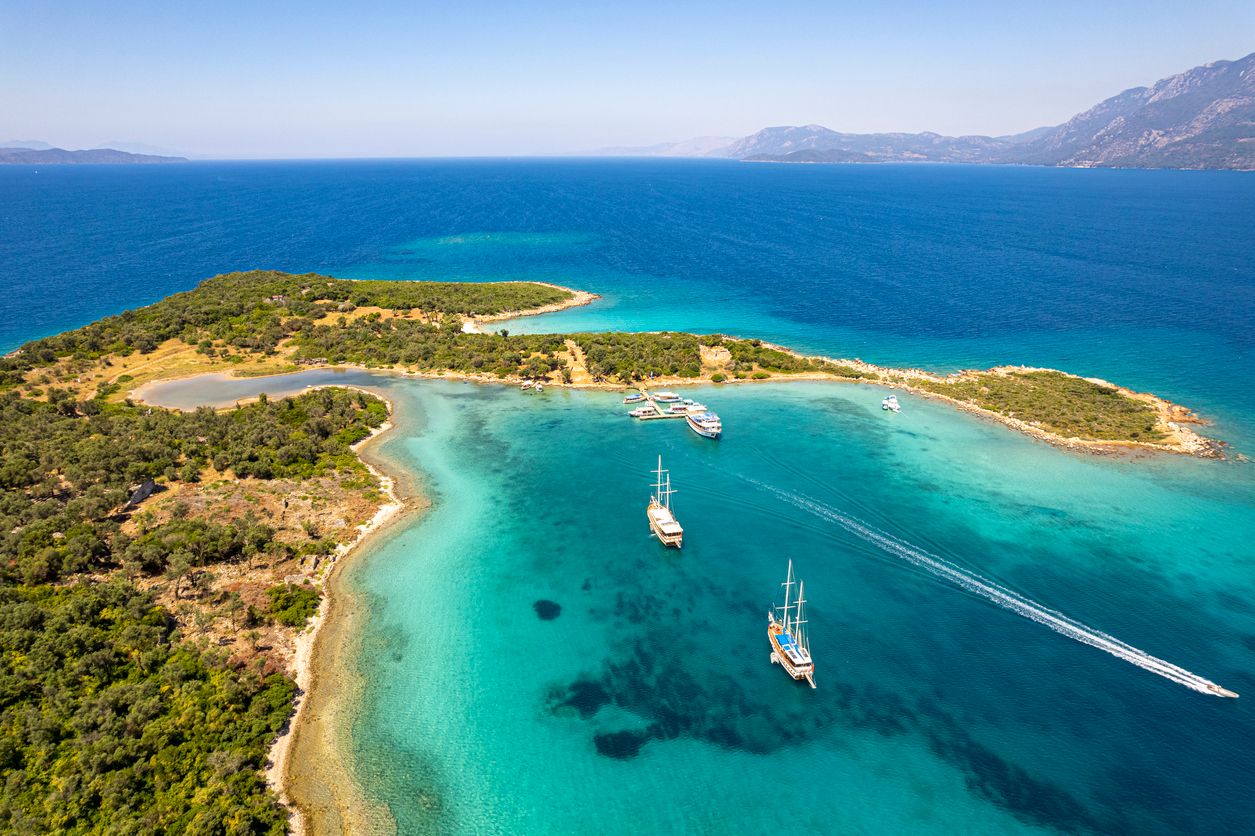 Whether that's historically correct or not, what's certain is that this island also became known as Cleopatra island.
Although this area has many other fabulous islands to visit, it has different highlights, like the Datça Peninsula. Nature lovers will appreciate the mountains, crystal clear streams, and many native trees here. Or take Kormen, a small village with a well-sheltered tiny harbour. There's a great fish restaurant and a little restaurant on the quay where you can enjoy traditional food. Dirsek Bay not only offers azure blue snorkelling water. You can also appreciate freshly baked bread from the café in the morning and incredible views from the hiking trails.
Mediterranean Coast
To the east of Bodrum, all the way to Antalya stretches a rough, steep coastline with hundreds of secluded bays and coves, plenty of isolated beaches and dense pine forests. Yachts can be chartered in Fethiye, Göcek, Finike and Kemer, but the main sailing centre and charter hub in this area is Marmaris. It is no longer the small fishing village it used to be but is now famous for its beachfront promenade with cafes and restaurants, small shops, and many bazaars.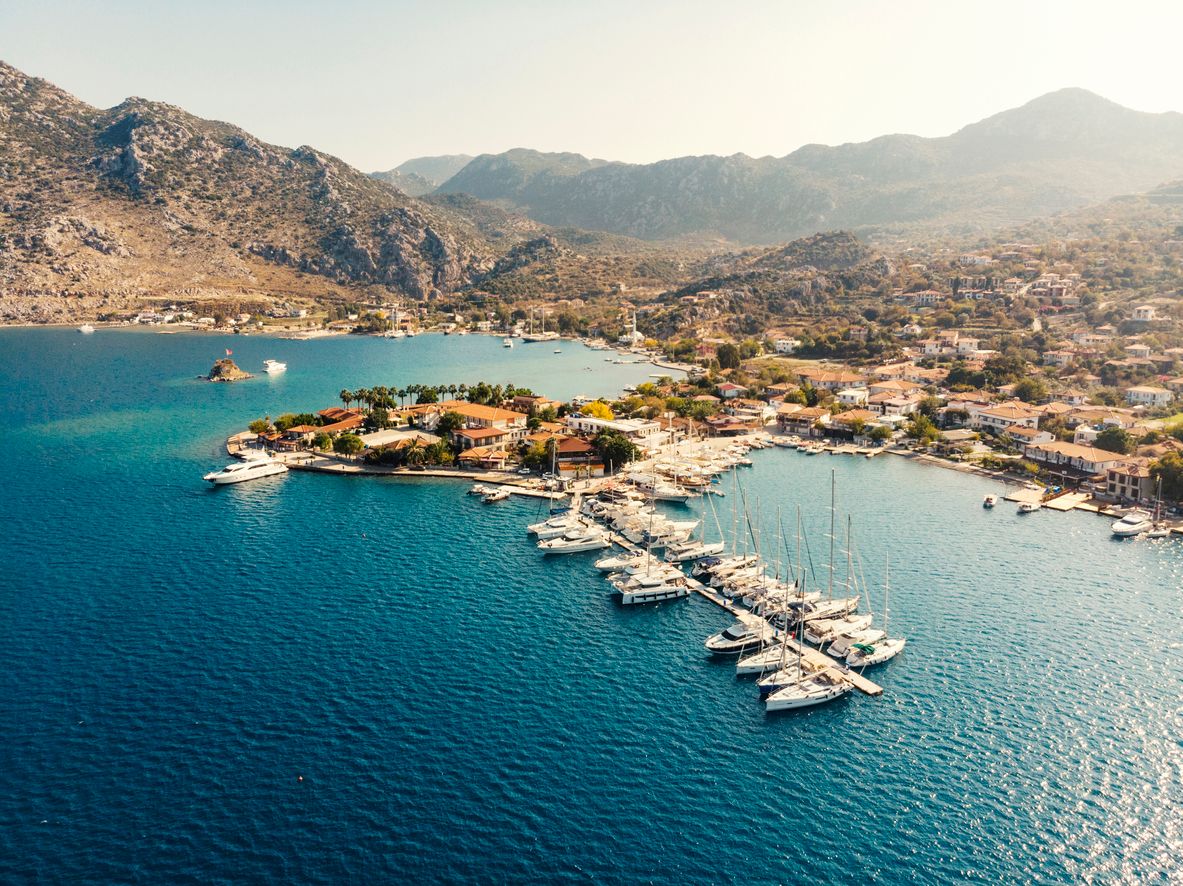 Turkey's Mediterranean coast is typically sheltered from strong winds by mountains with coniferous forests, which generally means sailing conditions are favourable. Highlights include the Gulf of Fethiye, a paradise for nature lovers, and Oludeniz, one of Turkey's most popular tourist sites. 
The crystal blue waters, along with the long coastline of this sandy beach, lead to a lovely lagoon that is simply breathtaking. Nearby Butterfly Bay is also worth a visit. It is named after the hundreds of butterflies that make their home there. At the bottom of the valley, there's a wide sandy beach with a trail. In addition, there are two waterfalls, which are worth the trek to get there.
The Kekova region has some of the most magnificently located historic sites on this coast. You won't have to worry about getting here, as there are many anchorages in the bay and little coves. Kas is a charming village famous for its snorkelling, scuba diving and an antique theatre that has been nicely preserved. The district's climate is ideal for growing almonds, oranges, lemons, and bananas, but the honey is also yummy.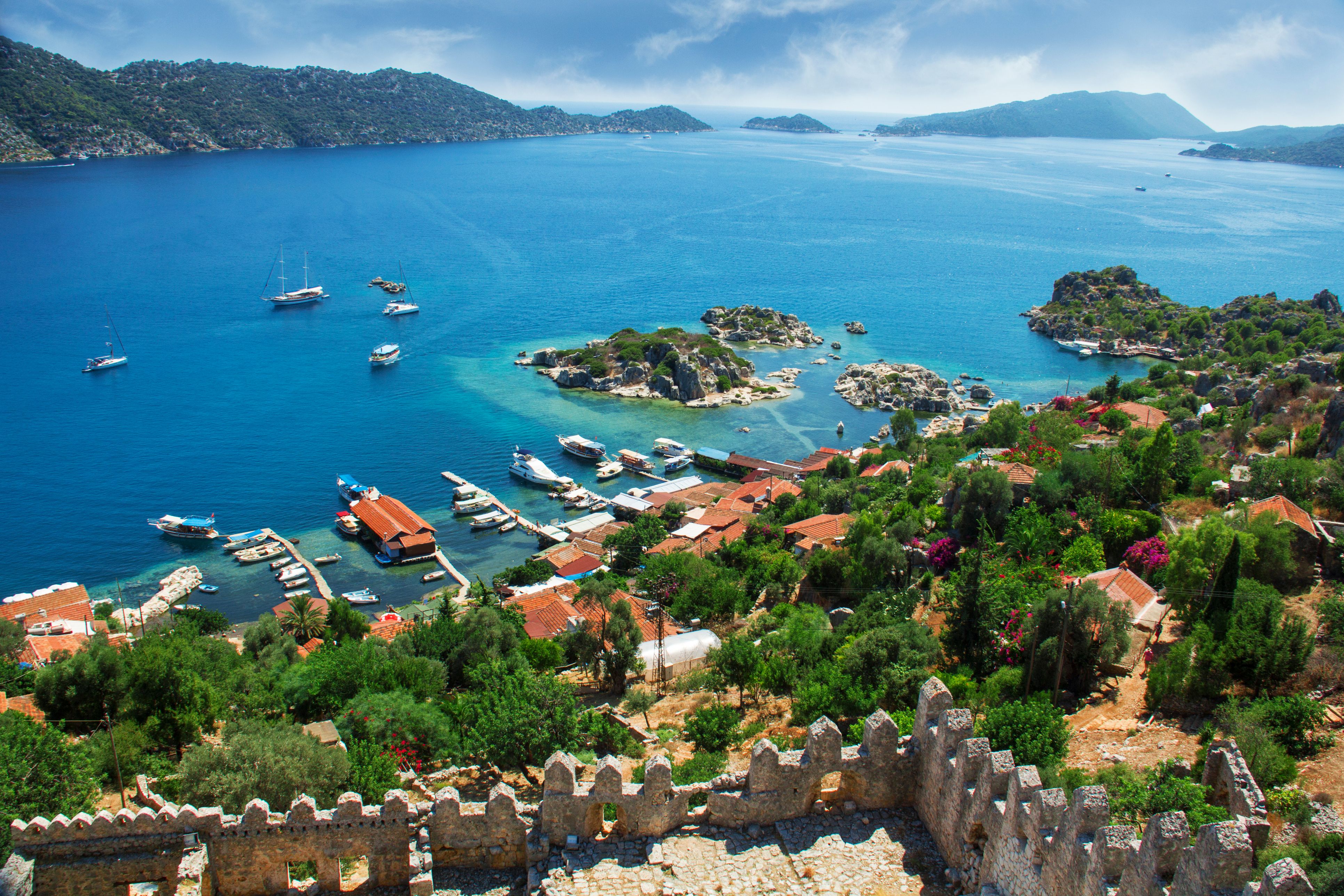 Why should you go sailing in Turkey?
Perhaps you've been reading sailing in Turkey reviews and want to ensure it's the best destination for you. Here are some main reasons you should consider this haven for sailors. 
Amazing Food
Wherever you decide to charter, Turkish food is guaranteed to be delicious. Restaurants offer outstanding selections of different appetisers, known as mezes. They combine very well with ekmek, a fresh stone-baked bread. Main dishes typically include freshly caught seafood, kebabs, and köfte (spicy meatballs), served with rice and salad. You can also opt for many vegetarian dishes, our favourite. As a dessert, you shouldn't skip baklava, a pastry made with Turkish walnuts and honey. What's not to like?
Excellent Marinas
The country has a very developed sailing infrastructure. It is home to world-famous yacht centres like Bodrum and Marmaris. Enormous marinas are located here, and prestigious international sailing competitions are held. On the coast from Bodrum to Antalya, clean and modern marinas are an hour's sail away from each other, while there are also restaurants where you can moor.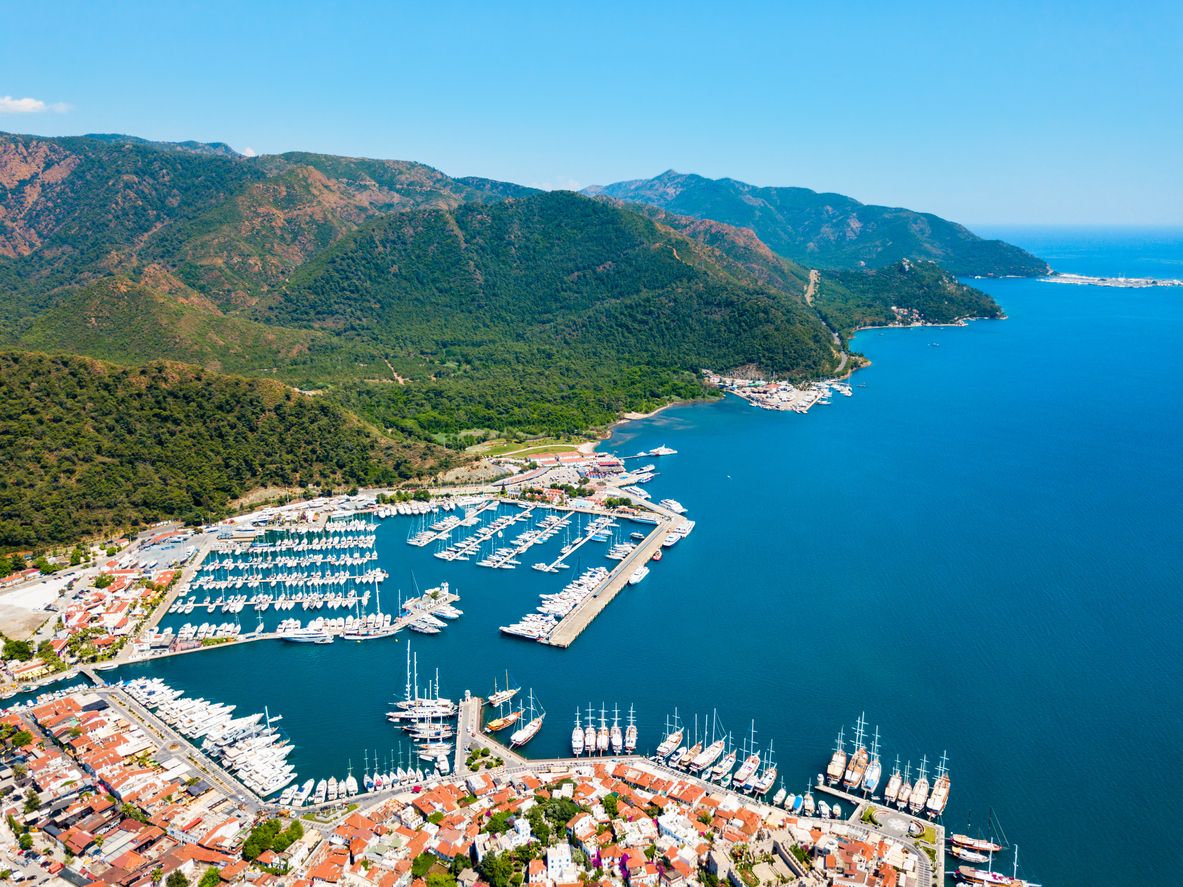 Fortunately, development hasn't taken over everything. Sailing between secluded bays with minimum facilities and picturesque anchorages is still possible.
Explore Archeological Sites
Turkey has numerous archaeological sites overlooking the ocean. It's a once-in-a-lifetime opportunity because Turkey has some of the oldest sites, such as Knidos, which is found near Bodrum, and you can visit it by your yacht! 
Stunning Nature
Not only can you explore bustling Istanbul, but you can also enjoy fantastic nature with breathtaking views by sailing to the sea of Marmara using the sailing charters in Turkey.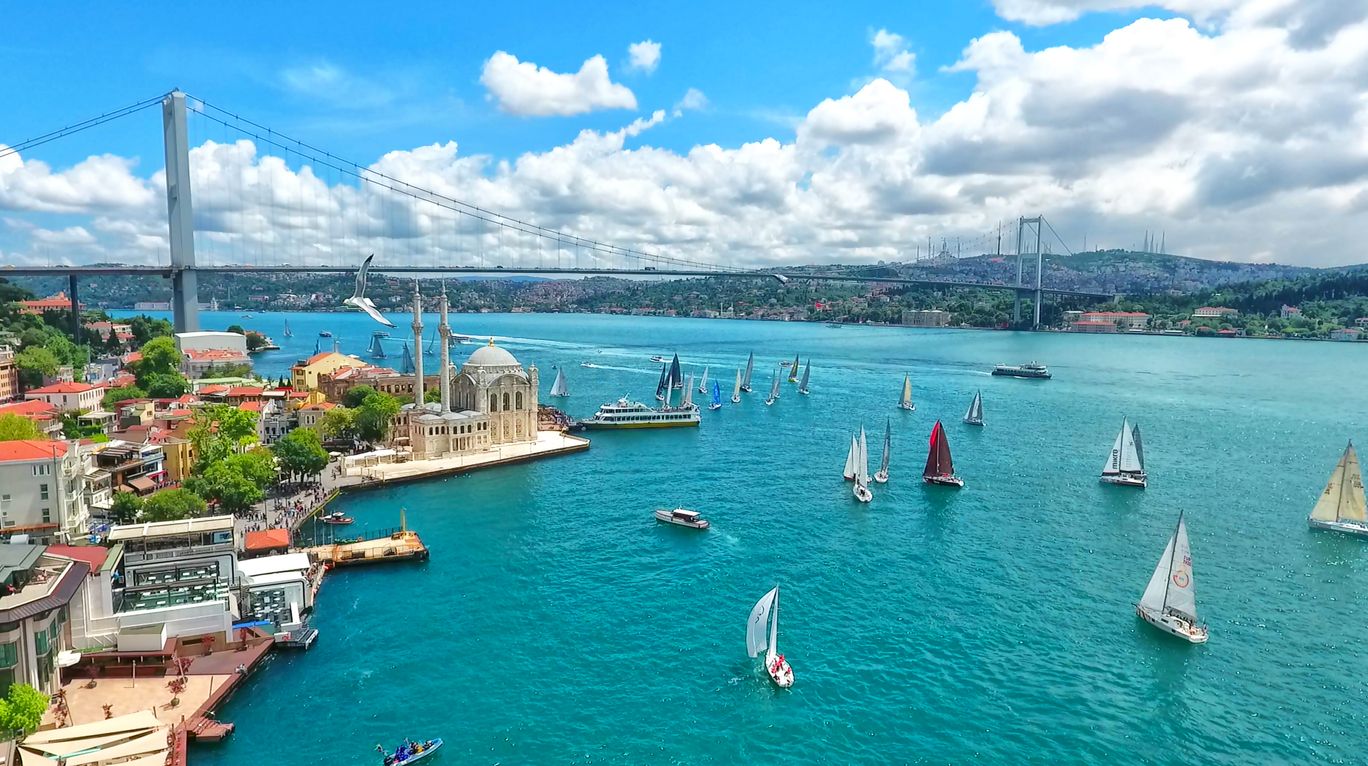 You can also navigate through the famous Bosporus and sail off the beaten track to the Black Sea coast in the north of Turkey. However, the most popular charter areas are Turkey's west coast facing the Aegean Sea and the south coast facing the Mediterranean. The one you choose depends on your preferences.
What Is the Best Way to Explore the Turkish Coastline?
If you want to experience sailing holidays in Turkey, you should know how you can easily explore the beautiful coastline. The marine infrastructure in Turkey has advanced throughout the years, making it easy to find the most suitable option that will adhere to all your requirements.
Here's how you can go sailing in Turkey:
Sailing Yacht
While sailing in Turkey, it is affordable to use sailing yachts. They range from €150 to €1663 per day, and you can pick the most suitable way to sail per your personal needs and budget. 
Catamaran
This is an excellent option for anyone who doesn't want to sacrifice comfort. They range from €450 to €2900. Catamarans offer various amenities that will ensure you have the best sailing trip.
Gulet
It is no secret that Turkey is famous for its gulets! Sailing in Turkey in a Gulet is one of the best experiences. Even though gulets are expensive, your professional crew will ensure you have the best sailing holiday, making it worth it. They range from €142 to €21,000 per day. You can choose a gulet depending on your preferences. 
At BoatAround, we offer the best sailing experience. You can pick from our diverse group of boats to ensure you are comfortable while sailing in Turkey. Contact us to find a Sailboat that suits all your needs. 
You can also read
Sailing holiday in Turkey? Prepare for long summer & lower prices
What to be aware of during a charter check-in
Sailing trip essentials - What to pack on your next boat trip?
FAQs
What are the prices and currency in Turkey?
The Turkish currency is the Turkish Lira(TRY). Many marinas in Turkey also accept foreign currencies such as euros and dollars. It's a good idea to change your currency in advance. The best part about sailing in Turkey is that prices are slightly lower than in other European countries. 
How can you get to the Turkish Coast?
Depending on your destination, you can book flights to Istanbul or Antalya or Dalaman. For visitors planning yacht vacations, Dalaman airport is a popular choice. It is located near the largest marinas. Afterwards, you can use a taxi, bus or dolmus to get to the port. 
How many seas are in Turkey?
Four seas wash the shores of Turkey. These are; the Mediterranean sea, the Sea of Marmara, the Aegean sea, and the Black Sea.
Subscribe to see special deals
Save money with every booking